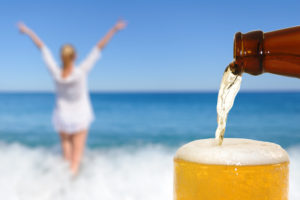 When you're nibbling on a burger from this month's food article, don't be Wimpy. Why settle for a Bud when you can explore Tampa Bay's explosion of craft beers? After all, it's Oktoberfest so go native. Why not take a Beer-Cation and explore local breweries and see what's on tap at your favorite bar?
In the August/September Madeira Beach issue, we showcased Mad Beach Brewery in John's Pass. You know I'm nuts for their Dophin Drool and my gluten-free friends swear by the clever cider beers, fruity and refreshing.  Right now, what's trending is Saison Beers and Oktoberfest hops, so be sure to ask your barkeep what they are pouring now; it won't last into the holidaze.
Beer cocktails are all the rage, from the traditional shandy (lemonade and beer) to New Orlean's transplant mixing coffee, dark lager and spiced rum. Mix IPA with tequila, stout with bourbon, wheat beer with gin and saisons with Aperol.
Bars Sporting Local Taps
Some of my beach and Pinellas Park favorite alehouses are Big Jim's, Finley's, Guy Harvey Outpost, The Rowe Bar, Hotel Zamora, BRGR, Ricky T's, Sea Hags, ChillZ, Brown Boxer and Mickey Quinn's for local beer grazing.  Downtown, everyone in St. Pete does it will, but Stillwater Tavern does it best. New to the beach is Blind Pass Rd.'s Mastry's Brewing Pub, an open air bar with all your favorite craft beers still getting ready for it's Hollywood moment.
Favorite Craft Breweries
3 Daughters Brewing: Live bands, trivia nights, yoga, growler specials, tastings and food trucks in an ever-expanding space. FYI: http://3dbrewing.com/tasting-room/
Cigar City Brewing: From Father's Day pigfests to a Godzilla-sized tasting room, Wednesday-Sunday tours, it's the Grandpappy of Tampa Bay craft beers. https://cigarcitybrewing.com/events/
Dunedin Brewery: Florida's oldest brewery, it's a music-palooza here, and they celebrate their 20th anniversary June 30-July 4. http://www.dunedinbrewery.com/calendar/
Green Bench Brewery: Music, yoga, family-friendly alfresco events (and food at Red Mesa's Cantina behind the Brewery), you'll find them at local events and throwing block parties. http://greenbenchbrewing.com/
Sea Dog Brewery: This Maine transplant opened its first brewpub in Clearwater and its next one will be in the old Captain Kosmokos restaurant. They're adding docks and an outdoor patio for more fun. Look for brew tours and happy hour $3 pints. www.seadogbrewing.com
More Breweries
Angry Chair, Seminole Heights
Arkane Aleworks, Largo
Barley Mow, Largo
Bastet Brewpub, Tampa
Big Storm, Odessa
Big Top Brewing Company, Sarasota
Black Fox Meadery, Palm Harbor
BrewBus Brewing Company, Tampa
Brewers Tasting Room, St. Pete
Cold Storage Craft Brewery, Seminole Heights-ish
Crooked Thumb Brewing, Safety Harbor
Croxbone Brewing, Tampa
Cycle Brewing, Downtown St. Pete
Darwin Brewering Company, Bradenton
ESB Brewing, East Tampa/Brandon
Escape, Trinity
Hidden Springs Ale Works, Tampa
House of Beer, Citrus Park
House of Beer, Dunedin
JDubs Brewing, Sarasota
Lakeland Brewing Company
Late Start Brewery, Tampa
Little Giant, Bradenton
Local Brewing Company, Palm Harbor
Mad Beach Brewing Company, Madeira Beach
Motorworks Brewing, Bradenton
Pinellas Ale Works, St. Petersburg
Pair-o-Dice, Clearwater
Rapp Brewing Company, Seminole
Saint Pete Brewing Company, Saint Petersburg
Saint Somewhere, Tarpon Springs
Silver King, Tarpon Springs
Southern Brewing and Winemaking, Seminole Heights-ish
Six Ten Brewing,
7venth Sun, Dunedin
Stilt House, Palm Harbor
Tampa Bay Brew Bus, Tampa
Tangent Brewing, Tampa
Three Palms, East Tampa/Brandonish
Two Henry's Brewing, Plant City
Clearwater Beach Brewing Company,
Darwin Brewing Company/Darwins on Fourth, Sarasota
Dunedin Brewery, Dunedin
Lagerhaus, Palm Harbor
R Bar, Treasure Island
Sarasota Brewing Company, Sarasota
Tampa Bay Brewing Company, Ybor City
The Wild Rover Brewery, Keystone
Woodwright Brewing company, Dunedin
Upcoming Brew Events
Brews by the Bay, Saturday, October 7, 8:00 pm – 11:00 pm – The Florida Aquarium
Make a splash at The Florida Aquarium's 8th Annual Beer and Food Festival presented by Pepin Distributing. You won't want to miss this event! We'll be overflowing with endless beers, delicious food from local area restaurants and a sea of live entertainment. All of our exhibits will be open to enjoy.
Beer, Bourbon & BBQ Festival – February 2017 Curtis Hixon Park
Grab your cowboy boots with 4,000 other people for a festival around a day full of beer sippin' (60 beers), bourbon tastin' (40 bourbons), music listenin', cigar smokin', and barbeque eatin' at Tampa's Curtis Hixon Waterfront Park. Admission includes a sampling glass so you can enjoy unlimited sampling of beer and bourbon.
Florida Brewer's Guild Annual Festival – March 2017 Cotanchobee Fort Brook Park
Attention Craft Beer Lovers! The annual Florida Brewers Guild Craft Beer Festival will be located in Cotanchobee Park in downtown Tampa. Help kick-off Tampa Bay Beer Week while raising money for the Florida Brewers Guild, the nonprofit trade association committed to preserving the rights of craft brewers throughout the state.
Tampa Bay Beer Week – March 2017
The inaugural Tampa Bay Beer Week was established in 2012, and has since hosted more than 750 events. Ranging from large-scale festivals to beer tastings, beer dinners and more, the success of TBBW has been a major factor in the continuing growth of the Tampa Bay area craft beer community. Tampa Bay Beer Week begins on the first Saturday of March and ends 8 days later.
http://paradisenewsfl.info/wp-content/uploads/2016/05/beer-on-beach.jpeg
1672
2508
paradisenewsfl@gmail.com
http://paradisenewsfl.info/wp-content/uploads/2016/10/pn-red-web-header.jpg
paradisenewsfl@gmail.com
2016-10-03 19:18:56
2016-10-05 01:27:05
Tampa Bay Craft Beers