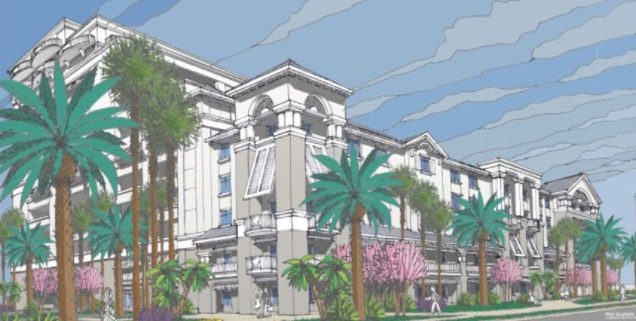 TradeWinds Resort executives want to build the proposed "Sugar Sands at TradeWinds Island Resorts on St. Pete Beach" on the former site of the Coral Reef Hotel. Sugar Sands would be the city's first major redevelopment project in more than a decade.  
A twelve (12) story building which will include a 217 room hotel, an 811 space, ten (10) story parking garage, office space and IT room, five (5) story commercial space, which will eventually house a Blue Green Sales Center, Reservations office, HR office, Spa and Fitness Center. Included in the scope are a pool with hot tub, pool bar, towel distribution building with restrooms, site work, paving, drainage and underground utilities as shown on the 90% plans and specifications  
Total construction cost is estimated at $60,000,000. Construction plans have been circulated and bids have been obtained. What is holding them up is St. Pete Beach's continuing sewer system problems. 
Tim Bogott is excited about the project, and has presented an offer to the city for what appears to be a no-lose opportunity to solve at least ½ of the expensive problem, and allow the loan to be paid back from new sewer connections instead of residents getting a huge tax increase. The city commission is expected to hear a presentation of the plan at its April 11 commission meeting. 
When asked about the proposal, newly elected mayor Al Johnson said that he had spoken to state representative Kathleen Peters about the plan and about other potential funding sources. "She said that the legislators love to hear about public-private partnerships being used to solve such problems. The city's chances for more help would be improved by embracing such an offer. 
For the TradeWinds it is a matter of economics. The sooner they build, the sooner they can rent out the rooms and sell shares in the newly built building.  They need the parking for guests, help and future construction plans. 
The TradeWinds has done a remarkable job of making people think they are having a luxury vacation in the patchwork of '60's motels that are cobbled together on the resort's 30 beachfront acres. Imaging what they could do with a fancy new building! 
"If new redevelopment is not allowed to occur, then as older properties reach the end of their economic life, they will be forced to convert to residential condominiums," Bogott has been quoted as saying." resulting in a loss of tourism and significantly eroding the county's tax base.  
http://paradisenewsfl.info/wp-content/uploads/2017/04/tradewinds-sugar-sands.jpg
384
636
paradisenewsfl@gmail.com
http://paradisenewsfl.info/wp-content/uploads/2016/10/pn-red-web-header.jpg
paradisenewsfl@gmail.com
2017-04-08 02:00:43
2017-04-08 02:00:43
Sugar Sands at TradeWinds Island Resort