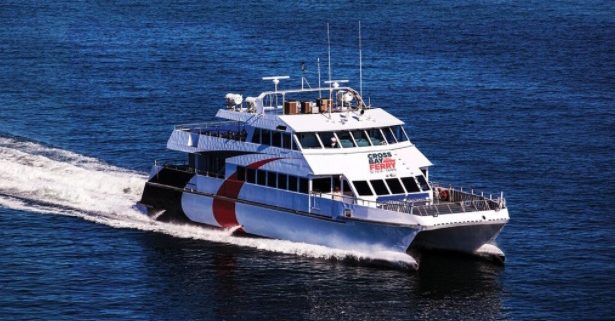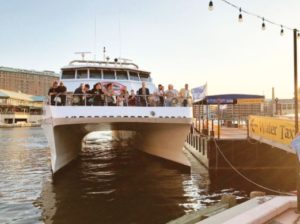 With the kickoff last fall of a six-month pilot program for the new Cross Bay Ferry connecting the downtowns of St. Petersburg and Tampa, and the new Madeira Beach Ferry & Water Taxi, a look at the rich history of ferry service for Pinellas and the Gulf Beaches is well deserved.
Add the revived Clearwater Ferry, the St. Pete Beach Island Ferry and the Tampa Pirate Taxi Service, and water transportation is definitely on the rise for the Tampa Bay area.
In his 1999 book Pass-a-Grill Vignettes: Times Past, Tales Remembered, late historian Frank T. Hurley Jr. recalled "everybody's Favorite Line," the steamship company that operated four steamer ferries from 1901 to late 1924 when the Gandy Bridge opened. The flagship Favorite could carry 1,000 passengers or 750 with cargo aboard.
The usual schedule was two boats daily out of Tampa, with stopovers at the old wooden pier at Second Avenue North in St. Petersburg, then on the Bradenton with a stop at Pass-a-Grille at the old Eighth Avenue or Tenth Avenue docks. Visitors had about three hours to enjoy the great beaches and local restaurants, with a round-trip of about 11 hours to and from Tampa. Fare was 75 cents for adults, 40 cents for children!
In Hurley's earlier 1977 book, Surf Sand & Post Card Sunsets, he provided a brief history of the original Merry Pier, which was the Eighth Avenue ferry dock. It was named after Captain Joseph E. Merry who opened his original bait and tool store, the first in Pass-a-Grille—at the end of the dock, in 1902. He also rented boats for excursions, adding food a year later. The current Merry Pier still sells bait and is the station for daily trips to Shell Island today.
Another early service was the Bee Line Ferry. Before the first Sunshine Skyway bridge was built in 1954, it was a 69-mile trip from Manatee to Pinellas County. You went up 41 through Tampa and across the bay on either the Gandy Bridge on the south or the Courtney Campbell Bridge on the north through Oldsmar.
The former steamer WILMINGTON, which made daily trips from Wilmington, NC, to the Carolina beaches from the early 1900's to the 1930's, became the PINELLAS, a Tampa Bay ferry that went between Bradenton, Tampa and St. Petersburg as the Bee Line Ferry. The ferry shortened the trip from Manatee to Pinellas County to just 22 miles, and it crossed Tampa Bay in one hour. The ferry stopped running in the early fifties after the first Sunshine Skyway Bridge opened to automobile traffic, and became a popular fishing excursion boat.
Other Local Ferry Notes
Other local Tampa Bay area Ferry service projects have had varying degrees of success.
Capt. Mark Hubbard of Hubbard's Marina at John's Pass Village launched the MADEIRA BEACH FERRY AND WATER TAXI at last October's John's Pass Seafood Festival. The trips have run Friday through Sunday to nine designated locations including John's Pass Village and Boardwalk, Jungle Prada Park and Gator's Café and Saloon on Treasure Island, with more stops to be added as demand increases.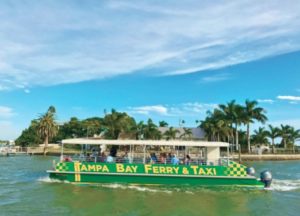 Full weekday service began for the recent March "spring break" from 10 am to 10 pm Monday-Friday. One-way tickets are $10 for adults, $8 for children and free under age 3, with an all-day pass for $20.
"Based on our ferry traffic the past five months, business for the future only looks good," Hubbard told Paradise News. "We're banking on the public's acceptance that 'waterboard' transportation is here now. I like how the Pinellas and Hillsborough Counties are finally getting on board with their support of the water transit idea."
The first ferry service in 2000 between the mainland and Clearwater Beach—to ease the serious traffic and parking problems — did not entice enough passengers, so the City-sponsored service was discontinued. In February 2015, Tropics Boat Tours launched a privately-funded CLEARWATER FERRY service. At that time, co-owner Trisha Rodriguez noted that it was geared toward employees of beach businesses who had little or no parking available.
Starting with the 42-passenger Maddie's Crossing, the service has added the 21-passenger Hailey's Crossing for longer trips like the Caladesi Island Excursions, and the 98-passenger Monica's Crossing for busy event days and weekend service. There's direct service from downtown Clearwater to Clearwater Beach, and alternate service from downtown with stops at Island Estates and North Beach en route to Clearwater Beach.
Current fares are $4 one-way for adults; $3 for business employees, seniors and military; $2 for kids 4-12; with kids under 3, free. There are also monthly, seasonal (March 15-August 15) passes, with discounts for beach business employees. For current schedule: www.clearwaterferrry.com
ISLAND FERRY was launched in June 2013 to provide service from Pass-a-Grille Marina to the downtown St. Petersburg Municipal Marina. General Manager Sebastian Font told Paradise News, "There just wasn't enough interest to support regular ferry service, but we've successfully transformed by offering upscale boat tours from St. Pete Beach. We have private charters, Sunset and Dolphin Cruises, Island and Restaurant Hopping, plus Snorkeling to Egmont Key and Shell Key." For fare and other information, call 727-742-2277 or email: info@islandferry.biz.
Troy Manthey, who owns Yacht StarShip Dining Cruises, launched PIRATE WATER TAXI in February 2016 with three 40 to 50-passenger pirate-themed water taxis with 18 stops from downtown Tampa to the Riverwalk, Channel District, Davis Islands and other locales. Their captains are dressed as pirates and offer tours and a light historical narrative in character Just added are five roundtrips daily from downtown up the Hillsborough River to Tampa's Lowry Park Zoo.
When the Cross Bay Ferry service between downtown Tampa and St. Petersburg was confirmed for the six-month pilot program, the Pirate Water Taxi schedules were coordinated — so passengers from St. Petersburg who got off the ferry at the Tampa Convention Center could go east toward the Channel District or up the Hillsborough River. For current schedules and fares: www.piratewatertaxi.com.
Cross Bay Ferry Update
With the goal of taking more cars off the St. Pete to Tampa bridges, in August 2016 the St. Petersburg City Council and Pinellas County officials issued their final approval for a separate Cross Bay Ferry I(CBF) service connecting its downtown to downtown Tampa. Both the operating agreement with HMS Ferries and the interlocal agreement splitting the $1.4 million, six-month pilot project at $350,000 each from St. Pete, Pinellas County, Tampa and Hillsborough County were approved.
Service began November 4, with one-way fares for the 50-minute trip $10 for adults, $8 for children and those under 3 free. The boat, on loan from Boston, can transport up to 149 passengers with space for up to 36 bikes at an added cost of $1 per trip. It runs from downtown St. Pete in the Vinoy basin adjacent to the St. Pete History Museum to downtown Tampa near the Tampa Convention Center. HMS Ferries and its partners are working with local businesses to provide discounts for ferry passengers and lower commuter fares are also possible.
At the launch, Ed Turanchik with Akerman LLP, project policy advisor and spokesman, said, "We only have one vessel, and one crew, so we cannot do everything, but we do mean to showcase this technology to a lot of people and test ferry service in a variety of ways and markets. I think we have managed to do the most we can possibly do in a single, short pilot project."
With about three months of the pilot test now completed, the Ferry hit a milestone in late January, with ticket sales generating enough revenue to cover costs, which enabled the management company to start returning money to the four "investors." About $10,000 was shared in January, and another $44,600 as of March 28, with continuing good traffic reported with a one-way price cut to $5. Credit should be shared by Schifino Lee Advertising + Branding as the agency of record, and the Tucker/Hall public relations firm as part of the marketing team.
Turanchik told Paradise News, "The success of the CBF has helped rekindle the MacDill Air Force Base passenger ferry project. The County Commission will be funding the design, engineering and permitting of that project this year, with the goal of start-up of service in 2020.
"This likely means that continuation of the CBF for a second season will be considered in light of that project. It isn't clear when a decision about an extension of CBF service will be made, but with an April 30 end of the pilot program, in practical terms, it would probably have to happen before this June.
"I really don't know how it would be funded at this point in time. Funding for any extension would need to be entirely local. At this time there are no federal funds that could be used for this project, and there is no pending request for state funds."
St. Petersburg Mayor Rick Kriseman was the first executive from any of the four investors to acknowledge the CBF success with increased ridership and repayment of a first installment on the total $1.4 million investment shared equally by St. Pete, Tampa, Pinellas and Hillsborough Counties.
He told the Pinellas County Commission March 28 that his staff is contacting state and federal officials to see what is required to possibly contribute funds to bring the temporary ferry service back to the Tampa Bay area in November. 
Turanchik also noted, "The schedule will be changed for April to provide evening, weekday service instead of daytime. This will allow people to get to and from Rays' games and Lightning games, assuming the latter make the playoffs."
For updated Cross Bay Ferry service schedule and fares: www.crossbayferry.com
At least 35 states, including Florida, currently have passenger ferry service. Systems in Alaska, Louisiana, Massachusetts, Michigan, and Texas each carried more than 5 million passengers in 2014.  California's ferries had over 10 million passengers that year, Texas carried over 13 million, and Washington state carried nearly 26 million.
In comparison, ferries in Florida carried less than 1 million passengers in 2014. However, with the new local ferry services, since that time Florida ferries probably doubled this total to 2 million up through the past six months – and better days and more miles are likely ahead!
STORY by STEVE TRAIMAN
[Editor's Note: Special thanks to Capt. Mark Hubbard and Dylan Hubbard, Hubbard's Marina; Lance Peterson, St. Pete Beach Historical Museum; Ed Turanchik, Akerman LLP; and Sebastian Font, Island Ferry, for their excellent information and photos.]
[Steve Traiman is President of Creative Copy by Steve Traiman in St. Pete Beach, offering freelance business writing services. He can be reached via email at traimancreativecopy@gmail.com ] 
http://paradisenewsfl.info/wp-content/uploads/2017/04/ferry-cover-image.jpg
388
615
paradisenewsfl@gmail.com
http://paradisenewsfl.info/wp-content/uploads/2016/10/pn-red-web-header.jpg
paradisenewsfl@gmail.com
2017-04-07 22:58:58
2017-04-07 22:58:58
Pinellas Ferries: Past, Present, Future