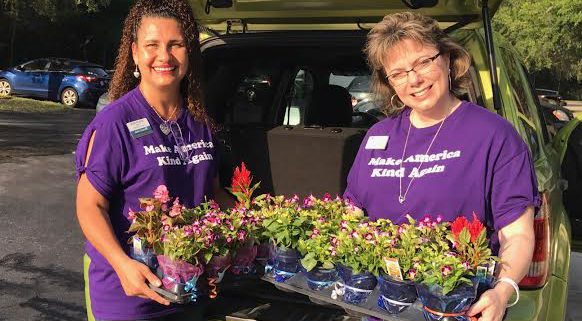 GULFPORT, NORTH REDINGTON BEACH, ST. PETERSBURG, SOUTH PASADENA, TREASURE ISLAND, FL — On April 28th, our local community joined people in more than 80 countries all over the world to perform random acts of kindness as part of a little-known celebration known as International Pay It Forward Day. For the first time ever, the cities of Gulfport, North Redington Beach, St. Petersburg, South Pasadena, and Treasure Island participated with official Proclamations issued by all 5 Mayors thanks to the efforts of the dedicated team at Home Care Now, a private home care agency operating in our local community.
Having seen the Pay it Forward movie back in 2001 (based on the book of the same title by Catherine Ryan Hyde), Home Care Now owner, Denise Seaman, was pleasantly surprised to learn that an actual day had been set aside to honor that concept and proud that her team wanted to champion it. According to Seaman, "Everyone benefits from an unexpected act of kindness and those that need it most are usually right in front of us. Working with people in need of care, my team sees every day how the smallest action can warm someone's heart." Armed with over 1,500 Pay it Forward cards, bracelets, and flyers, this team spread the word throughout the three counties they serve and engaged others to do the same. "It was heart-warming and inspiring to see how everyone embraced supporting this day," said team member, Christine Hamacher, "and to hear so many people vow to keep the wave of kindness going." Hamacher teamed up with friend and colleague from Arden Courts, Maryanne Fisher, to randomly deliver flowering plants to customers at local restaurants on the big day. They were received with open arms and big smiles. [Picture ID: Maryanne (left) and Christine(right)]
This year marks the 11th anniversary of the very first Pay it Forward Day (founded by Blake Beattie in 2007). By opening a door, letting someone ahead of you in line, paying for a coffee, helping with a task, offering a hug, or simply making time for conversation – we all can make every day a Pay it Forward Day.
http://paradisenewsfl.info/wp-content/uploads/2017/05/pay-it-forward-day.jpg
654
582
paradisenewsfl@gmail.com
http://paradisenewsfl.info/wp-content/uploads/2016/10/pn-red-web-header.jpg
paradisenewsfl@gmail.com
2017-05-11 15:06:55
2017-05-11 15:06:55
"Pay It Forward Day" Officially Celebrated in Our Neighborhood