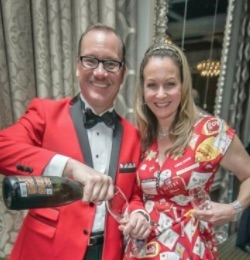 Valentine's Day is right around the corner, plus there's almost always something to celebrate; like birthdays, anniversaries… or a "just because" romantic dinner, maybe a second or third date. (Don't get too romantic on a first date. It's creepy.)
So, how do we define a romantic dinner? A picnic in the park with wine and cheese can definitely be romantic, but for this list we're going with the more elegant as most people do when they're celebrating a special occasion like Valentine's Day, anniversaries, birthdays, or even Mother's Day. You might want to bookmark this list for future reference guys (and ladies). That'll help you to score points with your better half when future romantic dinners are required.
A romantic dinner or restaurant can have different meanings to different people.
What makes a restaurant romantic? Some things could be; warm, low lighting, candle lit tables (fake candles work), pleasant décor, harmonious colors, elegant furnishings, a good wine list, ambience, good view, low background music, and of course, great food and service.
What did we leave out? Raise your hand if you guessed it. If you did get it, you might be a local. What's the romantic requirement not on the above list?  Low noise or no noise. It's a fact of life, especially in Downtown St. Pete, that it is nearly impossible to find a good restaurant that doesn't get noisy when they are busy, and they're often busy. We had to remove noisiness as a disqualifier or there would only be one or two restaurants on the list.
In case you're wondering, Valentine's Day is on a Tuesday this year. All of the restaurants on the list offer outdoor seating, which can still be nice in February.
Rococo Steak:  In a 1920's manse, this baroque-chic steakhouse serves grass-fed beef, seafood, small plates & wine. A member of our FB group, Lindsey Foss said, "We are big fans of Rococo. They really go out of their way to make you feel special and create a beautiful ambiance." We've found the same to be true. They also do a lot of weddings in their elegant, grand setting, and they are one the only restaurants on the list that we've never heard get noisy.
655 2nd Ave. South  (727) 822-0999 http://www.rococosteak.com
IL Ritorno:  IL Ritorno has an intimate setting with rustic brick walls and a view of the new/temporary park across the street. The setting and the amazing food remind us of being in Manhattan. The service is impeccable and you won't find food like this anywhere else. It's old country Northern Italian with a modern twist. The wine selection is not huge, but it is unique and high quality. They have some small batch wines from Italy that you can't get elsewhere.
449 Central Ave., #101  (727) 897-5900 http://www.ilritornodowntown.com
The Birch & Vine: Choice New American kitchen featuring a seasonal menu & cocktails in a modern interior with a patio. In the Birchwood boutique hotel on Beach Drive, the main restaurant is The Birch & Vine. They also have a rooftop lounge called The Canopy that has a smaller menu, drinks and spectacular views of the water, parks and Beach Drive.You could arrive early, start at The Canopy for the daytime views. (You do need to be early for this as the sun sets at 6:21 pm on Valentine's Day in 2017.) Either way, you can finish the evening with a nightcap at The Canopy with the night time views.
340 Beach Dr. NE (727) 896-1080 http://www.thebirchwood.com/birchandvine
Sea Salt: Sea Salt St. Pete is one of the grand anchor tenants of Sun Dial Shops in the heart of Downtown St. Pete. They are an excellent 5-star gourmet restaurant with the freshest fish (most of it local), largest selection of oysters and great steaks with several dishes having unique eclectic twists that us foodies love.
183 2nd Ave. North (727) 873-7964 http://seasaltstpete.com
Brick & Mortar: Rustic-chic nook with seasonal, New American fare, unique wines & craft beers, plus outdoor seating. It's a little more casual, but quaint with amazing food creations that you've never heard of, nor can you get anywhere else. They usually do not take reservations. This is the first Valentine's Day they are going to be opened, and at press time, they were considering taking reservations just for this day. We will update when the info comes in.
539 Central Ave., (727) 822-6540 https://www.facebook.com/brickandmortarkitchen
Gratzzi Italian Grille: Who knows food and romance like the Italians, eh? Fuhgettaboutit! Gratzzi Italian Grille is a long established favorite right in the heart of Downtown St. Pete. On nights that other restaurants have half of their tables empty, Gratzzi has a wait around the block. They have something for everyone with all the Italian classics covered, to exotic specials like Gambas, (Gigantic Mediterranean Prawns that could beat up a lobster – their lobster dishes are amazing too), Rack of Elk and the Veal Ossobuco is to die for! Mama mia!
211 2nd St. South (727) 623-9037 http://gratzzigrille.com
Parkshore Grill: Refined space for steaks & seafood paired with fine wines served inside or on the sprawling patio. Parkshore Grill is another long-established favorite that was here long before the restaurant boom and still stands tall with excellent cuisine, professional service and an elegant setting in the scenic heart of Beach Drive. Try the Beef Wellington, The Parkshore Filet Mignon & Lobster Tail, Parkshore Salad and the Blue Cheese Stuffed Meatballs. The Parkshore Martini is a favorite as well.
300 Beach Dr. Northeast  (727) 896-9463 http://www.parkshoregrill.com
Cassis American Brasserie: Not quite as old as Parkshore or Gratzzi, they have evolved nicely over the last 7 years and have really upped their game. Not only do they have excellent cuisine, but a professional staff in the front and back. They bake their own bread and make all of their desserts in-house as well. They are in the heart of Beach Drive with great people watching and beautiful views of the park and Tampa Bay.
170 Beach Dr. Northeast (727) 827-2927 http://www.cassisab.com
Article by Kevin Godbee • www.StPetersburgFoodies.com
Photo credit: Barry Lively
Editor's Note: We asked StPetersburgFoodies.com founder Kevin Godbee if we could share his recent online posting on downtown's romantic restaurants with Paradise News. Be sure to read our Romantic Interludes which features two of their favorites, The Pearl and Castile.  We are HUGE fans of how he and his partner Lori Brown know EVERYTHING about dining and spirits. Visit www.StPetersburgFoodies.com and like them on Facebook. – Nanette Wiser
http://paradisenewsfl.info/wp-content/uploads/2017/02/st-pete-dining-1.jpg
260
250
paradisenewsfl@gmail.com
http://paradisenewsfl.info/wp-content/uploads/2016/10/pn-red-web-header.jpg
paradisenewsfl@gmail.com
2017-02-05 04:30:49
2017-04-13 14:14:35
Downtown St. Pete's Most Romantic Restaurants