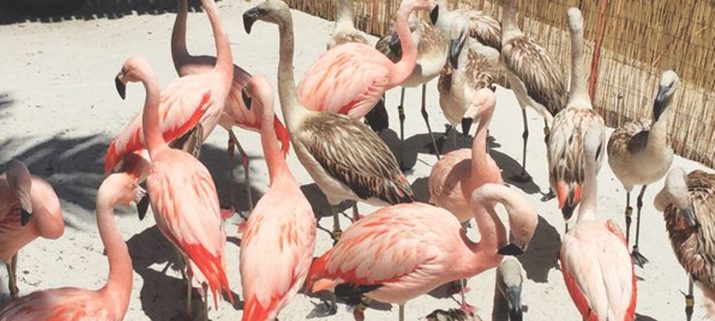 Is there enough time in the day? I want to see Chris Isaak at the Capital Theater May 1 after a day in Coachman Park for country fest. If I can unlock my computer leash,  I'm not going to miss Spamalot alfresco in Demens Landing with a picnic and friends (before May 8th) and Mr. Burns: A Post Electric Play runs through May 22 at Freefall Theater. 
Hungry? Clearwater Beach's much anticipated Restaurant Week kicks of May 9th. Need a road trip? Try the Ringling Estate in Sarasota from 9 am – 4 pm. 
I've always wanted to see the Museum of Art, the majestic Banyan trees, the Dwarf Garden, and cooling breezes that blow along the Bayfront Promenade and Millennium Tree Trail, the Circus Museum and tour the home of the circus king and his wife, Ca' d'Zan , a monument to the Roaring Twenties. (941) 359-5700  https://www.ringling.org
ONGOING
St. Petersburg Second Saturday Artwalk  (5-9 p.m.)  Five arts districts, one fun day: Ride the Trolley and enjoy 40 galleries, studios, warehouses and yummy brews and chews along the way downtown. www.StPeteArtsAlliance.org   
Shipwreck: Treasures of the Deep (thru May 31)St. Petersburg Museum of History    www.spmoh.org 727-894-1052
Museum of Fine Arts: Classical Guitars, Photography Exhibits – Museum of Fine Arts, 255 Beach Dr. NE  www.fine-arts.org 727-896-2667 
– The Art of the Classical Guitar (thru May 19)
– Harold "Doc" Edgerton: What the Eye Can't See (May 7-July 31)
– May 8: Gallery Talk with exhibit curator Robin O'Dell 3 pm.
Showcasing some of the Museum's most compelling photographs by Harold "Doc" Edgerton (American, 1903–1990). Many are now recognized as his most important. They range from rarely seen gelatin silver prints from as early as 1932 to his colorful dye transfer photographs. The high-speed stroboscopic short film about Edgerton, Quicker'n a Wink, which won an Oscar in 1940, will also play in the gallery. Known affectionately as "Papa Flash," Edgerton used photography to extend the capabilities of the human eye and in the process created some of the most memorable photographs ever made. 
In 1931, he designed a high-speed stroboscope and began experimenting with strobe-flash technology. That device allowed him to overcome the restrictions of a normal camera's fastest shutter-speed and to capture phenomena previously invisible to the naked eye.  He worked with his friend, famous marine explorer Jacques Cousteau, who nicknamed him "Doc." 
Studio@620 
• May 7, June 25: "The Child of Always by April Hartley and "Paintings from LAlaLand" by Eve Avenue. 
• May 14 -June 11: Echo Nevada by Anna Brennan, a staged fundraiser to support ArtsFusion.
• May 20: Deadline to apply for Members Only Show July 9. Current members of The Studio@620 may submit one piece of artwork for exhibition in our annual Members Only Art Show. Artists who are not members may join at time of application in order to participate in the exhibition. Artwork will be displayed during the annual Studio@620 Birthday Celebration on Saturday June 18, 2016 and will have a public reception during the Second Saturday ArtWalk on July 9, 2016. 
620 First Ave. S, Downtown St. Pete 727-895-6620   http://www.thestudioat620.org/home
UPCOMING EVENTS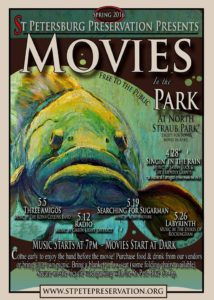 May 5, 12, 19, 26: FREE Movies in North Straub Park
This weekly series features musical talents from Florida who entertain before a classic movie screening. Bring a picnic and enjoy the water view. Films start at dark. Donations benefit the St. Pete Preservation Society. Fifth Ave. Northeast & Bayshore Dr., Downtown St. Pete 727-463-4612 http://stpetepreservation.org/
St. Pete Shuffleboard Club, 559 Mirror Lake Dr. N
May 7: CatCon Dog Fest 9 am – 5 pm
Calling all pet enthusiasts! Spend the day at one of St. Petersburg's iconic landmarks for a day of animal-themed fun, from speakers and K9 dogs to artists, vendors and food trucks. www.friendsofstrays.com/catcondogfest
May 21: World Cultural Diversity Day 10 am – 3 pm
Enjoy ethnic food and entertainment. www.spiffs.org
May 12:  FREE Skyway Marina-Movie Night 
Skyway Marina Movie Night features The Princess Bride, the beloved classic fairy tale, with swordplay, giants, an evil prince, a beautiful princess and comedy galore. Nibble at food trucks 6:30 pm, the movie starts at 8 pm. For free tix, go to http://bit.ly/SkywayMarinaMovieNight2. For info, call 727-866-2696.St.Petersburg City Theatre – 4025 31st St S, St. Petersburg, FL 33712
May 12: Poetry at the Dali 
6 pm-7:30 pm, Hosted by Helen Pruitt Wallace, St. Petersburg's Poet Laureate, this features Walllace and selected poets presenting poems on the theme of memory and desire, followed by an audience Q&A. http://thedali.org/event/poetry-at-the-dali-hosted-by-helen-pruitt-wallace-3 
May 13: Stirling Art Studios Fundraiser 
5:30 – 8 pm, The sixth annual Art to the Rescue fundraiser exhibit benefits the Dunedin Doggie Rescue. The theme of the exhibit is "Bless the Beasts and Children." Enjoy the open house reception with raffle items and awards ceremony. 730 Broadway, Dunedin; 727-366-6477
May 17:  SciCafe at the Dali 
6 pm-7:30 pm, "Swinging Ain't Just for Monkeys- Monogamy and Polygamy in the Animal Kingdom"is an informal discussion series for adults created by Secrets of the Sea Marine Exploration Center and Aquarium (formerly The Pier Aquarium) to raise awareness and satisfy peoples' curiosity about things scientific.  http://thedali.org/event/scicafe-swinging-aint-just-for-monkeys-monogamy-and-polygamy-in-the-animal-kingdom/
May 20: Mornings with the Maestro 
11 am, Enjoy a presentation "First Entrance and Final Exit: Where Did I Go Wrong," sponsored by the www.stpeteopera.org  Museum of Fine Arts, 255 Beach Dr. NE   
May 26 The Cinder Woman 
@ The Travel Channel 6 pm. The Travel Channel's Mysteries at the Museum will present a local St. Pete mystery on Mary Reeser who died when she allegedly spontaneously combusted and will feature the St. Pete Museum of History where her file is stored. http://www.travelchannel.com/shows/mysteries-at-the-museum/episodes/the-cinder-woman-milgram-experiment-gold-accumulator-hoax St. Petersburg Museum Of History, 727-894-1052 www.spmoh.org
June 3, 5, 7:  St. Petersburg Opera: Giacomo 
Puccini LA BOHEME  The Palladium, 253 Fifth Ave. N, St. Petersburghttp://www.stpeteopera.org  727-823-2040
Sept. 24: Central Avenue Solstice
Enjoy this popular event as part of the St. Petersburg Festival, SPF16. Festivities begin on the east end at 7:20 am with Sunrise Yoga at South Straub Park, and finish on the west end with St. Petersburg Preservation´s Movies in the Park at Sunset Park on Boca Ciega Bay. Enjoy a Follow the Sun Walk, a Bay to Gulf Bike Ride, Sunny Side Up Breakfast specials, full schedule of live performances at each of the event´s five Main Stages, and a host of Illuminating Art Demonstrations along the route. All outdoor activities are free, as are trolley rides throughout the day.  www.centralavenuesolstice.com  St. Petersburg Arts Alliance  100 Second Ave N, Ste 150 St. Downtown St. Pete
OPEN CALL & CASTING NOTES
Calling All Gecko Artists (May 16 deadline) Want your gecko design at the Gulfport's 8th Annual Gecko Ball: Submit your materials! For more information, 727-608-0070 or email Jessica.Sager@live.com.  Submissions may be sent via email or snail mail: 2624 54th Street South, Gulfport FL, 33707. 
Morean Arts Center Call for Submissions (July 9-August 13 exhibit) The "98th Annual Members Show" is this summer, and it's time to submit your entry by June 15, with artwork delivered by June 27. http://www.moreanartscenter.org/about/memberships/ Morean Arts Center, 719 Central Ave. MoreanArtsCenter.com  727-822-7872
SPF16 Call for Art/Artist Programming & Events
SPF16 needs you. Presented by the Suncoasters of St. Petersburg, produced by the St. Petersburg Arts Alliance with support from the City of St. Petersburg Office of Cultural Affairs, SPF16 will again kick off with the Shine Mural Festival, followed by weekly spotlights on all the arts, including fine arts, performing arts, and a family arts festival. SPF16  will conclude with the grand opening of the Chihuly Exhibit at its new location.  They are asking arts and cultural organizations that are producing programs in September to contact john@stpeteartsalliance.org. The general overview of the schedule is to feature three long weekends that will spotlight arts disciplines.  
– Week ending Sept. 11: SHINE Mural Festival, Fine Arts, ArtWalk, Craft Arts
– Week ending Sept. 18: Performing Arts (dance, theatre,  music performances in traditional and nontraditional places)
– Week ending Sept. 24 : Family Arts Festival (Arts Alive, TBBCA Chalk Walk, Central Ave Solstice Festival
ARTS NEWS
New Cast @ Creative Clay
Adieu and fare thee well to Creative Clay Director of Community Arts Charlie Bari Bachmann who will be relocating to Iowa. Emily Turnage, a teaching artist at Creative Clay and local musician will step into the role. www.creativeclay.org
The Voice @ St. Petersburg Opera Guild's
Meet the winners of St. Petersburg Opera Guild's  36th Annual College and Young Professional  Opera Competition, co-sponsored by St. Petersburg Opera Co.  First Place:   Richard Coleman, baritone, 24, – Tallahassee; Second Place: Betsy Diaz, soprano, 27 – Miami,  and Third Place:  Lauren Feider, soprano, 23 – Tallahassee.   Honorable Mentions were Feryal Qudouran – Orlando and Holly Curtis – Tallahassee. 
MOSI To Relocate  
MOSI is hitching its start to Vinik's downtown redevelopment. The museum is  planning to relocate to Downtown Tampa as their board has approved the next steps , which will include gathering an expert task force, launching strategic planning, conducting community discussions, and engaging specialized staff to design and fundraise for a new world-class science center. The planning effort that is now underway is expected to take up to a year and will identify the features, exhibits, and programs offered in a new science center; an exact location and size; and the costs and funding sources involved. mosi.org
Clyde Butcher's Photography Book Debuts
Whether you're headed to Yosemite this summer, or are an armchair traveler, get your stunning copy of local artist's Butcher's new National Parks book. Clyde has been called the next Ansel Adams by Popular Photography magazine, awarded as a humanitarian for acting for the betterment of his community, and recognized as a conservationist for bringing issues to the forefront of public consciousness through his art. His fine art photography transcends political boundaries, challenging us to work together to protect natural places across the country.
– Venice Gallery & Studio,  237 Warfield Ave., Venice, FL 34285 941-486-081
– Big Cypress Gallery, 52388 Tamiami Trail, Ochopee, FL 34141  239-695-2428   www.clydebutcher.com
(Get a signed copy 15% off.  Only 500 SIGNED COPIES WILL BE AVAILABLE in this pre-publication offer.  Use coupon code Nat16 at check-out on this site http://clydebutcher.com/s/books-and-gifts/books/celebrating-americas-national-parks-preserves-%E2%80%A2-monuments-%E2%80%A2-recreation-areas-47-50/.)
Sunken Gardens Welcomes 20 NEW Flamingos 
George and Lucy have been empty nesters in recent years at Sunken Gardens, a historic botanical attraction in the beautiful city of St. Petersburg. The two flamingos were once part of 17 flamingos who made their home at the Gardens, one of Florida's original roadside attractions. The two now anxiously await some new feathered friends.
"It has been quite the journey to get our new flamingos, and we couldn't have done it without the commitment and enthusiasm of the community," said Gardens Supervisor Bill O'Grady. He traveled to meet the birds prior to their journey to St. Petersburg and will monitor them closely the first few weeks in their new home.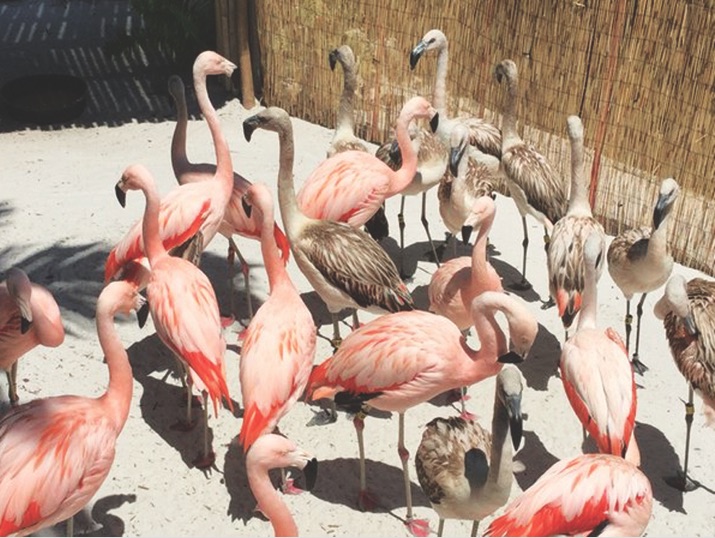 Raising funds was only the first step in getting the precious pink birds to their new home in one of Florida's most beautiful botanical gardens. In late 2015, the city funded a new night time enclosure to house the anticipated birds, and then in 2016, it finally received a commitment to purchase the birds from their breeder. The city underwent a rigorous adoption process, which included several required letters of recommendation and documentation of adequate living conditions. The Gardens welcomed them home with the community at a celebratory Flamingo Festival on May 1.  Located at 1825 4th St N, St. Petersburg, FL 33704. 10am–4:30pm.  727-551-3102 www.sunkengardens.org
ART NEWS Compiled by Nanette Wiser
http://paradisenewsfl.info/wp-content/uploads/2016/08/flamingos.jpg
538
715
paradisenewsfl@gmail.com
http://paradisenewsfl.info/wp-content/uploads/2016/10/pn-red-web-header.jpg
paradisenewsfl@gmail.com
2016-08-30 21:41:09
2016-08-30 21:41:09
Art & Theater Tidbits May 2016