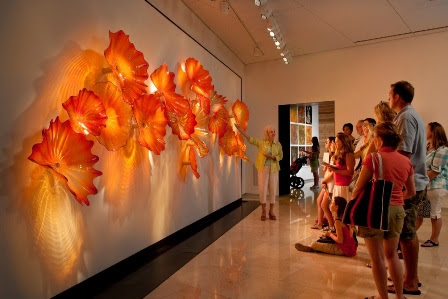 Although we can't be everywhere, as your Arts & Culture Concierge, I like to suggest diversions that will inspire, education and amaze. From art classes at the Morean and Creative Clay to floral-inspired exhibits (ArtLofts) during DTSP's Artwalk and our Garden Festivals (see this month's article), you can admire talent or nurture your own on the canvas of your choice. Ciao baby, see you around town!  – Nanette Wiser   
FYI: For venue address, phone. website, check our Events Listings in the back of the magazine.
TOP PN PICKS
April 19-23 6th Annual Listening Room Festival features six musical acts performing throughout Florida, but mainly in the Tampa Bay area. A showcase to meet the artists takes place on April 21 at the Palladium Theatre in St. Petersburg. www.listeningroomfestival.com On April 20 7 pm Teneia performs at St. Pete Artworks (635 Central Avenue),,  bringing a message of love and equality through songs at a concert in an art gallery.  Teneia Sanders and Husband Ben Eichelberger create music that combines elements of folk, soul, Southern gospel, blues and easy-listening pop. The R&B vibe, unique rhythms, and moving lyrics will lull you into a hypnotic trance and then get you on your feet to dance. It is a part of the Listening Room Festival, a series of concerts at local homes and businesses.
April 28-29 Pass-A-Grille Beach Goes Pops: Bring your blankets and beach chairs to 9th Ave. and Gulf Way and a few bucks for food and drink. The music is free. There's art and crafts for sale in the park from noon till twilight.  Benefiting Johns Hopkins All Children's Hospital, Friday night kicks off 5-7 pm with Reggae Rich followed by Reverand Barry 7 Funktastic Soul featuring the Hellacious Horns. On Saturday, Reggae Rich (5-6:30 pm) warms up the flip flop crowd for St. Pete High's Pitchforks Acapella Choir's Salute to the Troops. Rumours ATL: A Fleetwood Mac Tribute performs 7- 10 pm.   VIP Saturday: Sit back, relax and enjoy a beautiful evening of surf, sand and live music in our "Chillin' on the Grille" Chillounge Experience, which includes tables for 10, tables for 8, High Top tables for 4 and seating in the Lounge Seats all in the VIP area for the music. www.BeachGoesPops.com
Musical Theater: At the Mahaffey Theater Rock Stars & Stripes: A Rock 'n Roll Road Trip Across America (4/14) is the brainchild of former Boston frontman and guitar player David Victor, Rock Stars & Stripes is a unique concert experience that takes audiences on a virtual road trip across the country by performing classic American rock 'n' roll hits set against the backdrop of engaging video of some of America's most iconic landmarks, places and people. Duke Energy Center for the Arts, The Mahaffey Theater 400 First St. South 727-893-7832;  www.mahaffey.com  At Ruth Eckerd Hall, Cindy Lauper's delicious musical and dance romp Kinky Boots dances into Tampa Bay April 11-16, followed by Dirty Dancing May 5-7 and The Three Musketeers May 18-21 and 25-28.  111 McMullen Booth Rd. Clearwater  727-791-7400; RuthEckerdHall.com
Voodoo Macbeth – April 7 Preview Performance (7 pm); April 8 Opening Night (7pm) The Studio@620 honors the 400th anniversary of Shakespeare's legacy with "Voodoo Macbeth", inspired by Orson Welles' historic 1936 production. For those unfamiliar, the play centers on a brave Scottish general named Macbeth who receives a prophecy from a trio of witches that one day he will become King of Scotland.  An all African American cast directed by Bob Devin Jones, will include local notables Sharon Scott, Kylin Brady, Nadine Smith, James L. Lincoln, and Cranstan Cumberbatch, and features Erica Sutherlin as Lady Macbeth and Calvin M. Thompson as Macbeth. A soundscape composed of percussion and live sound effects and a creative installation of the set by artist Ya La Ford will add to this unique dramatization!
Studio @ 620: Music, art, spoken word, poetry, this performance/visual art gallery is a downtown treasure. 620 First Avenue S., downtown St. Pete 727-895-6620 http://www.thestudioat620.org/
Palladium/Side Door/Hough Hall: One of our favorite venues, this refurbished beauty is hip and happening. We usually start at The Hollander Hotel for a craft beer, and stop back in at The Tap House after the performance. 253 Fifth Ave. N, downtown St. Pete 727- 822-3590 my palladium.org

4/7 Harry Allen & Grant Stewart: Two Tenor Giants with Nate Najar Trio
4/8 Defending the Caveman, Broadway Comedy
4/9 Brendan Nolan and Colin Farrell, Irish Singer-Songwriters
4/12 Palladium Chamber Players (Strauss, Schubert, Saint Saens)
4/14 David Amram: 60s Beat Icon and Multi-Instrumentalist
4/18 Helios Jazz Orchestra
4/22 Say Goodnight Gracie, Broadway Comedy
4/23 Heralds of Harmony: Encore '17, Barbershop
4/27 Sunscreen Film Festival's 12th Annual Red Carpet Opening Event
4/28 Daniel Giron, Flamenco Guitar
FILM  
Check out Steve Traiman's article in this issue on the star-studded Sunscreen Film Festival. In addition to Eckerd College International Cinema Series in Miller Auditorium (art films, opera in HD), Clearwater Beach's Sunset Cinema @ Pier 60 on the jumbo-sized screen Fri.-Sat. beginning at 6 pm. Another favorite of ours is the St. Petersburg Preservation's (SPP) May Movies in the Park who will unveil the May 2017 movie poster April 6 (6 pm – 8 pm) n the courtyard at The Ale & the Witch (111 2nd Avenue NE). Proceeds from beer sales will be donated to St. Petersburg Preservation.  Movie trivia questions will be asked, offering hints to the movie titles that have been selected.  Prizes will be given to those who guess the May Movie title! May Movies in the Park occurs each Thursday evening in May (4, 11, 18 & 25) starting with live music @ 7 pm and the movie at dusk.(North Straub Park, between 4th Ave. & 5th Ave. NE on Beach Drive).  On April 27. there will be a Movie at Midtown in the garden of the Dr. Carter G. Woodson African American Museum (2240 9th Avenue South).  Movie goers can come early, enjoy live music before the movie and enjoy a picnic they can either bring or purchase food from Midtown vendors who will be set up on-site. Bicycling to movies is a fun way to arrive and free bicycle valet parking will be provided by Coast Bike Share during the movies.  Movies are free. http://www.stpetepreservation.org/page-1806145
THE SPOKEN WORD
April 13 6:30 pm – Florida Holocaust Museum: The FHP's Genocide and Human Rights Awareness Movement (GHRAM) lecture series presents  Rwandan Genocide testimony expert Karen Jungblut   As the Director of Research and Documentation at the University of Southern California Shoah Foundation, Jungblut oversees scholarship and research activities, as well as a global network of partner sites with access to the Institute's nearly 52,000 testimonies. Jungblut is in charge of expanding the existing archive with video of Survivors of other genocides, which will provide scholars and teachers with unprecedented research and teaching opportunities. In 2013, the USC Shoah Foundation's Visual History Archive expanded beyond the Holocaust for the first time, taking in 64 audiovisual testimonies of survivors and witnesses of the Genocide against the Tutsi in Rwanda. That set of atrocities claimed as many as one million lives over the course of about 100 days in 1994 when government-backed militias of ethnic Hutus went on a mass killing spree targeting the country's next largest ethnic group, the Tutsis. The Rwandan government has since eliminated the official use of those ethnic terms in its census and on identity cards in hopes of fostering reconciliation. www.TheFHM.org/25th.
Studio@ 620  620 1st Avenue South, downtown St. Pete
Wordier Than Thou, an open mic for storytelling, share prose or just catch tales from area wordsmiths. A featured reader kicks off the night, followed by 10 minute open mic slots.
In partnership with Keep St. Pete Lit , enjoy Poetry Open Mike with a featured poet and opportunity to read  7-9 pm May 17, June 21, July 26, Aug. 23, Sept. 27 and Oct. 25
Happy Hour with the Historian: Sharing the stories of the Sunshine City for 95 years, the St. Petersburg Museum of History's popular lecture series features an evening of wine, words and wisdom.  May 11: Lisa Bradberry:  Weedon Island's Sunhaven Movie Studios; July 13: Peter Meinke:  An Evening with Florida's Poet Laureate; Sept 14: Bill Leavengood:  Doc Webb and his World Famous Webb's City; Nov 9:  Lynn Waddell:  Fringe Florida 335 2nd Avenue NE on the Pier Approach; 727-894-1052; www.spmoh.org
April 21-23 The Florida Antiquarian Book Fair: The oldest and largest antiquarian book fair in the Southeastern United States. Visitors will find books of every age and about every conceivable topic, in a wide range of price ranges. The event features books, maps, prints, ephemera, autographs and more. The book fair will be part of the third annual SunLit Festival, a celebration of literature.  The Coliseum, 535 4th Ave N. downtown St. Pete
Comedy: Stand-up comedy tickles the brain and no one does it better than baudy Ron White (The Mahaffey, April 28). Locally, check out Coconuts Comedy Club (5501 Gulf Blvd., SPB; 727-360-5653) and Hawk & Wayne's Anywhere USA quirky improv at American Stage 6 pm Sunday.
FESTIVALS & ARTWALKS
Spring into Festa Italiana in Ybor City April 8-9 for wine, bocce, good food, homemade vino and a Sunday performance by Zucchero. wwwFestaItalianaTampa.com  Tarpon Springs 43rd Fine Arts Festival on the Bayou April 8-9 showcases juried arts show, 200 artists, live entertainment and refreshments. www.TarponSpringsFineArtsFestival.com
Apr 14-15 @ 10:00 am – 8 pm: Gulfport's Springfest Garden Art and Faerie Festival The 23rd Annual Springfest Garden Art & Faerie Festival will transform Gulfport's Clymer Park into an "enchanted village" inhabited by costumed faeries, sprites, gnomes, ogres and trolls on Friday. Renaissance-era characters and gypsies may be spotted strolling through the 7.5-acre greenspace along with minstrels, wizards and roving entertainers during the event which includes a Good Friday Fish Fry, carnival rides,  May pole dances,  faerie house competition, costume contests and live music plus a children's area offering face painting, pixie dusting, bubble blowing, and more.  Shop the market for plants, garden art, Renaissance-period trinkets, clothing, jewelry, art, hand-made crafts, food, beverages and other items of whimsical interest. 5501 27th Avenue South  http://visitgulfportflorida.com
St. Petersburg Second Saturday Artwalk: The Waterfront Arts District, Central Arts District, EDGE District, Grand Central District, and the Warehouse Arts District become one arts destination for the St. Petersburg Second Saturday ArtWalk from 5 to 9 p.m.  Don't forget about Gulfport's Tuesday's Fresh Market and Swing Dancing Wednesday at the Casino, plus Gulfport Artwalk 1st Friday and 3rd Saturday.  3101 Beach Blvd., www.visitgulfportflorida.com
PARTIES
Any night in DTSP is a street party on Central Ave., with dancing at Ruby's Elixir, Iberian Rooster and Push Lounge, music at The Hideaway and other shenanigans. The 7th Annual Chillounge Night at Curtis Hixon Park April 8 (6-11 pm) features live bands, fireworks, fashion show and a Brazilian Samba Parade to benefit Julie Weintraub's Hands Across the Bay Charity. wwwchilloungenight.com  Sheraton Sand Key Resort will host Evening with the Chefs May 5 (7-10 pm) showcasing award-winning chefs and Pinellas County culinary students creating gourmet cuisine and raising money for the ryanwellsfoundation.com.
THEATER
The Straz Center presents Biana Del Rio Not Today Satan Tour April 7, Opera Tampa's Tosca April 7 & 9, Sex and the City A Parody April 11-13 and Alton Brown Live Eat Your Science April 21. On Oct. 7, Anderson Cooper and Andy Cohen will engage in an unscripted and unforgettable conversation at The Straz Center. strazcenter.org. Through April 23, you can enjoy Ain't Retirement Grand at the Early Bird Dinner Theater (21905 US 19 North, Clearwater, FL 33765  727-437-2363)
April 29- May 28 FreeFall Theater: End of the Rainbow: A play with music about the final years in the life of Judy Garland, End of the Rainbow triumphed in London's West End in 2010/2011 and on Broadway in 2012. It's Christmas 1968, and Judy Garland is booked for six weeks of "comeback concerts" at London's Talk of the Town. The failed marriages, the suicide attempts, and the addictions are all behind her. At forty-six and with new flame Mickey Deans at her side, she seems determined to carry it off and recapture her magic. But stormy skies are on the horizon as old patterns resurface, and the drama backstage chips away at the onstage brilliance of one of the greatest singers of all time. Shifting back and forth between moments of onstage triumph and backstage tribulation, this speculation on a pivotal chapter in the life of a legend is at once wildly entertaining, irreverently funny, and deeply moving. FYI: 727-498-5205 www.freefalltheatre.com
If You Go: Dine @ The Reading Room: This clever new bistro in the former Christian Science Reading Room mixes iconic dishes and drinks.
American Stage Theater
April 19-May 14: Hairspray: The American Musical is performed in Demens Landing Park. Bring a picnic and dress vintage. http://americanstage.org/park/ Next up? The Invisible Hand opens May 31
Thru April 9 "Informed Consent" : Continuing its 2016-17 Season – "In Search of…America" theme, American Stage will showcase the Tampa Bay area premiere of "Informed Consent" by Deborah Zoe Laufer, winner of the 2009 Helen Merrill Playwriting Award. This powerful drama takes us into the personal and national debate about science v. belief, and whether genetics defines our fate. Inspired by a landmark court case between one of the country's largest universities and a Native American tribe based in the Grand Canyon, "Informed Consent" goes "in search of… A CURE" while asking the question, "is your DNA your destiny?"   Raymond James Theatre, 163 3rd Street North downtown St. Pete www.americanstage.org   727-823-PLAY (7529)  BoxOffice@AmericanStage.org
MUSIC
In April, there's something for everyone. At the Capitol Theater, catch jazzy Chris Botti April 14, Olivia Newton John April 20, Kenny G April 21 and Everclear April 30. On April 28, The Fabulous Thunderbirds perform at Blast Friday, the popular street and music festival outside the Cap in downtown Clearwater.  athtecap.com Ruth Eckerd Hall features Little River Band April 8, Boston April 18, Air Supply April 23 and Sheryl Crow April 30. On April 8 @8 pm,
Pinellas Park Performing Arts Center features the Elgon John Rocket Man Tribute visit-pinellas-park.com.  Largo Cultural Center hosts Richard Elliott April 29. LargoArts.com The Rays have announced two post-game concerts: Sabrina Carpenter June 25 and Lauren Alaina July 9 raysbaseball.com/concerts.
The Florida Symphony Orchestra tickles the keys with Tchaikovsky's Piano Concert No. 1 April 8-9. At the Mahaffey there's a TFO Coffee Concert April 20 featuring French delights including Ravel, Dukas, Saint-Saens and Debussy and on April 22 Singing & Swinging with Ella. floridaorchestra.org
A Touch of Classics: The South Pasadena Community Band showcase classic favorites at 7:30 pm at two locations: 4/12 Treasure Island Community Center; 5/18 Galatea Garden, South Pasadena http://www.southpasadenaband.com/upcoming-program/.
April 7 (8 pm) – Street Corner Symphony @ The Club at Treasure Island: This a cappella group transitions seamlessly from gospel to barbershop to rock and roll. Enjoy a seafood buffet before the show. Reserve your spot at 727-367-4511. 400 Treasure Island Causeway
April 7 (7:30 pm) – SPC Piano Concert Series Extravaganza: Presented by St. Petersburg College Music Center Gibbs Campus at St. Petersburg College Music Center, St. Petersburg  this is a  delightful evening of lighthearted arrangements for 4 pianists, 2 pianos, 8 hands. With pianists Eunmi Ko, Rebecca Penneys, Omri Shimron, Benjamin Warsaw. All are on the faculty of the Rebecca Penneys Piano Festival and hold other academic appointments.
April 8 (5 pm) – Dean Johansen: Accomplished Singer/Songwriter/Guitarist, Dean Johanesen will bring his unique brand of gypsy swing, American roots and Spanish guitar to St. Pete ArtWorks Gallery during the Second Saturday Art Walk. Johanesen, a local favorite spins stories ofld times, characters from the 20's and 30's, side show and circus performers. This is also the closing reception for Freddie Fred's current exhibition, "True Dat". Stop by the gallery for music, food, drink and art.  http://www.gcaa-fl.org/
April 8 (1 pm – 9 pm) Latin Music Festival by the Bay: Gulfport City Limits, LLC. is proud to present the first in a series of annual Latin Music Festivals, "Latin Music by the Bay" on April 8, 2017.  The concert will be located on beautiful Boca Ciega Bay from 1 pm until 9 pm.  The concert event will feature recording artists Orchestra Fuego, The Latin Jazz Knights, Freddy Montez, Victor J. Moreno with Esther Suarez, and Eddie Garrido.  The concert is pet friendly, (dog, cat, bird or whatever) but bring a leash. Enjoy food and drink for sale, a Cuban Cigar maker at La Habana Cigar and Richard Maurer, Massage Therapist will be set up for your relaxation. 5730 Shore Blvd. S., Gulfport www.gulfportcitylimits.com,
OPERA & DANCE
The St. Petersburg Opera Company will perform Opera Therapy 3: Couples Therapy April 20-21 and Preview to the Tales of Hoffmann: Three Times A Lady May  18-9 in the Evenings and Mornings with the Maestro series. Jacques Offenbach's The Tales of Hoffmann will be performed June 2, 4 and 6 at the Palladium Theater. Hoffmann, the poet hero of The Tales of Hoffmann, has four love affairs that haunt him in Offenbach's grand and final opera.  The opera fantastique begins with Hoffmann waiting in a tavern for his current passion, an opera diva appropriately named Stella.  To pass the time, Hoffmann tells the other students stories about three of his previous loves, each of which ends in disaster. June 30-July 9, Stephen Sondheim's enchanting Into The Woods will be performed. STPeteOpera.org
Eckerd College: Live HD Opera Performances in Miller Auditorium, where April 7 at 1:30 screens Hedda Gable: A Play by Henrik Ibsen. Hedda and Tesman have just returned from their honeymoon, and the relationship is already in trouble. Trapped but determined, Hedda tries to control those around her, only to see her own world unravel. Tony Award–winning director Ivo van Hove (A View from the Bridge at the Young Vic Theatre) returns to National Theatre Live screens with a modern production of Ibsen's masterpiece. Ruth Wilson (Luther, The Affair, Jane Eyre) plays the title role in a new version by Patrick Marber (Notes on a Scandal, Closer).
GALLERIES
Duncan McClellan Gallery 2342 Emerson Ave South; 855-436-4527. dmglass.com
ZIPLINE! The Duncan McClellan Gallery and DMG School Project headquarters in the Warehouse District will soon launch the first-ever ArtZipline®. The zoning department for the City of St. Petersburg has approved the DMG's plan for the ArtZipline® as yet another unique way to tour St. Petersburg's popular art center! The ArtZipline® will start at the largest glass studio in Florida–Duncan McClellan Gallery and DMG School Project headquarters in the Warehouse District.  Duncan McClellan thought of this wacky idea to help promote art in the city of St Petersburg and more specifically in the increasingly popular Warehouse District.  He envisions the ArtZipline® to start at his gallery and learning center, then connecting with the Art Xchange via the Pinellas Trail.
Thru April 7: Seattle glass artists Kelly O'Dell and Raven Skyriver.
April 8, 5-10 pm – Joie de Vivre with Nancy Callan! Come to the opening party and welcome renowned Seattle Glass Artist Nancy Callan to St Petersburg. Glassblowing demonstration with Callan begins around 6:15pm. Jazz concert with Henry Ashwood Jazz Project from 8-10pm. Cash Bar and Food Truck on premises.
April 9 noon-1 pm – Art Glass Sunday: Watch  Nancy Callan blow glass in this one hour event. From 3-4, Callan will give a talk at MFA.
ArtPool Gallery – July 15 Trashin Fashion Looking for Designers/Artists/Models
Design your own collection, or team up with some friends, and work on a line of recycled & upcycled couture!  Trashion Fashion is our most creative fashion show of the year, we welcome designers of any age, no experience needed, and it is free to participate. Come get creative and be a part of the community fun at ARTpool Gallery! All models must apply here. Submissions by April 30. 2030 Central Ave DTSP 727-324-3878 artpoolgallery@gmail.com
The Enroy Foundation Inc., Gallery @ Marketplace at Boca Bay (Gulfport)
This new gallery features local artists such as David Vasquez, Rose Caballes, Nikita Rosalind, Naomi Glueck, Annamarie Sisson, Larry Busby and Scott Spillman. You can buy and enjoy local art while enjoying refreshments from the coffeehouse. On the 1st Friday and 3rd Saturday Art & Gallery Walks they will host live music. Enroy Foundation, Inc., a 501(c)3 non-profit organization is committed to the visual and performing arts in the Tampa Bay Area, with an emphasis on collaborative, educational, and environmental projects.  Started by Gulfport musicians Maureen Kilroy and Larry Enlow, the organization has sponsored collaborations between artists and a school, performers and environmental interests, house concerts, and a mutually beneficial relationship with a Gulfport restaurant, Boca Bay Grille.  2838 Beach Blvd S. FYI: https://www.facebook.com/EnroyFoundationInc/ Jessica  727-608-0070
The Veteran's Arts Center: Opened in March, the VACTB is Florida's first art center for Military, Veterans, First Responders and Families that provide therapy, healing, wellness and education programming. And is supportive of their need for creative outlets as well as the need for economic opportunities. 6798 Crosswinds Drive North  813-504-3092 http://www.vactb.org/
Creative Clay 1114 Central Avenue DTSP 727-825-0515  https://www.creativeclay.org/ "The 2017 Project: Securing Our Future," is ready to kick off as Creative Clay prepares to move its headquarters this June from St. Petersburg's EDGE District, to 1846 First Ave. S in the Grand Central District.
Thru June 30 Community Café: Flower Power showcases paintings of flowers by Linda M., Emily M., Gina K., Conchita, Mike E., Dolores M.,Yalanda S. & Patsy Lieberman, Teff A. Hazard, Sheryl L.
Thru June 30 Time After Time featuring the artwork of Ray M who paints clocks and watches. Opening reception April 8 (9 pm) with live music, beer and wine.
Morean Arts Center http://www.moreanartscenter.org/
PN welcomes new executive director Michael Killoren, who comes from the NEA in Washington D.C. Thru May 31: Ceramic artist Joe Pintz; opening reception April 8 (5-9 pm)
The Chihuly Collection: This  stunning, permanent collection of world-renowned artist Dale Chihuly's unique artwork is presented in a fabulous architectural space designed specifically for his art, showcasing how  art and architecture can work together. 720 Central Avenue, downtown St. Pete 727-822-7872  http://www.moreanartscenter.org/chihuly/
Florida CraftArt: Debuts Round Square (thru 4/22) 501 Central Avenue downtown St. Pete 727-821-7391 http://www.floridacraftart.org/ The exhibition features art works by four established Florida artists: Edgar Sanchez Cumbas, Kendra Frorup, Babette Herschberger and Charles Parkhill.  
Syd Entel Gallery and Susan Benjamin Glass: The 5000 square foot gallery located on Main Street in charming downtown Safety Harbor showcases acclaimed artists from around the World along with today's premier American glass artists. 727-725-1808  fgalleries@tampabay.rr.com.  247 Main St. www.sydentelgalleries.com
MUSEUMS
Thru June 10 – St. Petersburg Museum of History: Two exhibits offering a unique look at Florida history run through June 10: Seminole People of Florida: Survival and Success and Florida Folk Art – Just Above the Water. SPMOH.ORG
Museum of Fine Arts
Museum of Fine Arts, 255 Beach Dr. NE 727-896-2667 mfastpete.org.
April 29-July 23 Dorothy Height's Hats : Civil rights icon Dr. Dorothy Irene Height (1912-2010) was known for her courage, intelligence, leadership, standing straight—and hats made by African-American milliners. Dorothy Dorothy Height's Hats are a window to history, commemorating meetings with Eleanor Roosevelt (white mink chapeau).  One hat in the exhibition is by Harriet Rosebud, a noted milliner who grew up in St. Petersburg. She wore others by such fashion luminaries as Oscar de la Renta, Mr. John, Lisa Rene, Luke Song, and Ruth Kropveld, who established Chapeau Creations.
The Book Club @ the MFA, presented by Keep St. Pete Lit, will discuss her memoir

Open Wide the Freedom Gates

on  May 11, at 6:30 p.m. The program is free with Museum admission, which is only $5 after 5 p.m. on Thursdays.
April 12 10-11 am: Coffee Talks with Nan Colton as novelist Virgina Woolf as she sits for painter Jacques Emile Blanche.
April 30 noon-4pm Painting In The Park: Enjoy family friendly fun such as giant paintings, kite making and flying, painting on the NOMAD Art Bus and more; food available.
Thru May 7 Greg Smith Multimedia Artist: Smith's work often centers on a character attempting to "create something, trying to structure his environment, but who's also kind of hapless, and, in the end, probably doomed." Catch his video Breakdown Lane (2013).
Thru July 2  Dominique Labauvie – Dig: The formal explorations of interdisciplinary artist Dominique Labauvie are rooted in both material and a highly developed relationship to philosophies of the drawn line. Dig brings together recent works by Mr. Labauvie in his signature media of steel and pastels. The theme of the ruin runs throughout, as he seems to take on the role of archaeologist, digging into the earth's histories to try to understand their effect on current events.
Thru June 4: The Open Road- Photography and the American Road Trip: Nothing says spring break like this exhibition, a delightful journey through America's kitschy landscapes.
The Dali Museum  http://thedali.org
Thru April 17 – Frida Kahlo at the Dali:

An exhibition of

Frida Kahlo's

paintings and drawings, together with her personal photograph collection showcase her dreamlike work suggesting that love and suffering create a new sense of beauty. Kahlo's art and storied life stir immense public interest. The Dali and Beyond Film Series fatures the A&E biography of Frida Kahlo.

April 23 @ 7 pm – The Art of Recovery:

From a hopeless, homeless addict to an outstanding artist and man in recovery, Dione Christopher will be showcasing his artistic talents at The Art of Recovery- An Evening with Dione at The Dalí Museum. Dione is a graduate of Survivors of Addiction who has battled with addiction throughout his life. This night will be an effort to change the perception of addicts and those in recovery, while raising money for a noble, local cause. The event will be hosted by local non-profit, Survivors of Addiction, Inc. The theme of the night is "Principles through Portraits," where those who are in recovery, as well as those who are still suffering, will get the chance to showcase their artist talents, in hopes to lessen the stigma around addiction.

Thru May 2017 – Dali/Duchamp:

The father of surrealism and the papa of conceptual art, this is the first exhibit dedicated to Dali and Duchamp's friendship and influence on each's art, showcasing 60 works and supplemented by correspondence and collaborative projects.
TAMPA & BEYOND
Ringling College of Art & Design  2700 N. Tamiami Trail, Sarasota   http://www.ringling.edu/
April 7-22,  2017 Best of Ringling Annual Juried Student Exhibitions.
ARTS NEWS
Morean Arts Center Turns 100: In March, Mayor Rick Kriseman presented a city proclamation commemorating 100 years of the arts in St. Petersburg. The Morean Arts Center started in 1917 as The Art Club of St. Petersburg, the first art gallery south of Atlanta, on Beach Drive. In 1963, as plans for the Museum of Fine Arts took shape, it became clear the Art Club needed to find a new home. 201 Beach Drive – the old homestead – was razed in 1965 after the Museum of Fine Arts opened. A kapok tree was planted in 1965 to commemorate the Art Club. After two additional moves and a name change, the Art Club is now known as the Morean Arts Center. 719 Central Ave.
KUDOS to St. Pete Arts Alliance: The MUSE Awards event netted $32,000 that will help support our activities this year. Since the event a few weeks ago, they have already helped sponsor the Black Arts & Film Festival 2017, and we made a grant to the Arts Conservatory for Teens.  We will soon announce our new student arts grants program, and the February ArtWalk recorded the highest number of attendees in four years.  .  www.stpeteartsalliance.org
CALL FOR ARTISTS
Creative Pinellas Looking for Artists: Creative Pinellas is looking for up-and-coming artists for a new grant program that encourages them to create new work. Its Emerging Artists Grant program will award $2,000 each to 10 working in the creative arts, who will be mentored by someone in their field (literature, choreography, interdisciplinary, media arts, music composition, theatre/musical theatre, and visual arts)  They must be at least 18 and a legal resident of Pinellas County for at least one year and agree to maintain legal residency during the grant period ending in October. Artists must have a track record of success, a strong portfolio, a plan for the future, and a commitment to participate in the exhibition planned Oct. 26. Grant participants are expected to work with mentors and make regular reports on the progress of their work between July 1st and October 26.
Applications are being accepted online through 5 p.m. April 12. Artists are advised to begin uploading before or by 4:30 p.m. to ensure their work is successfully received by the deadline. More information is available at Creative Pinellas. Awards will be announced in June.
Creative Life Project Seeks Artists For 2017 Exhibits: The Creative Life Project is looking for artists to display works within their network of venues. Artwork of all mediums are accepted, including photography. Venues include Hidden Springs Ale Works, Cigar City Brewing, Four Stacks Brewing, Revolution Ice Cream, Escape Brewing, 81 Bay Brewing and more. Submit work to:  Hello@TheCreativeLifeProject.Org   Http://Www.Thecreativelifeproject.Org/Artshowentry/
Call To Artists: Animals In Art May 1, 2016 Deadline: June 3: Smithtown Township Arts Council in St. James NY invites submissions for its upcoming juried fine art exhibition: "Animals in Art – Our Partners on the Planet" at the Mills Pond Gallery, with JurorTim Newton. Artists are encouraged to share their artistic vision of animals both domestic and wild. Artwork may include any animals that live on land, in the sea or in the air and can range from realism to surrealism to abstraction. Open to USA artists age 18 or older. All media considered except photography and computer generated art. Prospectus at Http://Www.Stacarts.Org/Exhibits/Show/96.
Call To Artists: Public Art In Sarasota May 1, 2016 Deadline for submissions: June 5: A Call to Artists is underway for the creation of an original landmark sculpture to be placed at a future roundabout at Orange Avenue and Ringling Boulevard in Sarasota, to become part of the City's permanent public art collection. Artists with a proven track record of creating significant outdoor public art commissions that can withstand the Florida elements are encouraged to apply. The piece should be  free standing. Complement the Orange Avenue/Ringling Boulevard roundabout location. Require minimal maintenance (no water features). Must be an original design. Can be appreciated from a distance (does not draw people toward it). Must not exceed 20 feet in height. Must not display messages or contain signs, flashing lights etc. The project budget cannot exceed $150,000.  Installation: November 2017. Specific details about the project, including the application process and selection process are posted at www.CallForEntry.com. 
http://paradisenewsfl.info/wp-content/uploads/2016/10/morean-glass.jpg
299
448
paradisenewsfl@gmail.com
http://paradisenewsfl.info/wp-content/uploads/2016/10/pn-red-web-header.jpg
paradisenewsfl@gmail.com
2017-04-12 21:16:47
2017-04-12 21:17:03
APRIL 2017 ARTS & CULTURE