Gulfport Tidbits
Make a resolution to become the confident, relaxed leader that you have always dreamed of being. Gulfport Toastmasters will help you every step of the way. Meet with them in the Gulfport Public Library Community Room from 6:15 – 7:30pm each Wednesday evening.  Visitors are welcome. More  at gulfporttoastmasters.com  La Cote Basque Winehouse offers dinner theatre on the third Thursday each month. Call 727-321-6888 for info and reservations.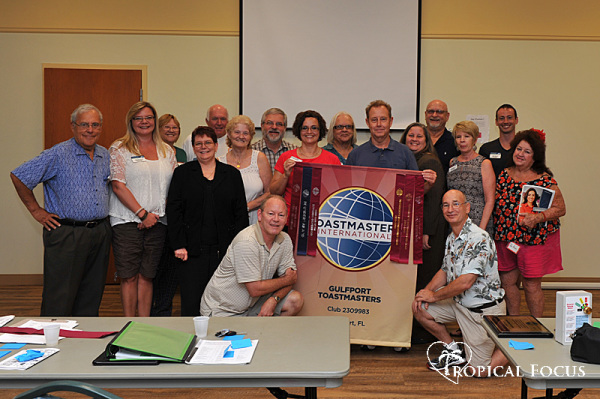 Madeira Beach Tidbits
Gulf Beach Masonic Lodge Sponsors Corner Stone Laying. The dedication ceremony is the symbolic laying of the Cornerstone, that which supports the entire structure. The officers conducting the ceremony, usually officers of the Grand Lodge of the State of Florida, travel from all over the state to conduct the ceremony of symbolically squaring, leveling and plumbing the Cornerstone, assuring that it is set correctly and that "the Craftsmen have done their duty."  The Grand Master then asks for the Blessings of Deity, upon this new edifice after which he asks that the Corn be scattered as a symbol of plenty; the Wine be poured as a symbol of refreshment; and Oil be poured as an emblem of peace and joy. Gulf Beach Masonic Lodge No. 291 meets each Thursday evening at 7:30 pm from September through June. All local Masons, as well as visiting Masons are invited attend the Lodge meetings. Further information can be found on the Lodge website, www.gulfbeachlodge.org or by emailing the Secretary, Howard Knapp, at Secretary@gulfbeachlodge.org

Pinellas County Tidbits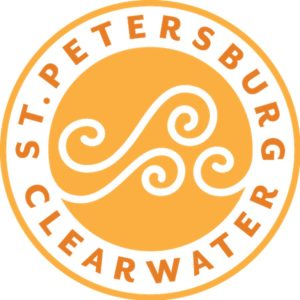 VSPC expanding national marketing reach in 2016. Visit St. Pete/Clearwater will launch a national marketing campaign in 2016. Rather than the occasional advertisements in national publications, the campaign will be sustained for several months throughout the United States through Pandora, NPR and AT&T cable systems to make the area more recognizable to a national audience. Additionally, VSPC will add Boston to their annual winter marketing campaign, which has covered New York City and Chicago. Tourism is the #1 employer in Pinellas County. In 2014, the county welcomed 5.8 million overnight visitors generating $35 million in bed tax. The overall spending impact of visitors was nearly $8.5 billion.
Volunteers needed for annual homeless count The Pinellas County Homeless Leadership Board needs help from the community to conduct a one-day count and survey of homeless individuals and families in the local community. The count is scheduled for Thursday, Jan. 28.  Those who are interested in volunteering for the count can visit www.pinellashomeless.org and look for 2016 Point in Time Count registration or call (727) 582-7922. There will be a mandatory training session for all participants held on various dates in January.  The survey helps identify gaps in services and helps countywide efforts toward ending homelessness. Last year's one-day count identified 3,387 homeless individuals who met the study criteria set out by HUD, though the county's total homeless population is estimated to be almost twice that number.
The Pinellas County  "Doing Things for You"  app is available for residents to report issues and access useful resources. Pinellas County can also be found on Facebook, Twitter, YouTube & Instagram. More information is available on the county website www.pinellascounty.org which features LiveChat for assistance. 
St. Pete Beach Tidbits
Jackie just opened her new Tapz & Tapaz concept restaurant on St. Pete Beach's Corey Avenue. Located where the Shell Store sat for 50 years, the concept combines craft beer and small plates with popular pricing. (Nothing over $7) 
TradeWinds Island Resorts Launches Major Employment Campaign – The Island Grand and Guy Harvey Outpost are looking to fill more than 100 full and part-time positions at the popular beachfront resorts, including housekeepers, cooks, reservations agents, security, activities counselors, stewards, beach attendants & more. The resorts are investing more than $2.4 million into current and new employees for 2016, with the goal of having all non-gratuity based positions starting at $10 /hour, making TradeWinds one of the highest paying employers on Pinellas beaches. For more info see www. ILoveMyJobBecause.com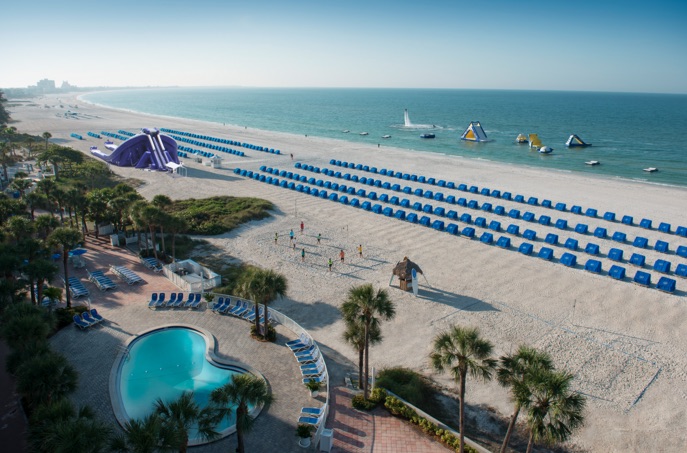 The CRA (Community Redevelopment Area) plan contemplated by the city's newly adopted comprehensive plan since 2005, was unanimously approved by city leaders, a major step in providing a 30-year sharing of tax revenues from redevelopment in the city's core and major resort districts. When properties redevelop and their taxes increase due to incremental improvements, the city retains a share for infrastructure improvements. The plan envisions using CRA funds in the future for underground utilities, streetscape and mobility improvements in the CRA district, including public parking, signage, gateway features, park and open space improvements and more.
St. Petersburg Tidbits
Chill Lounge Night was rescheduled to February 20. We had a full-page story on page 8 in November's Paradise NEWS about the 8th Annual Bert Smith sponsored spectacle that had to be rescheduled due to serious weather that had been predicted for Nov. 21st. You can imagine the complications for event founder and promoter Rainer Scheer. We are praying for a perfect night to help Rainer, who also had to reschedule an event in Ft. Lauderdale this season, recover from the losses and the trauma. Feb. 20 should be an incredibly memorable night in Straub Park on the waterfront in downtown St. Petersburg. With local favorites The Black Honkeys Cirque du Chill performers and more. Purchase tickets from $25 -$120 for VIP, and Ultimate VIP packages for up to $990, Call 1-888-695-0888. Tell them you read about them in Paradise NEWS.
The Mill was awarded the Robert W. Tolf Award for Best New Restaurant by Florida Trend magazine. The restaurant, which opened at 200 Central Avenue on the ground floor of Priatek Plaza downtown in July, features New Southern cuisine.  "Very honored to be awarded this," said Mill co-owner and Executive Chef  Ted Dorsey. "It speaks a lot to what we've done and what we've accomplished in a short amount of time."     – Editor's  Note – Dorsey was the executive chef at the Zamora's Castile when it opened, accounting for early rave reviews. "Tasty but a surprisingly tiny portion" thought Pass-a-Grillians Tim & Trish Kelley of their first sampling of an appetizer at The Mill, the Blue Crab Croquettes $14.
A ceremonial groundbreaking was held on November 20, 2015 for the new Johns Hopkins All Children's Research and Education Building. The $85 million, 225,000 SF research facility will house research labs, academic and research offices, a simulation lab and a 250-seat auditorium. Located southeast of All Children's Hospital at 5th Street and 6th Avenue South, the new building highlights the area's status as St. Petersburg's Innovation District. Construction will begin in 2016, bringing an estimated 300 construction jobs. When completed in 2018, the facility will house approximately 200 faculty, educators, researchers, physicians, nurses and support staff. Overall, an estimated 30 new highly skilled jobs will be added to the city by this project.
FOCUS St. Petersburg is accepting applications for 2016 Program: January 20, 22, & 23 FOCUS St. Pete is a program of the St. Petersburg Chamber of Commerce and Leadership St. Pete Alumni Association for professionals who are eager to establish civic relationships and learn more about the inner workings of the community with a minimum expenditure of time. The program is limited to 35 participants and is open to professionals from both the private and public sectors who generally occupy key positions and are new to the area or have accepted new or expanded responsibilities. Register through the St. Petersburg Chamber.stpetersburgflcoc.wliinc34.com
A study by Global Aquaponic Foods, Inc. (GAF) found that a fish farm would be feasible at the decommissioned waste water treatment plant next to Albert Whitted Airport. The farm could potentially raise red drum, sea bass, sheepshead, tilapia, and oysters, among other species. Next, GAF will conduct a more detailed analysis to pursue the opportunity.
The M/V Pearl Mist, a 325-foot cruise passenger vessel, is staying at Port of St. Petersburg until late January.  Owned by Pearl Seas Cruise, she can accommodate approximately 210 passengers and will be operating out of South Florida for cruises to Cuba starting in March 2016. The cruise owners indicated that if Cuba opens up, they would consider St. Petersburg as a port for future cruises. Park Once shuttle service begins – In November, the city launched a 6-month pilot project to support its new mobility program, Park Once, in downtown. The project provides for a free shuttle service for those visiting downtown St. Petersburg on weekend evenings. Service is operational between 5 pm & midnight on Fridays & Saturdays, with stops conveniently located at the Sundial, 117 2nd St. N., or South Core, 101 First Ave. South, garages with additional stops located along the Waterfront, Beach Drive and Central Arts District. The high-frequency shuttles run a continuous 7 to 10 minute route to encourage visitors to spend less time on parking and more time enjoying all of the wonderful things to do downtown.
PSTA receives $500,000 grant to complete design of the Central Avenue Bus Rapid Transit project in St. Petersburg. The grant will help pay for final design of the route connecting downtown and the beaches. The route is intended to complement the existing Central Avenue Trolley and other local routes by supplying limited, expedited stops along First Avenues North & South from downtown St. Petersburg to the beaches 7 days a week. The route will cover 10 – 14 miles with 12 to 16 stops in each direction, and 5 – 7 buses serving passengers every 15 minutes along the route. With a total estimated price tag of $16.5M derived from a combination of local, State and Federal sources, service is expected to begin in 2020.
Pending approval from City Council, the city looks to launch the first phase of Bike Share with approximately 300 bicycles at 30 stations in the greater downtown area with an emphasis on connecting commercial corridors such as Central Avenue, 4th Street North and 22nd Street South.
Tierra Verde Tidbits
Interested in trying Yoga?  Nava Yoga Studio and the Tierra Verde Business Partnership have teamed up to offer a Free Yoga Class in the Tierra Verde Park on Sat. Jan. 23, 2016 from 9am-10am.  All levels of students are welcome – even if it is your first time! Bring the whole family! Yoga combines physical postures, breathing exercises and meditation, which may help to reduce stress and anxiety, and improve your overall mental and physical health. Enjoy the beautiful weather and experience how yoga can help you! Bring your yoga mat if you have one; if not, some will be available to borrow. For more see navayoga studio.com, email info@navayogastudio.com or call 727-592-1999.
Treasure Island Tidbits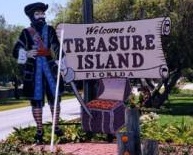 A city Visioning meeting will be held on January 30th at the Treasure Island Community Center. These sessions are held every five years to see if residents are willing to share their vision for the future of  Treasure Island. A pervasive anti-redevelopment mentality has kept Treasure Island fairly entrenched in the sixty's. The only time a majority of registered voters in Treasure Island have turned out for an election has been to ensure that the 5 story building height restriction does not get changed without a majority of registered voters being in favor of it.  The last such visioning session brought out the wish for downtown improvements and a beach trail. The beach trail has become a reality, and some changes were made in city zoning allowing downtown to Improve when investment dollars surface. Chairperson of the organizing committee, Mitchell Shenkman hopes for a good turnout. 
Treasure Islettes gave money this year to a non-profit group, Be A Santa to A Senior; national charity that makes the season happier for and helps provide much-needed items to homebound, financially challenged, lonely seniors in Pinellas county. Additionally, 24 residents at the Florida Sheriff's Youth Ranch and Villas were given gift certificates to make their Christmas brighter. Treasure Islettes have supported their community and other charitable organizations since their inception in 1955.  Fundraising projects include weekly Thursday night Bingo. Please join the Islettes Thursday evenings for games.  Early bird games begin at 6:45 pm and regular games at 7:45 pm.  They have a great snack bar, free coffee and cash prizes – so come and spend an evening with the Islettes and support your community.  The games are held at the Treasure Island Community Center located behind Walgreens. For info about the Bingo games contact, Marian Cox at 727-512-9102. The Treasure Islettes meet on the 4th Monday evening of each month from September to May at the Treasure Island Community Center. More information about membership can be obtained by calling Marian Alton at 727-360-0164. 
What to have some fun and meet new people?  Keep the brain cells active or build your resume?  The Treasure
Island and Madeira Beach Chamber of Commerce supports local businesses and charitable organizations in building a dynamic local community and thriving tourist industry.  We need additional volunteers for our welcome center, office, and special events. As a volunteer you play a key role as the first point of contact for many visitors in our welcome  center. Duties include providing information to tourists & snowbirds, event management, computer skills, phone bank, & light administration.   Come help keep Treasure Island and Madeira Beach a  great place to work, live and play. Call  Ellen or Pat 727.360.4121 weekdays.  Treasure Island & Madeira Beach Chamber of Commerce, Hours:  10 am – 4 pm Monday – Friday. 245 107th Ave., Treasure Island, FL 33706. Call: 727.360.4121 • IslandNeighborsChamber.org
http://paradisenewsfl.info/wp-content/uploads/2016/08/vspc-logo-1.jpg
900
900
paradisenewsfl@gmail.com
http://paradisenewsfl.info/wp-content/uploads/2016/10/pn-red-web-header.jpg
paradisenewsfl@gmail.com
2016-08-29 17:46:56
2016-08-29 17:46:56
Tidbits January 2016