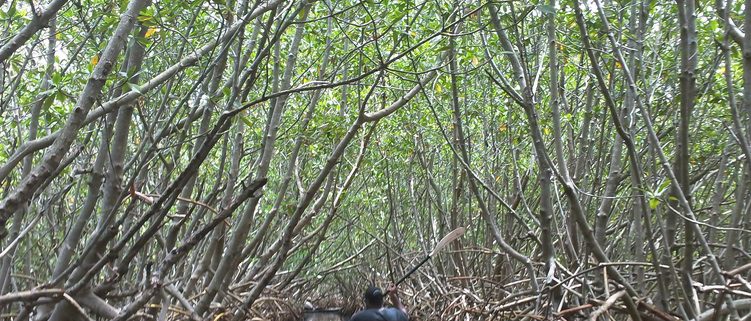 We live in Paradise!
From paddleboarding the Gulf to birdwatching at local preserves, Tampa Bay serves up natural wonders for children of all ages at its parks and preserves. You can get a dose of fun and Vitamin D right at home this summer. There's more going on than you think.
Parks For Every Passion
At Florida Botanical Garden, a children's walking trail blooms with outdoor musical instrutments. With the aid of a map available online or at the Garden Welcome Center, families can start at the Butterfly Garden, hike over to the boardwalk Tree Station, and scan for wildlife with the binoculars near the pond, then stroll through our Fruit Garden, while FBG's mascot, Flora, teaches fun facts about Florida fruits.
At McGough Park in Largo, you can participate in a drum circle, hike to the Intracoastal, feed alligator and snapping turtles and ogle the owls, hawks and American Eagle in their rescued bird habitats.
You can bike, rollerblade or walk the Pinellas Trail from Dunedin to downtown St. Pete. Want to cool off and explore? Grab your kayak or canoe and navigate the Blueways Paddling Trail to explore the coastline and rich array of marine and estuarine ecosystems. http://www.pinellascounty.org/blueways/default.htm
Dog Parks: Fort De Soto has the only dog park where dogs are allowed on the beach in a designated area. There are also 2 fenced in areas near the beach for large and small dogs with water stations (beach entrance is at the far southwest corner of dog park). You can also take your dog to play at Anderson Park, Boca Ciega Park, Chesnut Park, Eagle Lake Park, Sand Key Park and Walsingham Park.
Sawgrass Lake Park: Here alligators sun themselves close up and personal and you can climb the tower for a bird's eye view of the park. Hike the largest maple swamps on the Gulf Coast of Florida as you walk the mile-long boardwalk and half-mile dirt trail where you'll see birds, butterflies, plants and animals in their natural settings. Herons, egrets, ibis, wood storks, alligators and turtles can be seen along the canals and lakes. Thousands of birds migrate through the park during the fall and spring, attracting birders and eco-tourists from all over the country. Sawgrass Lake Park is mentioned by the Great Florida Birding Trail and the National Audubon Society as one of the premier birding sites in Florida. 7400 25th St. N., St. Petersburg
Boca Ciega Millenium Park: In this park, a 35-foot wooden observation tower offers a panoramic view of Boca Ciega Bay. As part of the the "Great Florida Birding Trail," you can view shore birds, wading birds, birds of prey, upland birds & water fowl. Visitors launch a canoe or kayak, or enjoy a picnic under a shelter. The park also has a covered, barrier-free playground for kids and a dog park for both small and large dogs. The small dog park includes an obstacle course for training. The park supports seven natural communities: pine flatwoods, coastal oak hammock, mangrove swamp, salt marsh, bay head and wetlands. 12410 74th Ave. N. (Old Oakhurst Rd.) Seminole
Fort De Soto Park offers free one-hour nature walk great for the entire family. Wander through one of the park's six different natural communities including the
Arrowhead Trail, Mangrove Tour, Campground Tour, Beach Tour, Soldier's Hole or Bird Watch. Registration is required. Call for tour information Mon.- Fri. 9 am – 3 pm.; 727-582-3775. You can kayak, canoe, bike the trails, swim, collect shells, camp and fish in one of the most historical locations in Pinellas County.
Brooker Creek Preserve protects more than 8,700 acres of natural ecosystems and fauna. Here you will find walking trails to explore and an Environmental Education Center with interactive exhibits that are fun for the entire family.
Residents can bring  their horses to the horseriding trails in a separate area of the  preserve. 3940 Keystone Road, Tarpon Springs. Take a walk through time Saturday morning on a 0.75-mile walk with an expert from the Preserve to guide you. See how the land changed over time and discuss the ecological footprints left by those changes. All ages welcome, but children younger than 6 may find it challenging.
Weedon Island Preserve protects more than 3,700 acres of natural ecosystems and its rich historical past is showcased at the Cultural and Natural History Center with the permanent exhibit Connecting People & Place offers hands-on educational offering approachs to the area's history, ecology & people.
The preserve's many outdoor activities include walking trails and an observation tower, a fishing pier and canoe/kayak launch. Center hours: Thurs-Sat 9 am – 4 pm; Sun. 11 am – 4 pm. Reservations required for free guided hikes. 1800 Weedon Drive NE, St. Petersburg.
Guided hikes through coastal mangrove and upland ecosystems of the preserve are held each Saturday 9 – 11 am. Experienced Center volunteers lead guided hikes for the general public that examine the best of our cultural and environmental attributes. Weekly guided hikes are free.
Go birding once a month with outings led by experienced birders 8 am – 10 am. Learn the identifying marks and behaviors of our feathered year-round residents and seasonal visitors while helping us compile an annual checklist of the Preserve's birds. These hikes are designed to take advantage of all levels of birding experience. Binoculars and bird guides are available. Recommended for adults.
Are you a camera buff? Once a month, 8 am – 10 am, you can take a quick class and hike the Preserve in search of that perfect shot. This program provides great opportunities for photographers of all levels to hone their skills. Center volunteers highlight seasonal features of the Preserve, as well as specific wildlife behaviors that help participants capture the Weedon's natural beauty. Recommended for adults.
For more on what each park has offers, visit http://www.pinellascounty.org/park/
Article by Nanette Wiser
http://paradisenewsfl.info/wp-content/uploads/2016/07/kayaking-weedon-island.jpg
561
751
paradisenewsfl@gmail.com
http://paradisenewsfl.info/wp-content/uploads/2016/10/pn-red-web-header.jpg
paradisenewsfl@gmail.com
2017-06-07 13:56:29
2017-06-07 23:20:12
Take A Hike!