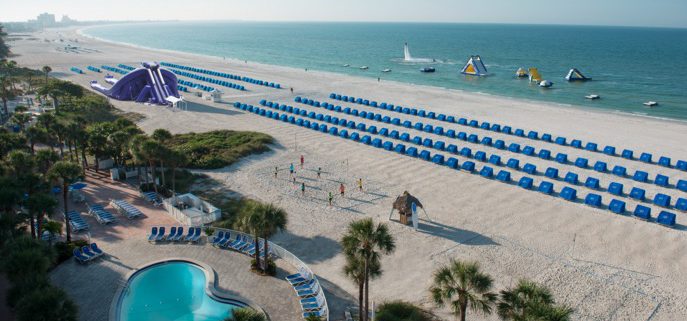 It's Official.
According to national trends, Tampa Bay is among the top TEN spots to staycation in the U.S. But you knew that. Who would leave these sugary sand beaches, warm inviting Gulf waters and delicious spots to drink and eat this time of year? After all, when the snowbirds go home (and yes, we miss you), we have Paradise all to ourselves.
In this issue, travel with us as share the best places to go boating, hiking or kayaking parks and preserves and more, from cool coffeehousesto sweet frozen licks. We'll even help you plan a stay at the Tradewinds' Island Grand or Guy Harvey Outpost, where the family-friendly beaches, waterslide, aquarium, delectable dining, awesome entertainment and seaworthy activities beckon—really two resorts for the price of one stay!
I SCREAM, YOU SCREAM
Nothing cools you off on a hot summer day than a frozen delight. From gelato to sorbet, homemade ice cream to traditional custard favorite Rita's, there's a flavor for everyone, even the vanilla lovers. At the beaches, check out Larry's Ice Cream, Super Scoops, Mikki's Mr. Ice Cream, Beach SnoBalls and The Candy Kitchen.
If you're downtown, The Hippo gourmet Popsicles come in every flavor while Paciugo Gelato Café's coconut, espresso and caramel gelatos make you swoon with delight. Urban Creamery's +peanut butter crunch is for Reese's Pieces lovers.
WATER ADVENTURES
You can swim or skim board at the beach, kayak or paddleboard with rentals from the local surf ships, take a surf lesson or snorkel. St. Pete Beach Community Center's pool and Walter Fuller are always inviting, with lots of activities for
tykes of all ages, even water aerobics for adults. Treasure Island Yacht Club, Pasadena Yacht Club and Isla del Sol also offer limited summer memberships for families to use.
But nothing says summer fun more than a water park with Busch Gardens' Adventure Island, being the most rip-roaring spot in Tampa Bay. High speed slides, corkscrews, a giant wave pool, waterfalls and a rambling river with sandy beaches makes it a tropical paradise.
Closer to home, Splash Harbour Water Park adjacent to the Holiday Inn Indian Rocks Beach is all the rage. Attractions include Smuggler's Run tube ride down a 42 foot tall slide with twists, turns and an exciting bowl feature.
Pirate's Plunge is a single rider body slide that ends in riders plunging in to the cool blue water. Great White Lazy River is a 600 foot long relaxing lazy river featureing waterfalls, sprays, and mists to keep you cool while you're soaking up the Florida sun. There's a Treasure Cove Splash Zone featuring three slides, interactive water activities, and a dumping bucket that will keep kids coming back for more. Kids can mine for treasure, play in the pool and adults can enjoy a nice rum boat drink at the Cruzan Shack while kids nibble some lunch.
If you love sea critters and aquariums, Guy Harvey's Rumfish Grill offers a cinema-tastic view of fish while you dine.
Want interactive? Check out Clearwater Marine Aquarium and a behind-the-scenes tour of Dolphin Tale. www.seewinter.com
At the Sarasota's Mote Aquarium, you can get up close and personal with sharks, manatees, sea turtles, sting rays and sea horses. www.mote.org
In addition to Ft. DeSoto and Weedon Island, kayaking Caladesi Island State Park's paddling trail is an Old Florida voyage through mangroves and wild birds. Ditto Honeymoon Island for great bird-watching along the 2.5 mile Osprey Trail where you can also bike or hike. Lots of snorkel and scuba activity in Tampa Bay, but some of the best is just a kiss away. Tampa Bay Aviation offers scuba charters for quick access to Key West & the Bahamas. charters@tampabayaviation.com
GAME & FUN ZONES
Without even leaving St. Pete Beach, there's the Beach Escape Game. Small groups of friends, family members, and coworkers find themselves locked in a room with
60 minutes on the clock. In that time, they must work together to crack codes and solve themed puzzles to find the way out. In the Honky Tonk, for example, you're trapped inside a roadside bar, while Lost Treasure puts the group on an ill-fated ship sailing toward riches. The rooms are designed to immerse players in these scenarios, but there's always a panic button if you need to call it quits before time runs out.
In Tyrone Mall, PlayLive Nation is a social gaming lounge featuring the newest games for play and is a hot new place for parties and tournaments.
Why not cool off with a movie or crafts? Cobb Theatres at Tyrone Mall, Regal Theaters in Pinellas Park, Carlyse at Sundial, have video arcades for siblings to battle before this summer's minions.
Creative Clay's Summer Camp promises hands-on fun for budding artists.
Legoland is a quirky Scandinavian toy come alive in a million themed adventures. Just 45 minutes from downtown Tampa, this kooky theme park serves up an Imagination Zone, Lego Technic, Pirates Cove, Mini-Land, Driving and Boating School, Cypress Gardens and Leto Kingdom, and yes, Batman!
Perhaps the craziest fun zone of all is Tree Hoppers Aerial Adventure Park with eight courses over 100 elements and Florida's largestzipline adventure park located in Dade City. www.treehoppers.com
Finally, for those of us raising booklovers, perhaps the ultimate imagination zone is the local libraries and Barnes & Noble bookstores where kids can enjoy having a book come alive as its read to them and dozens of other activities. http://www.splibraries.org.
IF YOU COULD TALK TO THE ANIMALS
Lowery Park Zoo, in Tampa was Named the #1 Zoo in the U.S. for kids by Parents Magazine. You can spend the day visiting 1,300 animals on 56 lush acres. You can feed a giraffe, hold a lorikeet, pet a stingray, touch a giant tortoise and walk with the wallabies.
Closer to home, the Seaside Seabird Sanctuary in Redington and the McGough Nature Park's rescued animals (hawks, eagles, owls) and plethora of snapping, alligator and softshell turtles showcase the importance of rescue havens.
Some animals don't have a voice, but they still mesmerize. Dinosaur World may be silly but my grandkids love the 150 life-sized dinosaurs and know a Rex from a brontosaurus. The Plant City classic offers a boneyard, fossil dig, museum and dinosaur walk back in time.
Safari Wilderness Ranch in Lakeland is a safari through large herds of exotic game over 260 acres. If you can't plan a trip to Africa, stop in here. In Orlando, the Wild Florida Airport and Wildlife Park Kenansville gives you a chance to ride an airport and see the gator wildlife park. At Gatorland Orlando, you can take a screaming death-defying zipline over a gator pit.
Of course, Walt Disney World and Sea World offer more animal adventures, both animated and real. There is nothing like walking through the shark tank in Sea World or enjoying an encounter with penguins.
DAY TRIPPING
Your car, some Jimmy Buffet tunes and off you go to explore Tampa Bay.
No airport security lines, just you and your honey (& a kid or three).
At Tarpon Springs, you can watch sponge diving demonstrations, go deep sea fishing and explore the lively Greek traditions, from cuisine to historic exhibits.
Safety Harbor Resort & Spa offers day packages for men and women, and the picturesque community serves up French, Mexican, Seafood and other ethnic delights.
Anna Maria Island may be my favorite place on earth, from The Sandbar Restaurant and beach to the kitschy boutiques and Anna Maria Cottages.   PN
Article by Nanette Wiser
Editor's Note: Please check Yelp for location & hours. Menu items subject to change.
http://paradisenewsfl.info/wp-content/uploads/2016/08/tradewinds-resort-aerial.jpg
453
687
paradisenewsfl@gmail.com
http://paradisenewsfl.info/wp-content/uploads/2016/10/pn-red-web-header.jpg
paradisenewsfl@gmail.com
2017-06-07 13:52:14
2017-06-11 14:48:27
Staycation Ideas!