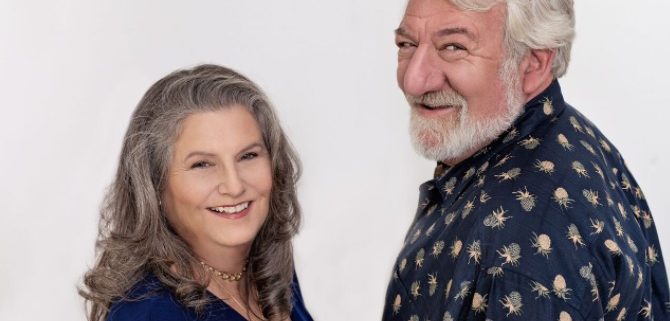 It is hard to believe we have been bringing you Paradise NEWS for 22 summers now. Renee and a partner started out to bring St. Pete Beach a city-wide newsletter in 1995. From there Paradise NEWS has grown into south Pinellas favorite source of advice for enjoyment of life, in print and online. Time does fly when you are having fun.
This issue we are celebrating the first anniversary of Eileen Brock's career as a Paradise NEWS marketing executive. Between HEC and the St. Petersburg Chamber of Commerce, Eileen's networking skills have worked out well enough that we are bringing on another 'Brock' Eileen found us to add depth to our marketing team.
We have more to market than ever before. With ageographically expanding subscriber and distribution base and a fast-growing online presence it is hard just to keep up.
This June-July issue is the first of two bimonthly summer editions. Our website, is now mobile-friendly and scalable, is updated continuously and our weekly e-blast "Discover Paradise this weekend" continues to magically appear every Thursday in e-subscribers inboxes. You can subscribe on the right of our home page www.paradisenewsfl.com
Tampa Bay just won honors as a top place to Staycation, so we chose toemphasize all of the FUN THINGS you can do without leaving Tampa Bay in this issue. It is important to remember that hurricane season has just begun. If a storm threatens and you want the benefit of our advice, take a look online at www.paradisenewsfl.com for some clear to follow hurricane preparation tips.
We are making plans to be in the eighty mile wide 'swath of totality' on August 21st, 2017 when the sun will disappear for 2 minutes in the mid-afternoon. Rooms at most of the places we looked at in that swath from Oregon to Columbia, South Carolina are already sold out for the event.
One of the great things about doing what we do is sharing what we learn about our neighbors. There is so much talent here. Last month we highlighted the new Academy of Performance Arts on the beach. We have written before about Steinway artist Rebecca Penneys, who appears again on the facing page.
At press time we also learned that Eileen D'Angelo Mattioli, who has been teaching private piano and accordian lessons for over 61 years,has been named "Steinway Teacher of the Year." The award will be presented to her at her recital June 25th, 3PM at St. Pete Beach Comm. Center. In case you didn't know, Renee taught dance to children for 30 years. She was honored in May by Trina Collins Jackson, one of her protege's who has gone on to teach music and dance in Louisville, Kentucky.
http://paradisenewsfl.info/wp-content/uploads/2017/01/pete-and-renee.jpg
439
670
paradisenewsfl@gmail.com
http://paradisenewsfl.info/wp-content/uploads/2016/10/pn-red-web-header.jpg
paradisenewsfl@gmail.com
2017-06-07 17:35:03
2017-06-07 23:17:12
Publisher's Message June/July 2017