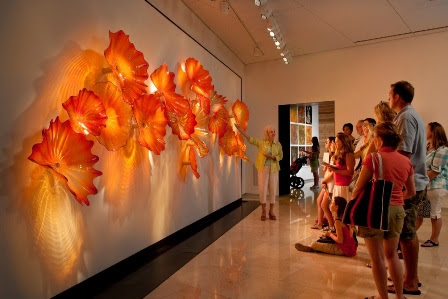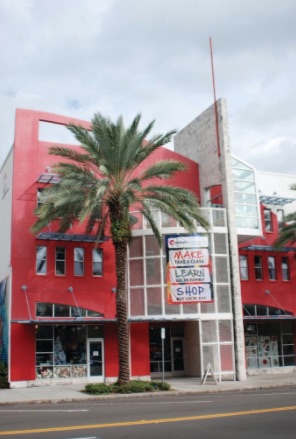 The Morean Arts Center, the first art gallery south of Atlanta, is turning 100!
Drawing inspiration from the past 100 years, the Morean has created and enhanced a variety of offerings to the community in the form of master artist workshops, elevated events, classes in a variety of mediums, hands-on programs and the opening of the new garden space at the Chihuly Collection now located at 720 Central Avenue.
What started as one location has transformed into several amazing arts experiences, reknown in the U.S. and winner of many kudos. "I have seen two decades of change and growth here. Expanding from 7th Street into the Train Station and the new Chihuly gallery has been in keeping with 100 years of service to the Arts in St. Petersburg," says Valerie Scott Knaust, Director of the Morean Center for Clay.
History: The Morean Arts Center's story started in the early 20th century when a group of local artists in need of a place to work, teach and display their art connected with the Florida Winter Art School.
The Art Club of St. Petersburg – the first art gallery south of Atlanta – settled into space provided by the Florida Art School in their building on Beach Drive.
As St. Petersburg and surrounding areas grew, so did the Morean Arts Center from its informal beginnings in 1917, to become an integral part of the country's top arts destinations.
After several relocations and name changes, the Morean Arts Center settled at its current location on Central Avenue. Today, the Morean offers programs for all mediums, styles, skill levels and ages housed in four locations in downtown St. Petersburg. The locations include the Morean Arts Center, Chihuly Collection, Morean Glass Studio & Hot Shop and Morean Center for Clay.
At the end of a century of steady growth, the Morean Arts Center continues to provide a place for the arts in St. Petersburg. Staff, board members, artists, teachers and volunteers have witnessed the Morean Arts Center grow and become an institution where one can explore creativity and push boundaries.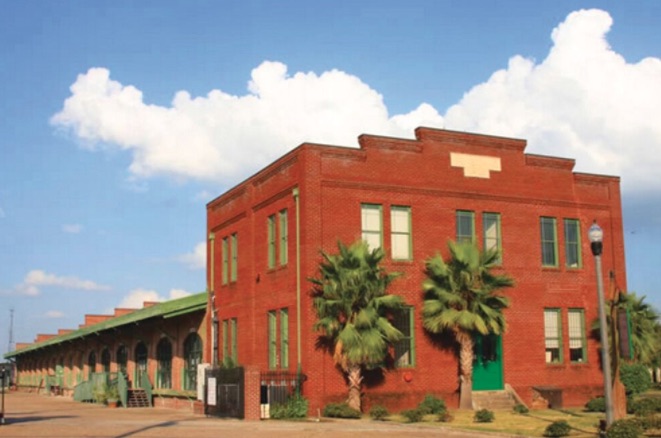 Curator of Exhibitions, Amanda Cooper, has seen the Morean grow in her nearly 20 years as a staff member. "Being part of the Morean means approaching art in a way that is challenging and exciting, yet not intimidating," said Cooper. "If you're a local artist, we will be your champion. If you want to learn a craft, we'll teach you skills in a welcoming atmosphere. If you see something you love in an exhibition, you can buy it and own it forever (or at the very least, touch it without anyone slapping your hand away)."
Cooper states, "The Morean has survived and thrived in this community for a century because it is a scrappy, risk-taking organization that adapts quickly to changing culture and the needs of the people we serve, all with a passion for art and a desire to share that passion with others."
Chihuly Collection…In 2010, the Morean Arts Center opened a permanent display of Dale Chihuly's unique installations in order to provide proceeds to support ongoing educational programming and exhibitions. The Chihuly Collection fired up local interest in glass art, and the Morean opened its own Glass Studio & Hot Shop to provide educational programs and demonstrations.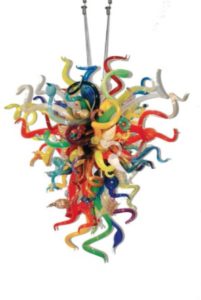 In October 2016, the Chihuly Collection moved to its new location at 720 Central Avenue, St. Petersburg, Fla. 33701, in an effort to unite three of the four Morean Arts Center locations. ­Executive Director of the Chihuly Collection Andy Schlauch said, "The new location was re-imagined to allow guests the ability to experience the detail and creativity associated with Dale Chihuly's work."
The Collection boasts the return of the theater as well as an outdoor garden space set to open in early 2017. Included in the new space is also a temporary exhibition space to host rotating exhibits perfect for work from glass artists around the country. Admission also includes a demonstration at the Morean Glass Studio & Hot Shop directly across the street where visitors can witness a live glass-blowing demonstration conducted by local artists.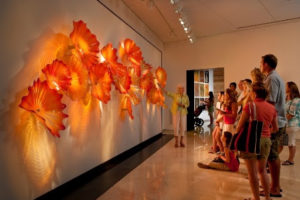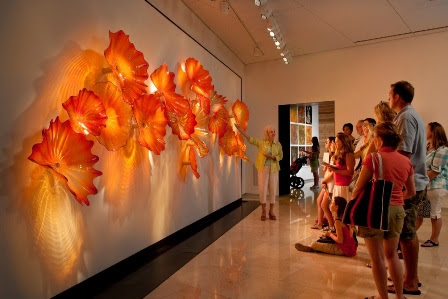 St. Petersburg is a "hot" commodity for the growing glass culture. The Chihuly Collection was at the forefront of the glass movement in the city and is proud to connect people with not only Dale Chihuly's glass art, but art from national and local artists whose pieces find temporary homes in the Collection's rotating exhibits, said Schlauch.
Education: To celebrate the artists who created the foundation of the Arts Center, master artist workshops were developed in 2016 and launched in 2017 to welcome back notable artists who have made an impact on the Morean and patrons alike. Some of these artists, including Sam Abell, Tom McCarthy and Joe Pintz, are bringing their talent back to the Morean to connect with old and new faces and help foster growth of the education program.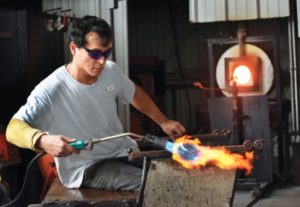 The Morean also offers seven different class session start dates in which teachers return for three to six weeks to teach classes in mediums such as drawing, painting, jewelry, glass, photography and digital, clay, print making, metal sculpture, and fiber arts.
Jonathan Harrison, Director of Education, said the education department looks for relevant and intriguing options for classes to attract a range of individuals in the community.
"Our teachers are artists themselves, and many have been with us for years," said Harrison. "The fact that we can invite returning artists back to the Morean and also host our range of classes gives individuals multiple opportunities to find something that fits within their schedules, skill range and interests."
In addition, the Morean continues to connect with its overall vision of becoming a national model for creative community engagement and economic development by offering free programs to connect individuals with art. These programs include Saturdays and Sundays at the Morean, a free program for families to drop in and create an art piece as a family, as well as programs such as Fall Art Frenzy, a themed, all-day event for families.
Exhibitions: This year, the Morean is hosting special exhibitions to highlight art and artists both new and returning.
Kicking off the 100th Anniversary in exhibitions is Major Mud 3 and The Journey: Photographs Along the Way, juried by Sam Abell. Sam Abell, known for his work with National Geographic, chose 32 pieces out of almost 400 to be displayed in the first exhibit of 2017. The work focuses not on the destination of a journey, but how you get there — A beautiful linkage to the Morean's journey to 100 years and the milestones accomplished and surpassed throughout the century.  
The next exhibit, on display from March 11 – April 30, is Fresh Squeezed:
Emerging Artists in Florida. Amanda Cooper, curator of exhibitions at the Morean Arts Center, said there were more than 80 submissions and only six were selected. All artists are local to Florida, including the quirky and intriguing Brian Feldman who will be setting up shop in the Morean Arts Center's gallery window in the form of an orange juice stand.
For the price of one guest's drawing of a glass of orange juice, Feldman will make the guest his or her very own glass of OJ to enjoy inside the Morean. The wall behind Feldman is envisioned to be filled with drawings by the end of the exhibit. Immediately following Fresh Squeezed, the remaining exhibits displayed include 100 Years/100 Artists, 99th Annual Members Show, Street/Urban Art Showcase & Josette Urso Solo Show, and the 2017 Holiday Show & Sale.
Nurturing Young Artists: Educating children about the arts, and offering them access to gallery and exhibition space has been a key component of the Morean Arts Center's mission throughout its 100 years in the St. Petersburg art community.
The Morean Arts Center continues its celebration of youth in art with 20 Years of Word & Image: Arts in Education Partnership. Students in Pinellas County are tasked with writing a few words as well as creating a piece of art to tie in with this year's theme, "On My Block."
Cooper said this exhibition is one of the best the Morean offers. "Most of these kids have never seen their art in a professional gallery before, and we give them the opportunity to see their works framed and displayed in a popular exhibit."
Following Word & Image includes An Artistic Discovery: 36th Annual 13th Congressional District Art Competition and Let's Create! 2017 Summer Camp Exhibition.
The Morean Center for Clay: located at 420 22nd Street South, St. Petersburg, Fla. 33712, hosts its own exhibitions in conjunction with the Morean Arts Center on Central Avenue. Currently, the Center for Clay is conducting its Florida Heat Woodfire workshop in which more than 1200 pieces are loaded into the anagama kiln to be fired continuously for three days. Directly following this workshop is the Florida Heat Surface workshop and gallery show. Both of these workshops are national, drawing participants and nationally recognized artists from almost every state in the country.
The Center for Clay's exhibitions also feature works from Artists in Residence (AIRs), a program which allows applicants to present their work in hopes of gaining one of the six coveted spots in the program.
In exchange for various work duties at the facility, the AIRs are able to have studio space and access to some of the best equipment and gallery space to both expand and display their work.
Additional exhibitions at the Morean Center for Clay include a Joe Pintz Solo Show, Artist in Residence Exit Shows, Morean Center for Clay Members Show, NEW Artist in Residence Show, Jeremy Randall Solo Show and Wood Fire Workshop Gallery Show to close out 2017.
Events & Art  Happenings
To celebrate their 100th Anniversary, it will be a year-long amazing moveable feast and outrageous parties: Cocktails at the Collection, Night Blow at the Hot Shop, 100th Birthday Party: 7th Annual Great St. Pete Cupcake Contest, Eat Rich, Play Dirty, and a New Year's event to celebrate the start of our second century of bringing arts to the community – Masque 100 – The Party of the Century set for December 31, 2017.
From these events, patrons can expect the normal – or not so normal – festivities the Morean is known for, only heightened. For example, The 100thBirthday Party: 7th Annual Great St. Pete Cupcake Contest is expected to exceed its normal attendance of more than 1500 people at the Morean Center for Clay as each cupcake station's job is to make the Morean's 100th birthday extra sweet!
With that in mind, Masque 100 was created as the culmination of the Morean's 100th Anniversary and a send-off to celebrating the next century of the arts in St. Petersburg.
Masque 100 is an exclusive, elite and ticketed New Year's Eve event where one can expect to be transported to a world of mystery, history and elegance. Ring in the New Year with some of Tampa Bay's most notable individuals in a venue that also reflects almost 100 years of history.
http://paradisenewsfl.info/wp-content/uploads/2016/10/morean-glass.jpg
299
448
paradisenewsfl@gmail.com
http://paradisenewsfl.info/wp-content/uploads/2016/10/pn-red-web-header.jpg
paradisenewsfl@gmail.com
2017-02-13 03:17:55
2017-02-13 03:17:55
The Morean Arts Center Turns 100