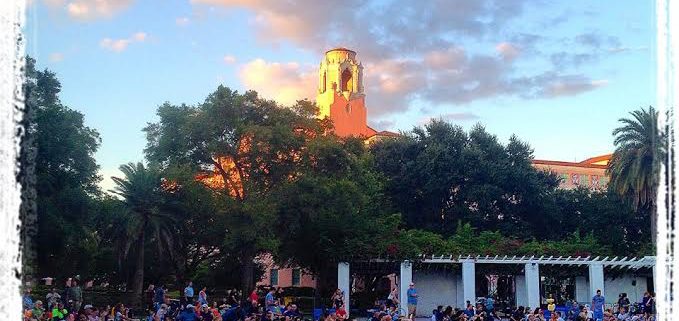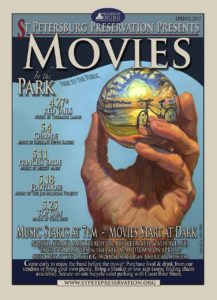 Interested in becoming a Movie sponsor? SPP offers Movies in the Park each May and October. Click here for info: Movie Sponsor Packet. Scroll down to see the May 2017 movie sponsor list.
Bring family and friends to enjoy FREE film classics and live music each Thursday evening in May on St. Petersburg's beautiful downtown waterfront in N. Straub Park. The fun begins with music at 7 pm and movies at dark in the park, on Beach Dr. and between 4th and 5th Avenues NE. Scroll down for the May movie schedule!
SPP is excited to offer as a bonus movie this spring Movies in the Park at Midtown. It will be a single showing on Thursday, April 27 in the beautiful garden at the Dr. Carter G. Woodson African American Museum (2240 9th Ave. S.). Note: no alcohol or animals allowed at this movie.
Come to Movies early to choose a choice spot & sit back and enjoy the beautiful evening while listening to the live music and having a picnic. One can either purchase food & drink (including beer & wine except on April 27) from some of the best of the 'Burg's vendors set up in the park or you can bring your own. Bring a blanket or low seat, a limited number of folding chairs will be available. A great way to get to Movies in the Park is on bicycle! Pick-up a bike from one of the many Coast Bike Share stations, a convenient station is located next to Movies in the Park Downtown and in Midtown. If you bring your own bike, secure, on-site bicycle valet parking will be available thanks to Coast Bike Share.
Movies are free; pay-what-you-can donations appreciated.  This is the 8th season for Movies in the Park, an event many refer to as the best "small" event in the waterfront parks.
April 27 – Movies in the Park at Midtown – Dr. Carter G. Woodson African American History Museum – 2240 9th Ave. S.
Red Tails – (2012) rated PG13 – With Cuba Gooding, Jr. The story of the World War II Tuskegee Airmen – they faced segregation on the ground but were heroes in the air. Evening's music: Trumaine Lamar, aka Tru, delivers cunning lyrics, smooth melodies, and impressive percussion.
Movies in the Park – Downtown at North Straub Park
May 4
Charade (1963) – A night on the waterfront with Audrey Hepburn & Cary Grant starring in a classic filled with suspense & romance –  you will be sorry if you miss out! The movie has it all: Hepburn's character falling in love in Paris, a mystery, an Oscar nominated title song & the perfect supporting cast. Evening's music: Rayzilla's Hippie Slayers, a fixture in the Tampa Bay music scene for years, Rayzilla's brings his newest ensemble to Movies in the Park with new songs drawing from his previous bands, the Dreamboats and the WAHH.
May 11
Princess Bride (1987) rated PG – A favorite for all ages with a magical mix of romance, fantasy, action & comedy. Evening's music: Mezzu' Mare, with the father/son duo of Jeff Pattishall & JJ Pattishall -two creative musicians with JJ on lead & baritone guitars and Jeff on violin & mandolin.  Expect to hear a variety of styles including jazz, rock, world, rhythm, and singer-songwriter music.
May 18
Footloose (1984) rated PG–With Kevin Bacon & Lori Swinger. A sound track with '80's hit songs that will have you up before the night's end singing & dancing! Evening's music: The Joe Milligan Project, consisting of Joe Milligan (guitar and vocals), Bill La Grandier (percussion), Amanda Gerttula (violin), Russell Roush (bass), Douglas Lichterman (lead guitar), & Mandy Frick (background vocals). The band offers an eclectic sound ranging in style from stripped down acoustic folk, to full band rock and roll energy.
May 25
Top Gun (1986) rated PG – With Tom Cruise in this action-packed film that won an Oscar for best original song! Evening's music: Funk Shui, a progressive funk powerhouse – be ready to dance!
Thank you to our community sponsors that make it possible for Movies in the Park to be FREE! Next time you visit a sponsor be sure to tell them thanks for supporting Movies in the Park!
Oscar Level
Platinum Level
Gold Level
Silver Level
Bronze Level
In Kind
Movie Poster Artwork by our favorite local artist, Carrie Jadus 
http://paradisenewsfl.info/wp-content/uploads/2016/09/movies-in-the-park-1.jpg
679
679
paradisenewsfl@gmail.com
http://paradisenewsfl.info/wp-content/uploads/2016/10/pn-red-web-header.jpg
paradisenewsfl@gmail.com
2017-04-13 21:23:31
2017-04-13 21:23:31
May Movies in the Park Titles Announced