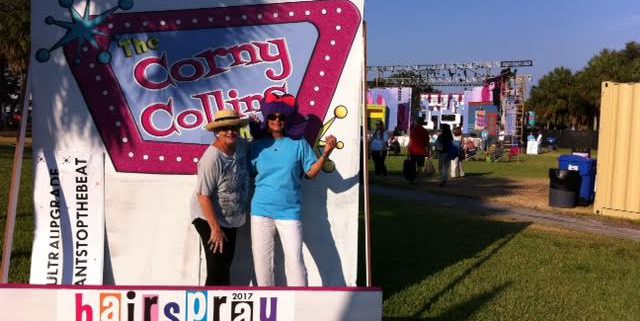 May flowers with parties, plays and artistic visions, but nothing makes us happier than knowing that our favorite Beatle is coming to town this summer to Amalie Arena. In his first Tampa show since 2005, Paul McCartney tickets for his July 10 show go on sale to the public on Monday, May 1 at 10 a.m.  – Ciao baby, see you around town at one of these faves!  – Nanette Wiser  
One of the coolest new DTSP coffeehouses with an artistic bent is Black Crow Coffee Roasting (2157 1st Ave. S), who has hosted an exhibit by the amazing Barry Lively as well as a  funky film and flea market night.
The Crafty Fest Market features indie art and vintage pop-up at ArtPool Gallery May 6-7 and June 3-4 (www.artpoolgallery.com). On May 13 (5 pm), Mastry's is hosting a limited release of their first bottle, the Island Lime Margarita Gose, in collaboration with Hunter Skipper (artist, apparel designer).
At Oxford Exchange in Tampa, May 7th 9 am – 4 pm, you can discover local literary talent in a Book Fair (420 W. Kennedy) while the Tampa Bay Margarita Festival features the Grammy nominated Barenaked Ladies.
If you believe art is food (which we do), check out the expanded Da Sesto Italiano Ristorante e Vino for hand-crafted pastas and more. (7199 66th St. Pinellas Park)
FYI: For venue address, phone. website, check our Events Listings in the back of the magazine.
PN TOP PICKS
Musical Theater: At the Mahaffey Theater, run, don't wait to get your tickets to a La La Land Live-To-Film Celebration where you can enjoy the jazz soundtrack played by a 100-piece orchestra conducted by composer Justin Hurwitz, larger than life dance numbers and strong storytelling continue to endear it to audiences and critics alike. It tells the story of Mia (Emma Stone), an aspiring actress, and Sebastian (Ryan Gosling), a dedicated jazz musician, who are struggling to make ends meet in a city known for crushing hopes and breaking hearts. Set in modern day Los Angeles, this original musical about everyday life explores the joy and pain of pursuing your dreams. May: May 5 , you can rock to the music of Journey while May13 features The American Songbook. Duke Energy Center for the Arts, The Mahaffey Theater 400 First St. South 727-893-7832;  www.mahaffey.com 
Studio @ 620 Music, art, spoken word, poetry, this performance/visual art gallery is a downtown treasure.  620 First Avenue S., DTSP 727-895-6620 http://www.thestudioat620.org/
May 5, 5 pm – 9 pm -USFSP Graphic Design Senior Exhibition: Come join the 2017 USFSP graduating seniors as they demonstrate their design acuity and transition into the professional world. There will be food, drinks and much more!
May 6-7, 7 pm – The Mountain Top by Katori Hall: This fictional depiction of the Reverend Martin Luther King Jr.'s last night on earth set entirely in Room 306 of the Lorraine Motel on the eve of his assassination in 1968. Playwright Katori Hall takes this historic date with destiny and weaves a powerful surrealistic fantasy about a conversation between King and a mysterious hotel maid who brings him a cup of coffee and prompts him to confront his life, his past, his legacy and the plight and future of African-Americans. Hail's insight, light touch and lively mood depicts King as a real man with very human foibles who was nonetheless capable of inspirign millions to hope and move toward a momentous societal shift for equality and justice. 
May 14, 3 pm – Black Cow Jumps: This exploration of life through immersive theater flows from the absurd to the intimate. Three performers – vulnerable, open and present – present an array of original vignettes portraying a world honest to them. Music, performance art, storytelling, movement and the art of being drives Black Cow Jumps' narrative.
May 18-20, 7 pm – Collected Stories by Donald Margulies: Who tells your story? Witness the tale of two women, one an established writer, the other a fan…who becomes student, and later rival. Over the course of the play, the women deal with the moral dilemma of whether a person's life events are suitable for another to use in their own creative process.
May 25-26, 7 pm: Sunshine City Opera: Showcasing excerpts from Vivaldi's Griselda alongside Handel's La Lucrezia and Partì l'idolo mio, this program features rarely-performed Baroque opera and cantatas presented by early music specialists from around the country. This semi-staged production for soprano and mezzo will be performed alongside a late 17th century style harpsichord with cello continuo.
Palladium/Side Door/Hough Hall  253 Fifth Ave. N, downtown St. Pete 727- 822-3590 my palladium.org Whether it's jazz, classical or world music, this is one of our favorite downtown venues. We usually start at The Hollander Hotel for a nosh or Kahwah coffee, and stop back in at 400 Beach or Birch & Vine for a nightcap.
FYI May: Snatam Kaur (4), the Palladium Chamber Players (10) and more.
May 13, 8:30 pm Hough Hall -Kafkasso:  From the exotic Orient, East meets West in a whirlwind spectacle of sight and sound. From the streets of Istanbul, virtuoso guitarist Kafkasso leads you through ancient cities and European cafes through his experiences and imagination. Original and traditional compositions, with both folk and modern instruments, come to life through the Art of Danse Orientale for a spectacle that will engage your soul. The blending of old world and new captivates the heart and ignites the spirit! Sound and movement, two arts intertwined since the beginning of time, embrace the emotions of human experience across the world. Become intoxicated with the thrill of a new lover, or hung over in the despair and rejection of love lost. Rhythms, melodies, and dances play with never ending hope and desire for connection, understanding, and fulfillment. Experience the music with dance artists who bring the music to life in true Mediterranean style, improvising and interpreting rhythms and melodies foreign yet familiar. Classical belly dance fuses with modern folk to bring humanity to the passion and emotion the music evokes. Explore the Gypsy Trail with us, and remember that all who wander are not lost; they may be bravely following their dreams. 
John Legend @Coachman Park: Ruth Eckerd Hall sponsors this alfresco concert venue with the most amazing view of the bay. The tour announces on the heels of Legend's fifth studio album Darkness and Light, which has received a plethora of critical praise since its December 2nd release on Columbia Records. USA Today hailed the album as John's "most personal record" with tracks like Right By You which they described as "a heart –tugging rumination on his 7-month old daughter, Luna." Time Magazine called the body of work "unflappably classy" while the New York Times said Legend "treats love as something far more complex than a panacea and a fount of perpetual reassurance, with music to match." Continuing, the New York Times pointed to the album's most recent anthemic hit single, Love Me Now, which they praised as "a seize the moment song", that "revolves around an insistent, lo-fi piano figure, and its chorus first arrives with Mr. Legend nearly alone, singing over simple, fading chords." 
FILM 
Check Eckerd College International Cinema Series in Miller Auditorium (art films, opera in HD) where on May 5 hosts Paterson. www.eckerd.edu/internationalcinema Clearwater Beach's Sunset Cinema @ Pier 60 on the jumbo-sized screen Fri.-Sat. beginning at 6 pm.
St. Petersburg Preservation's (SPP) May Movies in the Park May Movies in the Park occurs each Thursday evening in May (4, 11, 18 & 25) starting with live music @ 7 pm and the movie at dusk. Bring your chairs, blanket and friends, grab a picnic from the The Annex or Pipo's.  North Straub Park, between 4th Ave. & 5th Ave. NE on Beach Drive).  Movies are free. http://www.stpetepreservation.org/page-1806145 
THE SPOKEN WORD
Movie Buffs May 20 Lecture:  Enjoy the wry humor of Tampa Bay Times Film Critic Steve Persall from 2 pm – 4 pm.  As Times staff film critic since 1993, Persall is Florida's longest-tenured journalist on that beat. He is a founding member of the Florida Film Critics Circle, and his commentaries air on Tampa Bay's Eagle 107.3 and WWBA 820.  St. Petersburg Main Library, 3745 9th Ave. N, St. Petersburg
May 18: RCS Fundraiser: Child actor and best-selling author, Melissa Francis, will join Religious Community Services (RCS) for a night of "Cocktails and Conversation." She will share stories and lessons from behind the scenes in Hollywood and talk about her new book, Lessons from the Prairie. Guests will receive a signed copy of the book. All proceeds from the event will benefit the programs of RCS. She has appeared in numerous motion pictures, television series and commercials, but is best known for her role as Michael Landon's daughter, Cassandra Cooper Ingalls, on Little House on the Prairie. Today Melissa is a Fox News anchor and frequently hosts The Five, Outnumbered, After the Bell, and Happening Now. FYI:  Belleair Country Club 1 Country Club Lane; Contact Melissa Reddington, 727-443-4031 x 513; info@RCSpinellas.org
Studio@ 620  620 1st Avenue South, downtown St. Pete
Wordier Than Thou, an open mic for storytelling, share prose or just catch tales from area wordsmiths. A featured reader kicks off the night, followed by 10 minute open mic slots. In partnership with Keep St. Pete Lit , enjoy Poetry Open Mike with a featured poet and opportunity to read  7-9 pm May 17, June 21, July 26, Aug. 23, Sept. 27 and Oct. 25 
Happy Hour with the Historian: Sharing the stories of the Sunshine City for 95 years, the St. Petersburg Museum of History's popular lecture series features an evening of wine, words and wisdom.  May 11: Lisa Bradberry:  Weedon Island's Sunhaven Movie Studios; July 13: Peter Meinke:  An Evening with Florida's Poet Laureate; Sept 14: Bill Leavengood:  Doc Webb and his World Famous Webb's City; Nov 9:  Lynn Waddell:  Fringe Florida 335 2nd Avenue NE on the Pier Approach; 727-894-1052; www.spmoh.org
Comedy: Tickle your funny bone at Coconuts Comedy Club (5501 Gulf Blvd., SPB; 727-360-5653) and Hawk & Wayne's Anywhere USA quirky improv at American Stage 6 pm Sunday.
FESTIVALS & ARTWALK
May 13 – St. Petersburg Second Saturday Artwalk: The Waterfront Arts District, Central Arts District, EDGE District, Grand Central District, and the Warehouse Arts District become one arts destination for the St. Petersburg Second Saturday ArtWalk from 5 to 9 p.m.  Don't miss Artlofts's Luster exhibit which runs through May 31.  Rebecca Skelton presents life drawings created in a palette based on copper, brass and their patinas.  This new work shows the humanity of the models through the warmth of these lusters. Enjoy the show then visit with the 18 artists in their working studios where they produce paintings, photography, sculpture, jewelry, copper and mixed media. 10 Fifth St. N. (2nd Floor) above Florida CraftArt, DTSP
Gulfport Adventures: Get your funky fun on at Gulfport's Tuesday's Fresh Market,  Swing Dancing Wednesday at the Casino and Gulfport Artwalk 1st Friday and 3rd Saturday.  On May 5, Gulfport's featured artist is water-colorist, Kathleen Wilke whose favorite subject is flowers, but loves to paint animals and birds as well as abstracts; she will be available for meet & greet. 3101 Beach Blvd., www.visitgulfportflorida.com
PARTIES
Eat, Drink & Raise Money: Sheraton Sand Key Resort will host Evening with the Chefs May 5 (7-10 pm) showcasing award-winning chefs and Pinellas County culinary students creating gourmet cuisine and raising money for the ryanwellsfoundation.com.
May 5 Art & Cinco de Mayo: In addition to a Cinco de Mayo party at The Edge's rooftop aerie, The Epicurean Hotel debuts CASS Contemporary's newest exhibit, "Branded Series" by Chris Valle at an opening reception featuring a Q & A session with Valle plus beer, wine and hors d'oeuvres. A sampling of the artist's work will be on display in the Epicurean Hotel's permanent satellite gallery for three months following the reception. All pieces are available for purchase for the duration of the display at the hotel. A Florida native, Chris Valle uses a classical and experimental approach to combine representation and abstraction in his work. Valle's artwork has been featured across the globe. His paintings have hung in over 130 exhibitions from New York to Germany – together with 17 solo-exhibitions in 16 years. Valle's work is in several impressive collections including William J Clinton Presidential Library and Museum, the Sienna Art Institute Library and the HESS Corporation.  Epicurean Theatre – inside the Epicurean Hotel 1207 South Howard Ave. www.EpicureanHotel.com/Events 
May 6: Hats Off, Thundering Hooves at The Coliseum: Lift Your Spirits at the Derby Benefit is a fantastic evening featuring the live Derby on two big screens, mint juleps, lady's hat contest, best dressed men event, open bars, live music, a grande gourmet buffet, an exclusive silent auction and an exciting live auction, all benefiting the students of LiFT Academy and LiFT University.  FYI: Jodie Miller jmiller@liftacademy.org; 727-258-7659. www.liftacademy.org    www.stpete.org/coliseum; 727-892-5202 
May 13, 4 pm -8 pm – 2017 St. Pete Beach Beer Fest: Drink craft beers and enjoy a waterfront view. Enjoy more than 50 national and local craft breweries, food, brewing demonstrations and mingle with the Tampa Bay area homebrew clubs, Admission includes a commemorative festival tasting cup and water; good eats available for purchase in association with the St. Pete Beach Fire Department.  St Pete Beach Community Center, 7701 Boca Ciega Drive http://www.stpetebeachfestivals.com/
THEATER
The Straz Center's line-up in May is utterly amazing with the King and I (2-7), Masters of Dance (13-14, Latin Nights (18) and on Oct. 7, Anderson Cooper and Andy Cohen will engage in an unscripted and unforgettable conversation at The Straz Center. strazcenter.org. At Ruth Eckerd Hall, shake your booty at  Dirty Dancing May 5-7 and catch a contemporary spin on a classic Three Musketeers May 18-21 and 25-28.  111 McMullen Booth Rd. Clearwater  727-791-7400; RuthEckerdHall.com On May 12-14 and 18-21, The Eight O'Clock Dinner Theater (Largo) features the hilarious Spamalot. www.eightoclocktheater.com It's a dog's life at the Early Bird Dinner Theater when Sylvia deubts May 6-July 9. (21905 US 19 North, Clearwater, FL 33765  727-437-2363) 
Thru May 28 FreeFall Theater: End of the Rainbow: A play with music about the final years in the life of Judy Garland, End of the Rainbow triumphed in London's West End in 2010/2011 and on Broadway in 2012. It's Christmas 1968, and Judy Garland is booked for six weeks of "comeback concerts" at London's Talk of the Town. The failed marriages, the suicide attempts, and the addictions are all behind her. At forty-six and with new flame Mickey Deans at her side, she seems determined to carry it off and recapture her magic. But stormy skies are on the horizon as old patterns resurface, and the drama backstage chips away at the onstage brilliance of one of the greatest singers of all time. Shifting back and forth between moments of onstage triumph and backstage tribulation, this speculation on a pivotal chapter in the life of a legend is at once wildly entertaining, irreverently funny, and deeply moving. FYI: 727-498-5205 www.freefalltheatre.com
If You Go: Dine @ The Reading Room: This clever new bistro in the former Christian Science Reading Room mixes iconic dishes and drinks.
American Stage Theater Raymond James Theatre, 163 3rd Street North downtown St. Pete www.americanstage.org   727-823-PLAY (7529)  BoxOffice@AmericanStage.org
Thru May 14: Hairspray: The American Musical is performed in Demens Landing Park. Bring a picnic and dress vintage Sixties. http://americanstage.org/park/
May 31-June 25 -The Invisible Hand: Pulitzer Prize-winning playwright Ayad Akhtar lays bare the raw, unfettered power of global finance in this intense, fast-moving, and contemporary political thriller. American banker Nick Bright finds himself in the wrong place at the wrong time when an Islamist militant group kidnaps him in Pakistan. When the United States won't negotiate for his release, Nick offers to raise the $10 million ransom on his own by teaching his captor, Bashir, how to play the stock market. In a race against the clock to save his own life, Nick must ask: is the price of freedom something he's willing to pay. What is the cost of American capitalism in the Middle East?
June 19 & 26: Suncoast AIDS Theatre Project presents The Golden Gurlz LIVE starring Matthew McGee (Dorothy), Joey Panek (Rose), Scott Daniel (Blanche) and Emanuel Carrero (Sophia) as television's favorite geriatric funny ladies. This all-new parody/tribute show will be a fundraiser of Metro Wellness. Tampa Bay's Music Man Michael Raabe will be joining the fun as Musical Director and arranger of song/commercial parodies. SATP founder Garry Allan Breul will be directing. The cast will also feature Sarasota's Joey Panek, singer/actor Emanuel Carrero and a cast of local LGBT and LGBT friendly performers that have appeared with SATP over the years.
MUSIC
May blooms with concerts for every musical taste and the upcoming concerts for summer will rock your world. The Mahaffey Theater will host the Isley Brothers Aug. 6 @ 7 pm. For more than 50 years, The Isley Brothers have received acclaim as "the rocking soulful legends that started it all." The iconic Rock & Roll Hall of Fame inductees and Grammy award-winning artists will bring inspiring sounds of soul and classic R&B featuring award-winning soul singer Ronald Isley (known as Mr. Biggs) and guitarist extraordinaire Ernie Isley. It makes you want to Shout!
OPERA & DANCE
The St. Petersburg Opera Company will perform Preview to the Tales of Hoffmann: Three Times A Lady May  18-9 in the Evenings and Mornings with the Maestro series. Jacques Offenbach's The Tales of Hoffmann will be performed June 2, 4 and 6 at the Palladium Theater. Hoffmann, the poet hero of The Tales of Hoffmann, has four love affairs that haunt him in Offenbach's grand and final opera.  The opera fantastique begins with Hoffmann waiting in a tavern for his current passion, an opera diva appropriately named Stella.  To pass the time, Hoffmann tells the other students stories about three of his previous loves, each of which ends in disaster. June 30-July 9, Stephen Sondheim's enchanting Into The Woods will be performed. STPeteOpera.org
A Touch of Classics: The South Pasadena Community Band showcase classic favorites at 7:30 pm 5/18 Galatea Garden, South Pasadena http://www.southpasadenaband.com/upcoming-program/.
GALLERIES
Duncan McClellan Gallery 2342 Emerson Ave South; 855-436-4527. dmglass.com
Creative Clay Fundraiser May 3: "Spring for the Arts" is a celebration of the non-profit's 22nd anniversary of making the arts accessible to all. All funds raised during the 6-9 p.m. event go directly back toward funding Creative Clay's programs.
May 13 5-9 pm: Opening and reception for the glass show "Sea Discernibly."
Coming Soon: The Duncan McClellan Gallery and DMG School Project headquarters in the Warehouse District will soon launch the first-ever ArtZipline®. 
ArtPool Gallery – July 15 Trashin' Fashion Looking for Designers/Artists/Models
Design your own collection, or team up with some friends, and work on a line of recycled & upcycled couture!  Trashion Fashion is our most creative fashion show of the year, we welcome designers of any age, no experience needed, and it is free to participate. 2030 Central Ave DTSP 727-324-3878 artpoolgallery@gmail.com 
The Enroy Foundation Inc., Gallery @ Marketplace at Boca Bay (Gulfport)
This new gallery features local artists such as David Vasquez, Rose Caballes, Nikita Rosalind, Naomi Glueck, Annamarie Sisson, Larry Busby and Scott Spillman.  Boca Bay Grille.  2838 Beach Blvd S. FYI: https://www.facebook.com/EnroyFoundationInc/ Jessica  727-608-0070 
The Veteran's Arts Center: Opened in March, the VACTB is Florida's first art center for Military, Veterans, First Responders and Families that provide therapy, healing, wellness and education programming. And is supportive of their need for creative outlets as well as the need for economic opportunities. 6798 Crosswinds Drive North  813-504-3092 http://www.vactb.org/ 
Creative Clay  1114 Central Avenue DTSP 727-825-0515  https://www.creativeclay.org/
Creative Clay prepares to move its headquarters this June from St. Petersburg's EDGE District, to 1846 First Ave. S in the Grand Central District.
Good Folk Gallery: features artist, Shasta G. Shasta, a painter and mixed media artist whose work is generated by information gleaned from books she reads, her imagination and life experiences. "My new work focuses on women," said Shasta. "Some are historical figures, while others are from my imagination. They are all distinguished in their own way."
Thru June 30 – Community Café: Flower Power showcases paintings of flowers by
Linda M., Emily M., Gina K., Conchita, Mike E., Dolores M.,Yalanda S. & Patsy Lieberman, Teff A. Hazard, Sheryl L.
Thru June 30 – Time After Time featuring the artwork of Ray M who paints clocks and watches.
Morean Arts Center http://www.moreanartscenter.org/ 727.822.7872
Check out these classes and workshops. http://www.moreanartscenter.org/classes-2/
Thru May 31: Ceramic artist Joe Pint
May 13-June 25 100 Years/100 Artists: For 100 years, the Morean and the Art Club have been a place for art lovers to gather and exhibit, create, and learn about contemporary art. This exhibition tells the Morean's story through its mission, and specifically, through the individual artists who shaped our organization and made it what it is today.
Thru May 15 An Artistic Discovery: 36th Annual 13th Congressional District Art Competition: Exhibition of some of the most compelling artwork from area high school students. This is the first time the Morean has hosted this annual exhibition.
The Chihuly Collection: This  stunning, permanent collection of world-renowned artist Dale Chihuly's unique artwork is presented in a fabulous architectural space designed specifically for his art, showcasing how  art and architecture can work together. The Chihuly Collection recently received its first print release of 2017, Purple Polka, from Chihuly Workshop!
720 Central Avenue, downtown St. Pete 727-822-7872  http://www.moreanartscenter.org/chihuly/
Florida CraftArt: Contemporary Fiber in Florida (thru 6/17)
This juried exhibition showcases original artwork with contemporary approaches to fiber art, pushing the boundaries and/or traditions in media and execution. The exhibition features fresh interpretations of traditional types of fiber art including surface design, weaving, basketry, felting and wearable art and includes work created with nontraditional materials and innovative technologies and is curated byCindy Bartosek a well-known artist, photographer and curator from West Palm Beach. 501 Central Avenue downtown St. Pete 727-821-7391 http://www.floridacraftart.org/.
Syd Entel Gallery and Susan Benjamin Glass: The 5000 square foot gallery located on Main Street in charming downtown Safety Harbor showcases acclaimed artists from around the World along with today's premier American glass artists. 727-725-1808  fgalleries@tampabay.rr.com.  247 Main St. www.sydentelgalleries.com
MUSEUMS
Thru June 10 – St. Petersburg Museum of History: Two exhibits offering a unique look at Florida history run through June 10: Seminole People of Florida: Survival and Success and Florida Folk Art – Just Above the Water. SPMOH.ORG
Museum of Fine Arts Museum of Fine Arts, 255 Beach Dr. NE 727-896-2667 mfastpete.org.
May 14 Mother's Day Brunch: Make reservations now  @ MFA Café from 11 am – 3pm.
May 14, 3 pm –  Gallery Talk  with Jason Chakravarty and Jennifer Caldwell: Jason Chakravarty is a multimedia artist in Arizona, who primarily works in cast glass, often incorporating neon. His most recent objects are semi-autobiographical and reflect on relationships, communication, and social networking. Jennifer Caldwell has also shown her work widely. She was recently included in the group exhibition, Into the Deep, at the Museum of Glass in Tacoma. She continues to be inspired by ocean and sea life and has focused on capturing motion in glass.
Thru July 23 Dorothy Height's Hats : Civil rights icon Dr. Dorothy Irene Height (1912-2010) was known for her courage, intelligence, leadership, standing straight—and hats made by African-American milliners. Dorothy Dorothy Height's Hats are a window to history, commemorating meetings with Eleanor Roosevelt (white mink chapeau). 
The Book Club @ the MFA, presented by Keep St. Pete Lit, will discuss her memoir Open Wide the Freedom Gates on  May 11, at 6:30 p.m. The program is free with Museum admission, which is only $5 after 5 p.m. on Thursdays.
Thru May 7 Greg Smith Multimedia Artist: Smith's work often centers on a character attempting to "create something, trying to structure his environment, but who's also kind of hapless, and, in the end, probably doomed." Catch his video Breakdown Lane (2013).
Thru June 4: The Open Road- Photography and the American Road Trip: The exhibitbegins with Robert Frank's iconic series The Americans from the mid-1950s and continues with images by artists of our own time. These gifted photographers did not just take snapshots along our highways and
byways. They are describing and defining America, which is always in motion.
June 9, 7 pm -10 pm: Art & Beer Lounge Fundraiser: Preserve a masterpiece by tapping into a one-of-a-kind evening! Sip and savor the liquid interpretations of works in the Museum's collection while lounging in artistically designed spaces. Brewing companies create limited batch brews for a one night exhibition at the Museum. Featured works include: William Shayer, The Elder,Harbor Scene on the South Coast; Anonymous, Effigy Beaker (Kero); Thomas Hovenden, Breton Soldier
…and others! The evening will also include a special "Florida" themed beer in celebration of the upcoming Skyway: A Contemporary Collaboration crafted by 2016's Best of Show winner and the St. Pete Homebrew Club. mfastpete.org/beer-project
Thru July 2  Dominique Labauvie – Dig: The formal explorations of interdisciplinary artist Dominique Labauvie are rooted in both material and a highly developed relationship to philosophies of the drawn line. Dig brings together recent works by Mr. Labauvie in his signature media of steel and pastels. The theme of the ruin runs throughout, as he seems to take on the role of archaeologist, digging into the earth's histories to try to understand their effect on current events.
June 24 thru Oct. 1: Skyway A Contemporary Collaboration: Skyway spotlights the compelling work of 57 artists in the Tampa Bay area, spanning sculpture, photography, video, painting, and prints. The work is being shared by the MFA, the Tampa Museum of Art, and the John and Mable Ringling Museum of Art in Sarasota. This is the first time all three museums have joined forces to present the work of gifted contemporary artists in Pinellas,Hillsborough, Manatee, and Sarasota Counties.
The Dali Museum  http://thedali.org
Why not consider a Mother's Day gift from the museum shop, such as a Surrealist-inspired fragrance or scarf? And don't forget Lucky Cat yoga on Sunday's at the museum.
Thru May 2017 – Dali/Duchamp: The father of surrealism and the papa of conceptual art, this is the first exhibit dedicated to Dali and Duchamp's friendship and influence on each's art, showcasing 60 works and supplemented by correspondence and collaborative projects. 
May 13-Sept. 24 -Memory, Mind, Matter: The Sculpture of Eduardo: An exhibit of world-renowned Spanish sculptor Eduardo Chillida's works in paper, alabaster, steel and stone and is the Dali's first show dedicated to sculpture since the opening of its new building in 2011. The exhibit presents more than 60 Chillida works including 16 sculptures, a large-scale wall mural, numerous drawings and 'gravitations,' the artist's unique approach to paper collage. About The Artist: Born in San Sebastian, Spain in the Basque region, Eduardo Chillida is well known for his monumental works in public spaces for instance De Musica, Dallas XV (On Music, Dallas XV) at I.M. Pei's The Morton H. Meyerson Symphony Center and outdoor environs as well as prestigious museums in his native Spain as well as France, Germany, Italy, Switzerland, Sweden, United Kingdom and the U.S. – where he made his debut with exhibitions at The Guggenheim and Museum of Modern Art in NY. During his life, Chillida received several distinguished awards; among them the Graham Foundation Award for Advanced Studies in the Fine Arts, the International Grand Prize for Sculpture at the Venice Biennale, both in 1958; the Kandinsky Prize in 1960; and the Carnegie Prize in 1964 and again in 1979, shared with painter Willem de Kooning.
Great Explorations Children's Museum, 1925 4th St North, St. Petersburg; 727-821-8992 www.greatex.org
May 13, 10 am – 2pm – Marvelous Mothers: Hand-made crafts will make excellent gifts for Marvelous Mothers & Others. Make a crown, a necklace and a bouquet to celebrate your queen for the day! We'll also be making our own sun catchers and cards for the special women in our lives!
May 21, 10 am – noon -Big and Small Fundraiser Royal Ball: Families can dress as a Prince or Princess or in their Sunday best, to enjoy an enchanting evening as our royal guests! Children and their parents will delight in royal meet-and-greets, brunch bites, DJ/Dancing, both adult & kids Princess Punch, crafts, chance drawings, and more!
May 26, 10:30 am – 3: 30 pm – Don't Fry Day! Learn all about how to have fun in the sun while protecting the body's largest organ – your skin! Make a UV-reactive bracelet, a sun safe visor, and dress a paper doll in sun-safe style! Kids will also be able to participate in a sun-safety relay.
Memorial Day, May 29 10 am- 4:30 pm, Patriotic Fun: Celebrate summer fun with activities, crafts and games throughout the museum. Use household ingredients to create underwater fireworks, participate in a red, white and blue bucket toss or make your very own firework craft! Veterans, retired and active duty Military men and women will receive one free admission today with proper identification.
TAMPA & BEYOND: Sarasota
The arts thrive in Sarasota, where the Sarasota Opera House features world-class performances. The Sarasota Ballet performs a Spring Conservatory concert May 5 and End of Year Performance May 6. www.sarasotaballet.org  From the St. Armand Circle galleries to the Marie Selby Gardens, a culture and cocktails daytrip is in order. At the Van Wezel, Derek and Julianne Hough perform May 14. www.vanwezel.org Also check out: 
John & Mable Ringling Museum of Art www.ringling.org and Ringling College of Art & Designhttp://www.ringling.edu/: Worth the drive for both the permanent collection and special exhibits.
Museum of Art: On Mother's Day May 13, there is a Family Day Summer Kick-Off. Through May 14, Photography Space and Power mesmerizes while A Most Magnificent Sight ends May 15.   Admission is free on Monday. 2700 N. Tamiami Trail, Sarasota  
By Nanette Wiser
http://paradisenewsfl.info/wp-content/uploads/2017/05/pn-at-hairspray.jpg
478
640
paradisenewsfl@gmail.com
http://paradisenewsfl.info/wp-content/uploads/2016/10/pn-red-web-header.jpg
paradisenewsfl@gmail.com
2017-05-16 17:56:39
2017-05-16 17:57:22
MAY 2017 ARTS & CULTURE