As the boating and watersports capital of Florida's west coast, our Gulf Beaches and surrounding area offers many great marinas, boasting a wide array of services. Included are covered wet slips, high and dry slips, marine mechanics, bait & tackle shops, at-dock refueling, and retail outlets.
Featured in this update sampling are the Pass-a-Grille Marina, Tierra Verde Marina, Pasadena Yacht & Country Club Marina-Gulfport, Isla Del Sol Yacht & Country Club Marina, Maximo Marina and O'Neill's Marina, both St. Petersburg.
Pass-a-Grille Marina
There has been a marina operation at 1901 Pass-a-Grille Way long before the first PAG Marina opened in 1966. Al Bobellis bought it from Bruno Falkenstein about 17 years ago. He told Paradise News, "We are one of the few 'box dealers' for Yamaha, offering motors and service for more than 30 years. Ryan Miles, with me from the start, is Manager of our authorized Yamaha Outboard Motor Service & Warranty Center.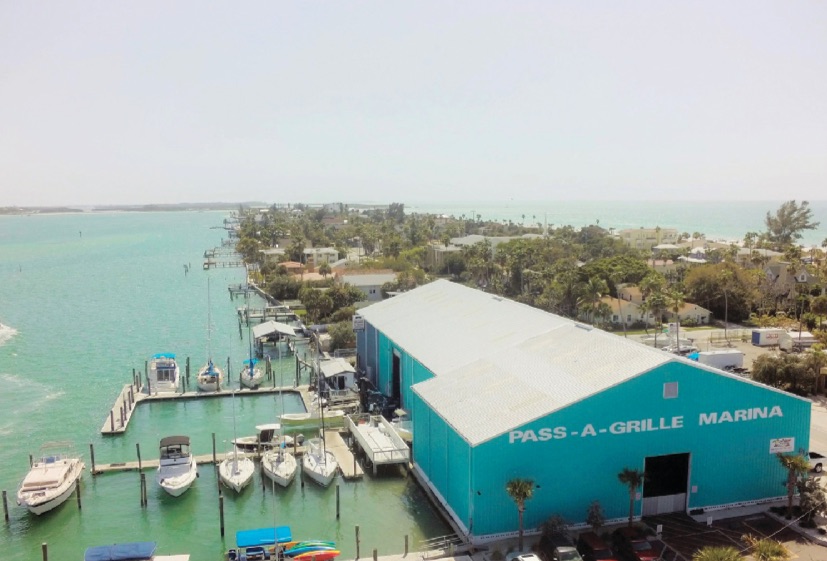 After Tropical Storm Debby took off part of the roof in 2012 we completely rebuilt with a new roof. Other improvements include rebuilt floating docks, a new high-tech service truck, a new Marine Travel Lift for up to 15,000 pounds; all-new electric dock pedestals, and a rebuilt Yamaha Service Department." Features include 100 Indoor Hi/Dry Boat Storage spaces; 30 Deep-water Wet Slips with Floating Docks, with 30 – 50 – 100 Amp Service; Transient Boat Slips for Daily-Weekly-Monthly Rentals; Secure Fenced Lot Boat Storage; Fuel Dock – 6 Pumps with Ethanol Free 90 & Marine Diesel; Ships Store with Live & Frozen Bait, and Ice. More information available at 727.360.0100 or online at www.passagrillemarina.com
Tierra Verde Marina 
Located at 100 Pinellas Bayway South, the marina's origins go back to the 1960's when the first bridge to Tierra Verde was built, with a new company taking over in 2011, according to Jeremy Heckler, manager for the past three years. In addition to unobstructed quick access to the Gulf, the marina offers, 50¢ off per gallons of fuel if your boat is stored with us; Valet type service – Complimentary Rinse off & Engine flush; Unlimited In & Out Lifts; two fork lifts; Ethanol-free & Diesel fuel available; Transient storage with Electricity & Water; a 26,000-Sq-Ft Retail Center; Boat & Jet Ski Rentals; Bait Shop, Food Mart, Subway & much more! Heckler told Paradise News, "Recently all the parking lot concrete and asphalts resurfaced, replaced all landscaping. On our website you can click on the Retail Space tab for store details and available commercial retail space. With our superior location, featured retail center, services offered, and a staff of experienced fishermen and boaters, we offer the best customer service on the water, We've become one of the largest and most convenient, location wise, marinas on the West Coast." For more information call 727.866.0255 or online at www.tvmarina.com.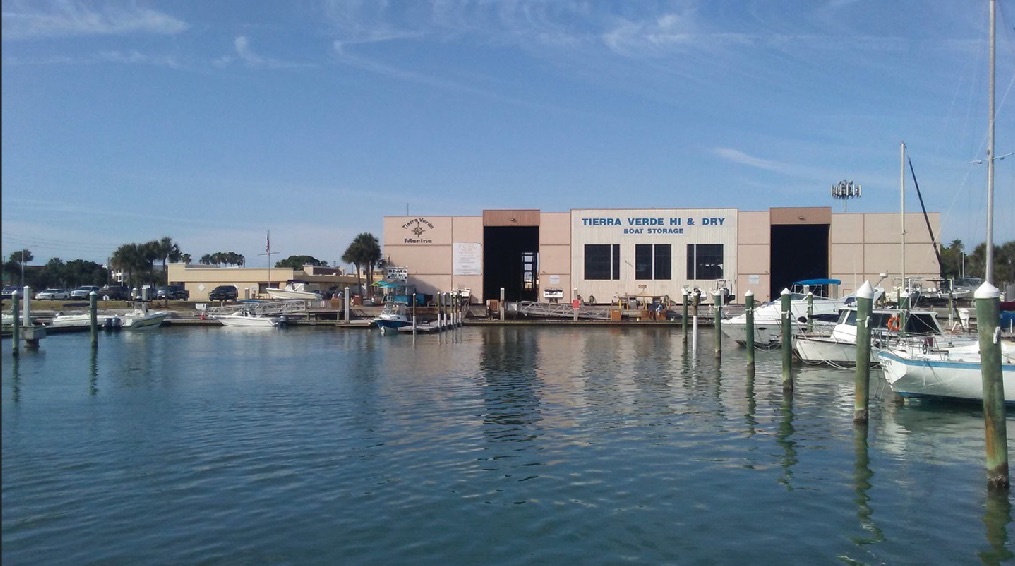 Pasadena Yacht & Country Club Marina
Situated on Florida's Gulf Coast at 6200 Pasadena Point Blvd. South, just steps away from the artsy beach town of Gulfport, PYCC combines the luxury of country club and yachting lifestyles to offer the ultimate boating experience for our members.
Established in 1924, PYCC has a remarkable history that lives today. Golfing greats such as Arnold Palmer (course design) and Walter Hagen (the Club's first pro) and celebrities such as Babe Ruth and Michael Jordan have contributed to the legacy of the championship course. The 82-slip marina complex can accommodate vessels from 34 to 110 feet. The marina is well protected with a deep-water access channel with 8-foot controlling depth. Local captains and yacht owners rate PYCC as a top "hurricane hole" and consider the marina to be one of the best kept secrets in the area. PYCC Membership Manager Sarah Harvey told Paradise News, "The original marina was built in the 80's, extended in the 90's and underwent a major renovation in 2005. Recently, in addition to enhancements and upgrades, security gates were added. The facility has a full time Dockmaster and assistants who offer superior service.
This marina is well known around the area as one of the most protected harbors on the west coast. Owners and renters need to join the Country Club and enjoy use of the health club, tennis courts, heated Jr. Olympic swimming pool, three dining area, reciprocity with some area Yacht Clubs and an active social scene.  The Club, under the new ownership of Dr. Jeff Paonessa, is undergoing an ambitious renovation of many areas including the pool area, health club, fitness studio, clubhouse, golf course and practice areas.
We invite you to book a tour of the Club with a call to 727-381-7922 or email membership@pyccgolf.com
Isla Del Sol Yacht & Country Club Marina
On beautiful Boca Ciega Bay at 6000 Sun Blvd., the Isla del Sol YCC Yacht Basin offers a 76-slip yacht harbor with depths ranging from 6 to 22 feet; Handling yachts up to 65 feet; Designated a "Clean Marina" by State of Florida; Dry storage for dinghies, canoes & kayaks; 30/50 Amp electrical, water, phone, CATV service at each slip; Wireless Internet Access; Holding tank pump out from any slip or lift; 7-Day a week staff coverage, from 9am – 5pm; Ice (cubed, crushed, block); Picnic cabanas on docks; Yacht Club Lounge with HDTV & DVD/VCR, showers, coin laundry, refrigerator & microwave; and a Gourmet restaurant & bar in the club house; and a large swimming pool with a Tiki Bar & Grille (seasonal opening).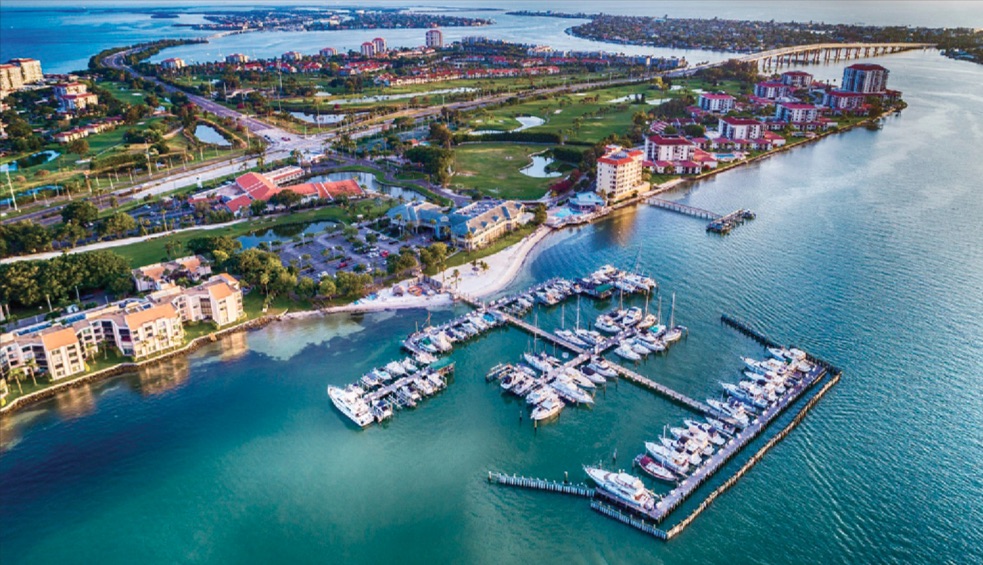 Star Garcia, Club Membership & Marketing Director, told Paradise News, "Our marina features a 76-slip Yacht Basin with easy access to the Gulf of Mexico. Every slip is equipped with electric pedestals, hoses and lock boxes. We are in the second stage of the $1.2 million renovations to our Yacht Basin. All of our docks are being replaced with recycled plastic decking by Advantage. Everything will be new, with wrapped pilings, framing and cross braces. The completed areas of the docks look absolutely amazing and, more importantly, safer for our Members and their guests. Transient members of YCA member clubs are welcome, based on slip availability." For more information, call 727-828-0002 or email www.membership@idsycc.com
Maximo Marina
Situated at 4801 37th St. South in St. Petersburg, the marina opened in 1959 with 550 slips as the largest covered marina anywhere. It was acquired by Chicago-based Bixby Bridge Capital in 2015, with IGY hired to rebuild and manage the marina.
Lee Hicks, IGY General Manager, told Paradise News, "The $24 million project will reopen in 2018 with 212 covered slips. Schedule has this July completion of new Sailfish and Southeast Bulkhead Docks, and March 2018 completion of new Northeast Bulkhead and Tarpon Docks, and North Bulkhead Marlin Docks for customer berthing.
A new $2.5 million The Getaway Restaurant opens this fall." As the largest marina in the area it offers a protected harbor with calm waters and safe berthing. The marina provides easy access to the Intracoastal Waterway (ICW) and, the 200-foot-wide direct channel to open waters sets boaters free to cruise around the Gulf Coast. Located between the Gulf of Mexico and the ICW, its fresh spring-fed water basin reduces barnacle accumulation and saltwater damage to paint and wood.
Marina visitors can relax in a shaded slip or hang out on the docks to receive the stellar treatment expected from an IGY Marina. Features include full 24-hour security and perimeter security fence as well as night watchmen; professional management and seasoned Harbor Master; Full electrical power is available and is individually metered; Use of a large dock box as well as a black-water pump-out station is free for marina customers; and easy fueling, with pricing and scheduling at the Dockmaster's office. More information, call 727-867-1102 or access website www.igy-maximomarina.com.
O'Neill's Marina
The marina at 6701 34th Street South in St. Pete was opened in 1954 and after more than 60 years is still family owned and operated. Lisa Shook is the fourth generation and runs the business with her father, Alan Phillips.  She told Paradise News, "We have 106 wet slips, most of which have powered lifts both covered and uncovered, and also have about 110 storage spots for boats on trailers. The marina was dredged in January of 2016 to make it more accessible at low tide.  We have a bait and tackle shop, sell Ethanol-free fuel at the best price on the water, have a full-service repair shop, and excellent financing for new and used boats."
The service center has qualified technicians who can service all makes, with a haul-out service for customers without trailers. Offerings include 20-Hour, 100-Hour or Annual Service contracts; New Motor Riggings; Electronic Install; Canvas & Upholstery Work; Fiberglass Repair; and Boat Detailing. The marina specializes in boat financing, with Sales Manager Robert McCurdy handling all details. He notes that financing a new or used boat is a service offered to make the process easier, offering the best rates in the industry working with banks that specialize in Recreational Lending. "We're committed to customer satisfaction," he adds. We are a small team that works together to make sure you buy the boat that fits your family's desires and budget. We also make sure before you leave that you are properly trained." For more information, go online at www.oneillsmarina.com or call 727-867-2585.
This sampling of local marinas is a good cross-section of the many options available to local boaters and fishermen. They reinforce the image of our well-earned reputation as the area's watersports capital.
STORY by STEVE TRAIMAN   |   Photos from Marinas
[Editor's Note: Special thanks to Al Bobellis, Jeremy Heckler, Sarah Harvey, Star Garcia, Lee Hicks and Lisa Shook for their excellent information and photos.]
[Steve Traiman is President of Creative Copy by Steve Traiman in St. Pete Beach, offering freelance business writing services. He can be reached via email at traimancreativecopy@gmail.com ]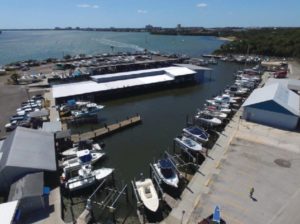 http://paradisenewsfl.info/wp-content/uploads/2017/06/boat-aerial.jpg
557
874
paradisenewsfl@gmail.com
http://paradisenewsfl.info/wp-content/uploads/2016/10/pn-red-web-header.jpg
paradisenewsfl@gmail.com
2017-06-07 15:28:01
2017-06-08 15:15:32
Marinas - Our Gateway to the Gulf