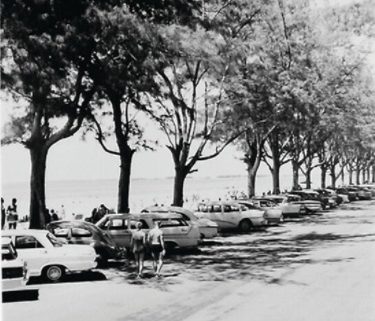 Readers of Paradise News are fortunate to have a trio of outstanding history museums that annually attract thousands of residents and visitors to a continually updated series of exhibits, speakers and events.
Gulf Beaches Historical Museum
The Gulf Beaches Historical Museum is an all-volunteer destination at 115 10th Ave. in historic Pass-A-Grille. Volunteer Coordinator Lance Peterson told Paradise News, "Since we opened nearly 24 years ago, it has been part of Pinellas County and Heritage Village.  All volunteers are part of the Pinellas County Volunteer Program and have County ID cards. Most volunteers begin as docents, which means, they greet visitors to the museum, explain the building and local history of the museum.  They also show different exhibits and explain their meaning."
In March, the Museum holds an annual Island Festival in the museum and on the street in front and the park between 9th and 10th Avenues.  This year, the building, originally home of the area's first church, is 100 years old and the City of St Pete Beach celebrates its 60th anniversary. So the City and Museum are partnering in holding an expanded Island Festival.
This event will be from 9 am to 4 pm. Events include a European Car Club, bands, vendors throughout the park, food, beer and wine, all outside the museum.  Volunteers will greet visitors inside the Museum, to see constantly updated historical exhibits as well as a gift shop that includes books by local authors.  Peterson continues, "We will need volunteers for set-up and tear-down, manning tables along 10th Avenue, helping with crowds and working inside and outside the museum.
"Anyone wishing to volunteer as a docent in the Museum can call and leave a message at 552-1610 or go online and contact me at lpeters7@tampabay.rr.com. If you wish to work the Island Festival you can utilize the above means or go online to http://www.signupgenius.com/go/10c0f48a4ae2ca7f49-historical and click on 'Historical Anniversary Celebration' and select an area you would like to work with."
Spencer Lucas, President, Friends of  the Gulf Beaches Historical Museum; Sally Yoder, Collection Manager; and Bobby Ross, Gift Shop Manager, join Lance in emphasizing, "We appreciate this opportunity to reach out to the community and encourage everyone to visit the museum and, maybe, sign up to become part of our family."
Gulfport History Museum
Gulfport enjoys a reputation as a haven for artists, great restaurants, and a boater's paradise. Upon visiting for the first time, people revel in the way it reminds them of the Florida that once lived in every town.
No one understands how much old Florida matters than the Gulfport Historical Society (GHS), the 501(c)(3) that operates the Gulfport History Museum with the generous support of members and the City of Gulfport.
Society Secretary Cathy Salustri tells Paradise News, "Every community in Florida wants desperately to set themselves apart, and in Gulfport, our strength lies in our history. At the Society, we believe our history is our future, and we want to share both with you. But what, exactly, is our history?
"We're descended from blockade runners — some may choose to call them pirates, but we choose to call them men trying to feed their families — and, later, drug runners. As the community evolved, we developed into a haven for artists and the LGBTQA community, something that makes us proud to this day — that crusty fishermen and the LGBTQA community can exist harmoniously. Our job as the guardians of all these histories is to protect and preserve them as one. 
"The Society is very fortunate that Volunteer Coordinator Margarete Tober has revived the vital volunteer program. We have about 20 now and we're always seeking more volunteers –there's always a need for more — to help digitize our history, help people with research requests, and keep the doors open as many days as possible."
Hours: Tuesday, 10 am – 2 pm; Fri.-Sat.-Sun., 1 to 4 pm; other times by appointment.  
Society Chair and Gulfport Councilwoman Christine Brown emphasizes, "We're also in desperate need of donations — right now, we're raising money to help with a wildlife exclusion (we've had a rat problem and they're starting to nest in our history, which is not ideal) — and bequests.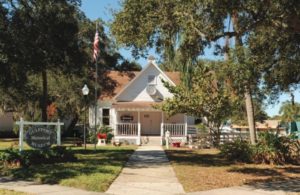 "We're a 501(c)(3), so donations are totally deductible. Memberships, too, help fund our preservation efforts — we're looking to revive the Gulfport Historical Register that documents local historical buildings, and that will take an influx of cash. Anyone can join on our website at www.gulfporthistoricalsociety.org  or at any of our porch parties, held the third Friday of every month.
"Members enjoy our speakers and porch parties, where we bring in historians from across the state to talk about Florida history and how it relates to Gulfport, incorporated 107 years ago in 1910. Members also receive the Society's regular newsletter, the Historian. Throughout the year we plan special events that change as do the desires of our membership. Coming up in mid-February is new exhibit celebrating our unique 'Pink Flamingo Tour of Homes.'''
Joining Brown and Salustri are Treasurer Nicole Spence, Curators Daun Fletcher and Rob Burkhart, and City Liaison Gail Biron, who note, "We protect and celebrate our seaside village's past, and preserve today's memories for the Gulfportians of tomorrow. Please join us."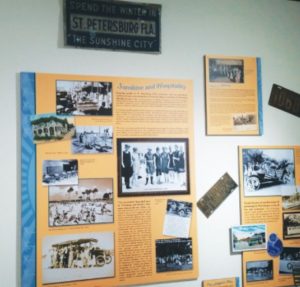 St. Petersburg Museum of History 
Celebrating its 95th birthday this year, the St. Petersburg Museum of History has been Sharing the Stories of the Sunshine City for nearly a century on the beautiful downtown waterfront at 355 Second Ave. NE at the Pier entrance.
Pinellas County's oldest museum originally opened in a City-donated old aquarium building as the St. Petersburg Historical Society. Through the determination of city pioneers like Mary Wheeler Eaton, it began collecting artifacts, natural history specimens, archival documents, photographs, papers, and as Executive Director Rui Farias notes, "boxes of unknown treasures that were just dropped on our doorstep during the night.
"Today, the Museum's mission is to collect, preserve and present Florida history – specifically St. Petersburg history. We now have over 50,000 artifacts, photographs and documents in our collection, and it's growing all the time through local donations.
"Expansion over the years created numerous exhibit galleries that feature world-class traveling exhibits such as Shipwreck! and Fighting for the Right to Fight: African Americans in WWII, as well as permanent exhibits of the area's history and even a 3,000-year-old Egyptian mummy. And hanging from the ceiling is a working replica of the Benoist airboat Tony Jannus piloted across Tampa Bay for the world's first commercial airline flight in 1914.
"The Museum also features an interactive archives library that is open to the public for research, or just good old history hunting!"
Current traveling exhibit through March 5 is Fighting for the Right to Fight: African American Experiences in WW II, on loan from the National World War II Museum in New Orleans. Permanent exhibits include The Sunshine City: St. Petersburg history from the Civil War to the Green Benches; Life. Death. The Afterlife: King Tut's tomb and St. Pete's oldest resident – a real 3,000-year-old Egyptian mummy; Piering through the Past: A photographic journey of St. Pete's waterfront piers; Local Art. Local Stories: An art exhibit of Mark Dixon Dodd and others depicting the history; and Schrader's Little Cooperstown: Certified by Guinness as the World's Largest Collection of Autographed Baseballs. The nation's pastime helps teach American history!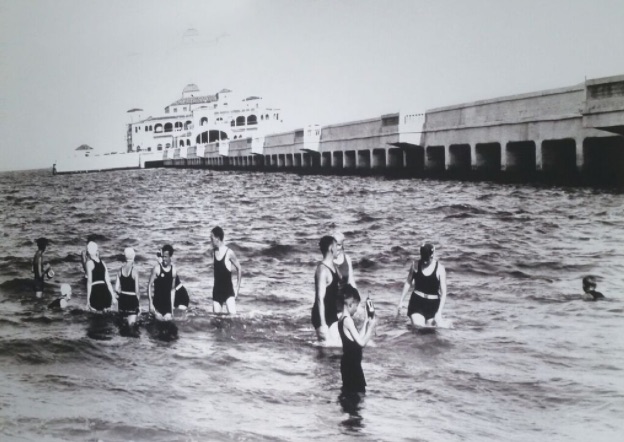 Along with world-class exhibits, the Museum of History presents a number of events during the year for all interests and ages: Happy Hour with the Historian – An Evening of Wine, Words and Wisdom: Six times a year with entertaining authors and their unusual stories of Florida history; Cocktails on the Courts: Major annual fundraiser highlighting the City's unique tourist past, at the world-famous St. Petersburg Shuffleboard Courts; Florida Humanities Council Speaker Series: Four times a year, with iconic historians offer a different perspective on Florida's unique, if not weird, history; Two-Headed Calf Fest: Celebrating the animal that has been a part of the Museum's main exhibit since the 1920s, it offers live music, craft beer, a food truck rally and local artists; Beers on the Pier:  A unique craft beer festival that features craft beer from Florida and other regions; and City Builders Camp: summer history program for children.
As a 501(c)(3), the Museum is actively collecting artifacts, photographs, documents and even architectural pieces of our area's past – and is even expanding the scope to all of Florida. The Museum is always looking  for donors, members and volunteers! Contact Director of Education and Museum Curator, Nevin Sitler, at 727-894-1052, ext. 206, or email nevin@spmoh.org.
Our area is truly blessed with three outstanding and distinctive history museums. Take advantage of what each offers with your own visit, and if you can, get personally involved in any or all of the trio. 
Article by Steve Traiman
[Editor's Note: Special thanks to Lance Peterson, Gulf Beaches Historical Museum; Cathy Salustri and Christine Brown at Gulfport History Museum, and Rui Farias at St. Petersburg Museum of History  for their excellent input and photos.]
[Steve Traiman is President of Creative Copy by Steve Traiman in St. Pete Beach, offering freelance business writing services.  He can be reached via email at  traimancreativecopy@gmail.com]
http://paradisenewsfl.info/wp-content/uploads/2017/02/feb-2017-history-museums-1.jpg
397
375
paradisenewsfl@gmail.com
http://paradisenewsfl.info/wp-content/uploads/2016/10/pn-red-web-header.jpg
paradisenewsfl@gmail.com
2017-02-13 04:18:01
2017-02-13 04:18:20
Local History Museums Boost Their Communities