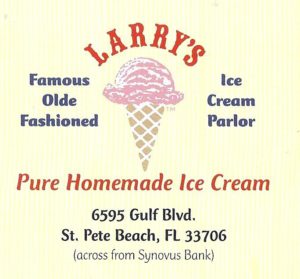 Larry's adds Mini Donuts to the Beach's Most Popular Dessert Menu!
"Mini Donuts was a natural brand extension for Larry's; donuts are dessert just like ice cream and gelato…it's in the family," according to Alison Herman. "So, it made sense." Family is more than the assortment of desserts offered at Larry's at 6595 Gulf Blvd.…it's what Larry's is all about.  Owned for two decades by Alison's mom, Dorothea Herman and her father Louis. Now owned and operated by mother and daughter, Larry's remains a family-owned business and staple in St. Pete Beach as Alison branches into all things donut, gracing St. Pete Beach with the delightful, bite-full, treat in addition to the overwhelming variety of ice cream and gelatos.
Adding to the family business, the Herman's bought Twistee Treat in 2004 so they could add, get this… 66 flavors of soft serve… to the ice cream eating public on St. Pete Beach. Family-owned and operated isn't just a catch phrase for the Herman's, it's a way of life. Alison works side by side with her mother, Dore, managing, purchasing, menu planning, dealing with vendors, training staff… it's more than a full-time job, it's more than two full-time jobs. But, it's also a labor of love. Love of ice cream, love of gelato, love of donuts, love of desserts, and most importantly, a love of family "My mom and I wanted to bring back the old-style, fresh made donut that you can't get any where. Just like our ice cream and gelato (over 150 flavors) we offer the donuts in dozens of varieties."
After a year of planning, Larry's rolled out their mini donuts just as 2017 was replacing 2016.
"It took us a while to get the mix just right with us being literally at sea level and the salt air." Their persistence and patience was worth the wait.
Larry's now proudly makes the only fresh donuts in St. Pete Beach and serves them up with a myriad of toppings. There are the traditional favorites such as powdered, cinnamon sugar and glazed but that's just for starters. With offerings ranging from Smores (chocolate glaze dusted with graham cracker crumbs and topped with marshmallow) to the Elvis (peanut butter icing topped with crumbled bacon).
Accompanying the new mini donuts are locally roasted Kahwa coffee and a cold-pressed, nitrogen-infused espresso, brewed in Sarasota. 
Mirroring the many different offerings on Larry's menu is the crowd enjoying them: families, groups of young people, couples on dates, and folks of all ages. If you have questions about including Larry's donuts in a family, church or school event, call (727) 360-4259
So, if you're reading this article, come try some of Larry's ice cream, gelato, or mini donuts. "Because, after all, there are no strangers, just family we have yet to meet!" says Alison.
By John Waterman
http://paradisenewsfl.info/wp-content/uploads/2017/04/larrys-mini-donuts.jpg
960
960
paradisenewsfl@gmail.com
http://paradisenewsfl.info/wp-content/uploads/2016/10/pn-red-web-header.jpg
paradisenewsfl@gmail.com
2017-04-12 21:25:24
2017-04-12 21:25:24
Larry's Donuts!