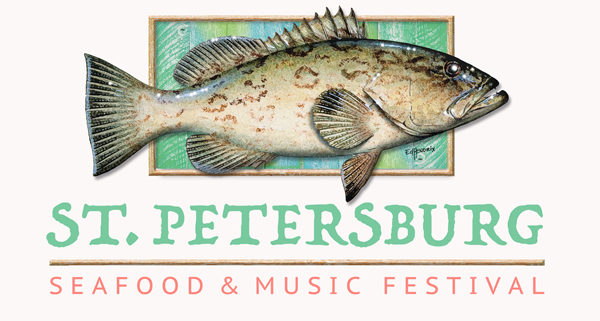 Join Paragon Arts on March 25-26 in North Straub Park for the premiere of a new St. Petersburg tradition: the St. Petersburg Seafood & Music Festival.  The festival runs both Saturday and Sunday from 10 am to 6 pm. General admission is $5 at the gate, $3 in advance through Eventbrite.com.  VIP Tent admission is $50. Come enjoy downtown St. Petersburg with friends and family. The event is graciously co-hosted by the City of St. Petersburg and St. Petersburg Arts Alliance.
Select from delectable foods cooked onsite incorporating the freshest ingredients by local restaurants and food purveyors.  Choose from grouper, mahi-mahi, stone crabs, oysters, shrimp and soft-shell crabs, crab cakes and more. Meat entrees include Italian and Polish sausage, steak sandwiches and chicken-on-a-stick and a variety of vegetarian and rice dishes also are offered.
While enjoying your meal, sit back and relax to music!  Musical entertainment consists of live on-stage performances by creative and talented musicians from both the local and regional circuit.  Genres of music vary from soul, classic rock, R&B, jazz, salsa and more.  Musical groups this year include Jah Movement, Orchestra Fuego, Mike Tozier, the Greg Billings Band, Twinkle & Rock Soul Radio, RJ Howson, the HubbTones, Come Back Alice, Kettle of Fish and the Sarasota Steel Pan Band.  Performance times are listed on our event website: www.seafoodfestivals.com where you can also watch videos of live performances.
Make it a night to remember.  We will prepare a memorable feast – the only remaining ingredient we need is you!
General admission is $3 in advance purchased through the link below to Eventbrite, $5 at the gate.  The VIP tent admission of $50 includes an event t-shirt, open bar and private lounge area.