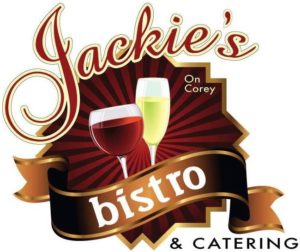 The Corey area is turning into a food court, bounded by the best Thai & Sushi in town and 'Little Italy' two blocks to the north. Jackie's Bistro & Jazz Club expanded this summer, adding an adjacent Martuni Lounge. Brunch at Jackie's is all the craze with an all you can eat gourmet buffet from 9-2 and bottomless Mimosas from 11-2, all for $19.
Tapz and Tapaz just opened on New Year's eve where the Shell store was for 50 years. This new concept combines craft brews with small plates, all under $7 in a hip design with unique decor, originally designed lights and furnishings. 
Chill has relocated onto the Corey Ave. district and their menu has even more creative dishes!  Mmmmm!
The old German Bakery location at 595 Corey Ave. is one of the newer Italian restaurants, A Slice of New York, offering indoor dining, takeout and delivery from 11am until 4 am, 7 days a week. Craig Munroe, owner of  Slice of New York is busy retrofitting the old Chill location into a 'Cajun Bar-b-que'. 
The Corey Market is on Sundays from 10 am – 2 pm unless pre-empted by a weekend Art Festival like Jan. 9-10 and the first weekends of April, June & December. The new owners at Beach Memorial Chapel, Dignity Memorial are holding free luncheon seminars to introduce planning for Celebrations of Life and  freezing the high cost of saying goodbye.
Corey Corners is now a property law office, Anderson & Broderson, P.A. Coastal Properties has opened a new realty office next door to Annabels. Two title companies are located on Corey too. Fidelity National Title is now open where Chicago Title used to be at 595 Corey Ave. Paramount Title is also open next to Keller Williams Realty, across from the post office.
Cheryl West, proprietor of Paradise Gifts has opened another store across the street. Paradise Lights houses her expanded line of decor and furnishings.
Corey is totally pet friendly too! Welcome Brook Bickford, new owner at Gone to the Dogs Boutique & Grooming, LLC, 310 Corey Ave., where you can have your pet groomed any day of the week. Also, meet Tiffany Rimar, the new hollistic vet in town, an amazing doctor for your special friend. See the July issue for a feature story about Dr. Rimar, visit www.myzenvet.com or call 727-360-5700. 
Events and more, visit www.CoreyAve.com.
http://paradisenewsfl.info/wp-content/uploads/2016/08/jackies-logo.jpg
545
650
paradisenewsfl@gmail.com
http://paradisenewsfl.info/wp-content/uploads/2016/10/pn-red-web-header.jpg
paradisenewsfl@gmail.com
2016-08-29 17:03:38
2016-08-29 17:03:38
Corey Avenue Update