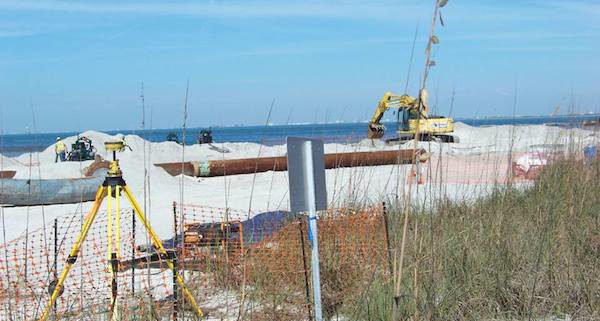 The Pinellas County federal beach nourishment project will receive an additional $16 million in federal funding this summer, the U.S. Army Corps of Engineers (Corps) announced this week.
Last summer, the County was awarded $12.8 million to respond to storm damage to Pinellas beaches.  With the additional monies and $5.15 million from the County's Bed Tax and $5.15 million from the Florida Department of Environmental Protection, the Corps will be able to renourish up to 10.5 miles of beaches to provide critical coastal storm damage protection, recreational opportunities and enhanced natural habitats. The federal government has invested nearly $120 million in restorative beach erosion control measures, including beach nourishment and the construction of groins, to date.
"The Pinellas County beach nourishment program has been a model partnership among the U.S. Army Corps of Engineers, the state, county and local communities for more than 40 years," said Janet C. Long, Chairman of the Pinellas County Commission.  "The funding for the construction this Fall would not have been possible without support of the Jacksonville District Office of the U.S. Army Corps of Engineers, Senators Bill Nelson and Marco Rubio, and Congressmen Charlie Crist and Gus Bilirakis."
With construction scheduled to begin this Fall, a key step in the process remains securing the proper easements from property owners along the length of the project. Together, the County and Municipalities sent letters to all property owners last January to request the easements. The easements will allow for necessary construction activities without any gaps in the project and will preserve public access to the beaches. Property owners have until June 2 to provide the easement.  Owners with questions or who have not yet signed an easement should contact Dr. John Bishop, Pinellas County Coastal Management Coordinator, at (727) 464-8677.
The Pinellas County Shore Protection Project includes three federally authorized segments that are actively maintained by the federal government in a cost-share agreement with Pinellas County. Based on construction bids, segments could include Sand Key, Treasure Island and Long Key.
Our beaches provide critical costal protection from storms, unparalleled recreational opportunities for our residents and visitors, and important habitat for shorebirds and nesting sea turtles.  "This project aligns perfectly with the Pinellas County Board of County Commissioners' strategic goal of practicing superior environmental stewardship to preserve and manage environmental lands, beach parks and historical assets," said County Administrator Mark S. Woodard.
http://paradisenewsfl.info/wp-content/uploads/2016/07/egmontkey-renourishment.jpg
450
600
paradisenewsfl@gmail.com
http://paradisenewsfl.info/wp-content/uploads/2016/10/pn-red-web-header.jpg
paradisenewsfl@gmail.com
2017-05-31 16:53:00
2017-06-07 23:24:44
Pinellas Receives Additional $16M for Beach Nourishment