Gulfport Tidbits
The Gulfport Area Chamber of Commerce has relocated to 3101 Beach Blvd S, Suite 1, Gulfport, FL 33707. The chamber's top fund raiser, the Pink Flamingo Home Tour is March 5th. 
The new Gulfport Chili Cookoff is coming to the Historic Gulfport Casino on Sunday, March 20, 2016. Home cooks & professionals are invited to compete for medals and cash prizes. Officially titled The Artsy Phartsy Chili Cook off & Salsa Show off, cash and medals will be awarded to the winning chili and salsa cooks. The top prize is $200 for First Place Chili. Artistic Gulfport bohemian-style booth decorations are encouraged for extra points in judging. This event is all family friendly. Admission includes all the championship chili and savory salsa you can eat until it runs out! There will be lots of room for dancing to live music by dynamic performer Cyndi Burger, whose repertoire includes music from the fifties to today's current hits.  Cook off details, registration and tickets are available online now. Advance "Four Friends Fun Pack" admission tickets are available in a discounted pack of four for $50. General admission tickets at the door will be $20 for adults (age 13 & up) and $10 for kids 5-12. Two Gulfport non-profits will share 10% of all ticket proceeds. Corporate sponsorships available. For information, call 727-289-9365 or visit the official website at GulfportChiliCookoff.com.
Madeira Beach Tidbits
The Madeira Beach Market is held Wednesdays 9am-2pm October – July. Growers, gourmet foodies, fine arts and crafts, community connections! Free, family and pet friendly.
Gulf Beach Masonic Lodge No. 291, located at 14020 Marguerite Dr. Madeira Beach, held its 66th Annual Installation of Lodge Officers recently at the Masonic Temple with seventy members, visitors and family.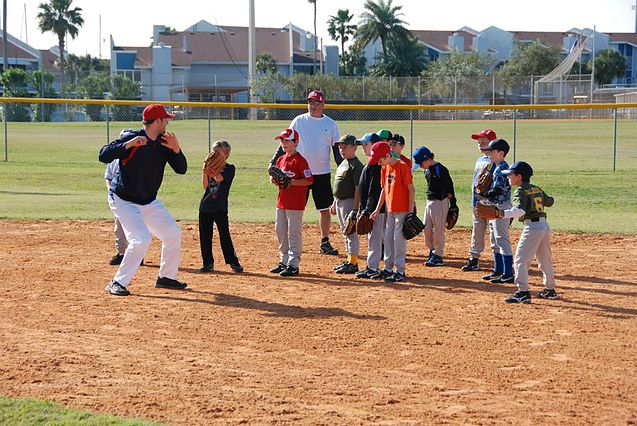 Madeira Beach Youth Baseball & Softball registration is now open to all children residing in Pinellas County. Baseball, softball and t-ball for children ages 4 to 18. Registration and more  information at MadBeachBall.com.
Pinellas County Tidbits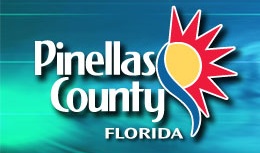 The Sunstar FirstCare Ambulance Membership Plan is a Pinellas County government program that covers out of pocket co-payments or deductibles not paid for by insurance. Members enrolled in the program without insurance receive a 20-percent discount on ambulance charges. The plan covers medically necessary transports in Pinellas County by Sunstar ambulance units. Plans cost $61.35/individuals and $95.43 for families. Applications are accepted throughout the year. Completed and signed applications with full payment are effective on the postmark date. Call (727) 582-2008. Download apps from pinellascounty.org/firstcare.  Members have until April 1 to renew to avoid interruption of coverage.
Pinellas County Extension is hosting the new Florida Waters Stewardship Program for those looking to make a difference for local water resources. The program starts Tuesday, Feb. 9, and  participants meet for three hours every two weeks for a total of six sessions. This course is interactive and informal with class discussions, field tours and conversations with local water experts. Participants will be expected to attend all six-class sessions, finish short take-home  "assignments for exploration," contribute to the class stewardship project and engage with guest experts and other participants.
The program requires a commitment of time, both inside and outside of class sessions with total commitment estimated at 30 hours over three months.Those interested in the program should register online at fwsp.eventbrite.com  
The cost for the program is $99.  Each class session meets at a different location and includes a site tour and at least one guest speaker.
Session 1: Tuesday, Feb. 9, 5:30 to 8:30 p.m. – Brooker Creek Preserve – Watershed Basics and Stewardship and Leadership Skills
Session 2: Tuesday, Feb. 23, 5:30 to 8:30 p.m. – Fort De Soto Park – Changing Waterscapes and Working with Thorny Issues
Session 3: Saturday,  March 12, 9 a.m. to 12:30 p.m. – Pinellas County's Waste-to-Energy Plant – Regulatory Policies, Tools & Economics & Getting Things Done: The Power of Partnership
Session 4: Tuesday, March 22, 5:30 to 8:30 pm. – St. Petersburg Water Resources Department – Water Supply and Emerging Water-Resource Issues and Communication is More Than Words
Session 5: Tuesday, April 5, 5:30 to 8:30 pm  – Life Farms and Safety Harbor Library – Field Trip – Stakeholder Panel Discussion
Session 6: Saturday, April 16,  9 am to  12:30 pm – Weedon Island Preserve – Final Reflections and Where To From Here? A video about many of these programs can be found at youtube.com/pcctv1.
St. Pete Beach Tidbits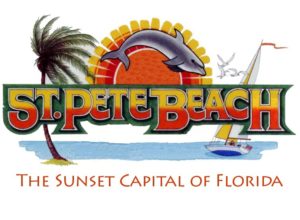 HONOR WALK AT UPHAM BEACH The 2016 Brick Campaign will continue until March 18, 2016. Installation of the bricks will occur Summer 2016. Call 727-363-9232 or visit stpetebeach.org.
SPB PUBLIC SERVICES appreciates your patience and understanding regarding the traffic delays around Christmas. With work going on at the northern end of the Pass-A-Grille project, the annual holiday/seasonal traffic surge and the unforeseen significant spike in beach-going traffic resulting from historically warm weather.
St. Pete Beach Parking permits are available at city hall this year.  Please bring one of the following in addition to your car registration whether you rent or own your property.
– Voter Registration Card
– Real Estate Tax Bill
– Lease Agreement
– Driver's license w/current address
– Utility Bill with current address or
– Three pieces of mail w/current address.
The Tampa Bay Beaches Chamber of Commerce hosted its Annual Dinner on Wednesday, January 20th at the Tradewinds Island Grand Resort. Bay News 9 anchor and event emcee, Holly Gregory, announced the 2015 Businesses Awards. For the first time, the chamber opened up voting to the entire membership after receiving a record number of nominations. The following took top honors:
Non-Profit of the Year: Winner: Pet Pal Animal Shelter; Runner up: Old Salt Fishing Foundation
Stellar Staff (Customer Service):Winner: Chick-Fil-A St. Pete Beach; Runner up: RumFish Grill
Top Dog Award (Best Office Canine): Winner:  Zoey at Sirata Beach Resort; Runner up: Madison@Caputo Creative=
Business of the Year <100 employees: Winner:  Verduccis; Runner up: Travel Resort Services
Business of the Year >100 employees: Winner: Loews Don Cesar Hotel; Runner up:  Clearwater Gas System
Congratulations to all winners and nominees!
St. Petersburg Tidbits
CAI'S Community Associations Day & Trade Show Thursday, February 25, 2016 at The Coliseum, 535 4th Ave. N. St. Petersburg. 88 booths will be open from 10 am – 4 pm.  Features free coffee & doughnuts in the morning and displays of products and services for association living, and many giveaways.  Admission is free, no registration required and everyone is welcome!  For more information, visit www.suncoastcai.com or call 727-345-0165.
Wednesday January 20th, was Tourism Day in Tallahassee. Each year, Florida's tourism partners host the event to educate the legislature, media and Floridians on the significant role tourism plays in the success of our state's economy. The early welcome session drew more than 500 industry attendees. 
Senate Bill 1646 in the Appropriations Subcommittee on Transportation, Tourism and Economic  Development, chaired by Senator Jack Latvala. Film Florida attended and provided a public testimony. This bill was to be heard in its first committee (Commerce and Tourism, chaired by Senator Detert) on Monday, January 25th at 1pm. Film Florida continues to monitor things closely. Enthusiasts are encourageed to like Film Florida on Facebook or follow @FilmFlorida on Twitter.
St. Petersburg received a perfect score of 100 on the Human Rights Campaign Foundation's 2015  Municipal Equality Index. The report scores cities according to non-discrimination laws, mployment policies, inclusiveness of city services, law enforcement and municipal leadership on matters of equality. Of the 408 cities examined, 47 achieved perfect scores.
Florida-based Tropic Ocean Airways are now offering scheduled, commercial airline service from  downtown St. Petersburg's Albert Whitted Airport to Fort Lauderdale, with continuing service to the Bahamas, twice weekly, on Monday and Friday.
Nearly 80 Eckerd College students travelled to Cuba recently to study science, the environment, economics and photography. They are among 375 students in 22 Eckerd College classes who will study abroad during Winter Term, the largest number in Eckerd's history. Last year, 18 Eckerd   students spent two weeks studying the Cuban economy during a particularly historic time. Osher Lifelong Learning Institute at Eckerd sent a group of adult learners to Havana Jan. 23-29 to study the art, history and landscape of the island nation and meet with government and cultural representatives.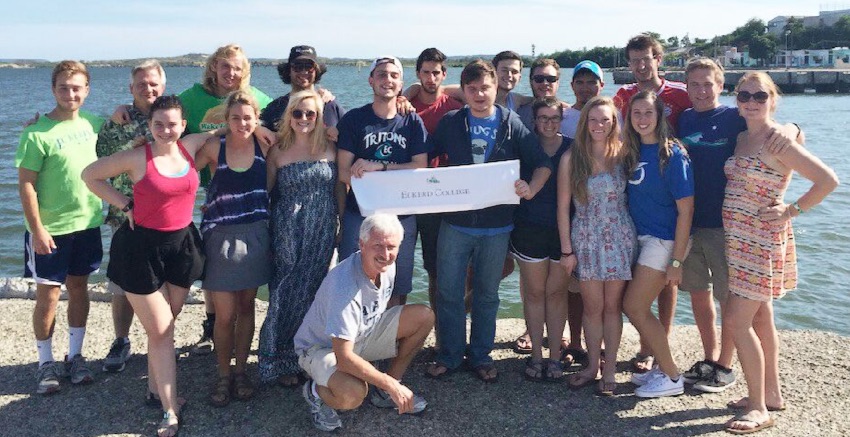 Allison Stribling has become St. Petersburg Preservation (SPP)'s executive director.  Look for Allison at the upcoming porch party or "What Makes St. Pete Special" program.
Tampa Bay Watch Tidbits
The Duke Energy Foundation on Thursday, January 28, 2016, donated $25,000 to Tampa Bay Watch.  The funds will support the Bay Grasses in Classes (BGIC) program and will be used in the construction of two new salt marsh nurseries for the BGIC program and facilitate school and community-based coastal restoration projects.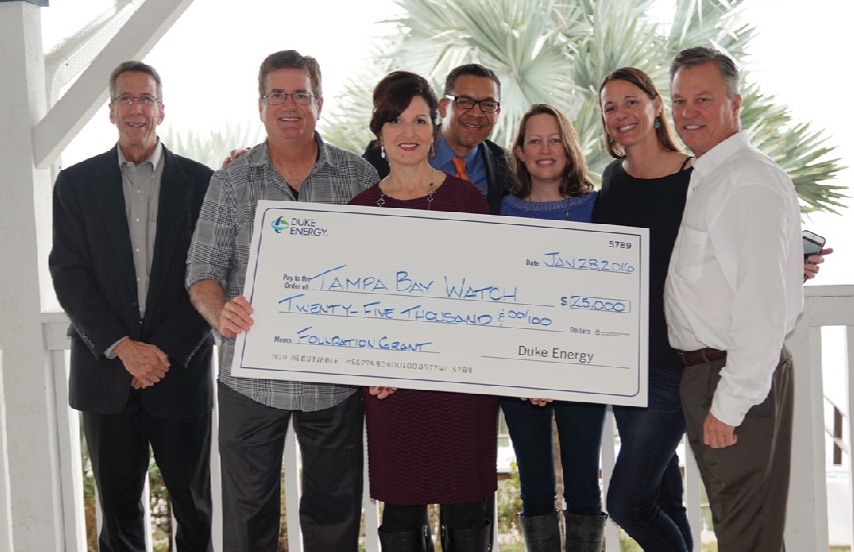 Photo ID Left to Right: Larry Weiner, Tampa Bay Watch Board of Directors, Peter Clark, President of Tampa Bay Watch, Melissa Seixas, Duke Energy Government & Community Relations Manager, Gregory Wright, Duke Foundation, Jessie Landi, Tampa Bay Watch Director of Development, Serra Herndon, Tampa Bay Watch Habitat Restoration Director and Mark Chmielewski, Tampa Bay Watch Board of Directors.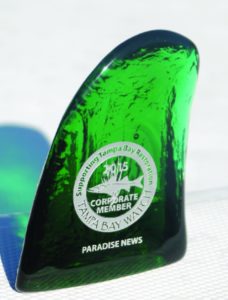 Oyster Shell Project – February 25, 26 & 27
Tampa Bay Watch is recruiting volunteers to create an oyster shell bar on the shoreline of Bay Vista Park.  The City of St. Petersburg is concerned with erosion along its shoreline. Tampa Bay Watch will install oyster habitats to help with erosion of the shoreline and to promote oyster habitats to improve water quality to this part of the bay. The project involves shoveling fossilized oyster shells into mesh bags and placing oyster shell bags on the shoreline to create a series of oyster bars. It is pretty physical labor with oyster shell bags weighing around 30 pounds each, therefore the minimum age to participate is 15 years old. The project meeting location is Bay Vista Park, 7000 4th St. S, St. Petersburg.
Volunteers to Restore Fantasy Island –  March 1 – 4, 9 am to noon & 1 – 4 pm
Tampa Bay Watch is recruiting volunteers to help install oyster domes and create an oyster shell bar on the shoreline of Fantasy Island in Hillsborough Bay. Meeting location is Williams Park Boat Ramp, 8749 U.S. 41, Riverview, FL 33578. Boat ramp is on the west side of US 41 (Tamiami Trail) where US 41 & the north side of Alafia River intersect.  Fantasy Island has severely eroded since it was created in the 1970's due to changes in currents & sand distribution, mainly since it is close to the heavily used shipping channel. Creation of a series of oyster dome fields and shell bars is an effort to restore lost habitat systems to the bay, prevent further erosion of Fantasy Island, and improve water quality through natural biological filtration.
Dome Installation, a very heavy project since oyster domes weigh 150 pounds each. We need volunteers to help install domes on the following dates and times:
Tuesday, March 1, 9am – noon & 1-4pm,
Wednesday, March 2, 9am – noon & 1-4pm,
Thursday, March 3, 9am – noon & 1-4pm,
Friday, March 4, 9am – noon & 1-4pm. 
Oyster Shell Bar Creation involves shoveling fossilized oyster shells into mesh bags, transporting the bags via boat and placing oyster shell bags on the shoreline to create a series of oyster bars. Physical labor with oyster shell bags weighing around 30 pounds each, therefore the miminum age to participate is 15 years old. 
Volunteers needed on the following dates: 9am – noon on each day: Wed., March 2; Thur., March 3 & Friday, March 4.
Tampa Bay Watch
3000 Pinellas Bayway South, Tierra Verde, FL 33715
Tel: 727-867-8166 • http://www.tampabaywatch.org/contact-us.html
Treasure Island Tidbits
Gulf Beaches Rotary Tennis & Golf Challenge – Gulf Beaches Rotary Club and the City of Treasure Island hold their 17th Tennis & Golf Challenge, Sat., March 5 at Treasure Bay Golf and Tennis, 10315 Paradise Blvd. The Doubles Round Robin for men and women starts at 9am. The Golf Scramble shotgun start is at 9:30am. Proceeds benefit Treasure Island Recreation & Gulf Beaches Rotary Foundation. Playing times 9am – noon, for  $25 /player includes play, goodie bag, prizes and raffle. A silent auction will include tennis racquets, hotel and restaurant packages and much more. The tournament & auction are open to the public. Anyone can bid on the silent auction items. Food and beverages available.
Come watch the St. Petersburg College Women's Tennis Team at 3 pm Friday, March 4. A silent auction Preview and Draw Party will be held at Treasure Bay at 6pm with a reception. At 7pm Lee Roy Selmon's will offer a catered dinner for $25/person. Please call the Treasure Island Rec at (727) 547-4575, X 237 – buffet reservations. Court and hole sponsorships are available. Please call Treasure Bay Golf and Tennis at (727) 360-6062 or T I Rec. at (727) 547-4575, ext. 237.   chayduke@mytreasureisland.org
http://paradisenewsfl.info/wp-content/uploads/2016/08/eckerd-college-guantanamo.jpg
437
850
paradisenewsfl@gmail.com
http://paradisenewsfl.info/wp-content/uploads/2016/10/pn-red-web-header.jpg
paradisenewsfl@gmail.com
2016-08-29 19:31:42
2016-08-29 19:31:42
Tidbits February 2016