Pass-a-Grille Tidbits
Many are wondering what is being built in the 600 block of Pass-A-Grille Way, former site of the Zephaniah Phillips homestead, oldest home in  the area. They are three single family homes. The garage is at the back, there are no stairs at the front up to the second floor. Entrance is at grade level.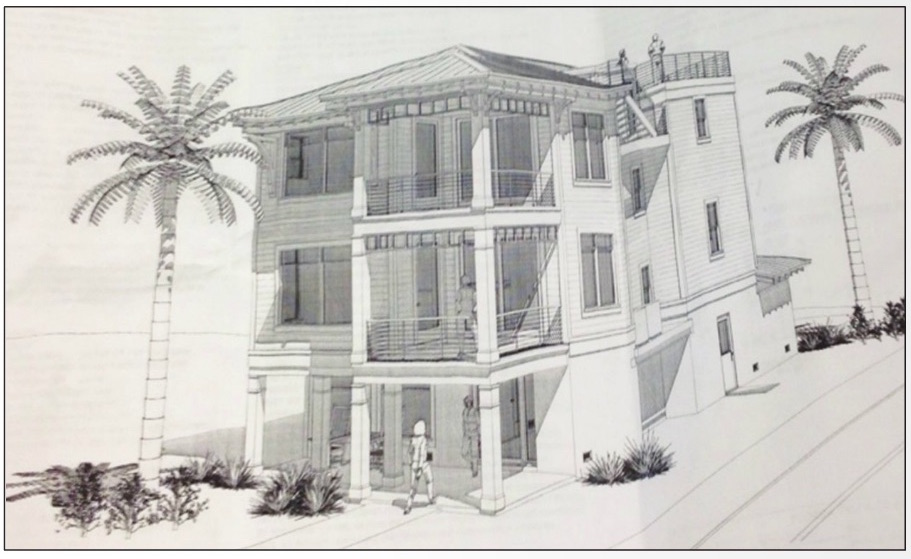 Pinellas Bayway Tidbits
ABC, Alliance for Bayway Communities, a group of community leaders, have been quietly addressing their local issues. An industry consultant was hired and negotiations with area telecommunications providers were begun. The effort eventually resulted in an agreement with Bright House Networks that significantly reduced charges to 33 Community Associations for basic cable TV services. The ABC has formed a team to engage Bright House Networks in an annual review of services provided. The intent is to track the quality of service and to anticipate the future needs of residents in the area. This continuing effort will provide important information for negotiating future telecommunication agreements. So, over the eighteen months of its existence, the Alliance concept has proven viable and effective. The ABC is now well known to most elected and non-elected officials from the City Council District to the State levels. As the ABC matures and formalizes itself in the future, they hope to continue as a voice for Bayway residents who want to enjoy the ambiance of life along the water of the Sunshine City, but who don't want to be taken for granted.
The Alliance is led by a small working group, and takes on a few "projects" of multi-community interest, each led by one of the "Principals" of the Alliance leadership team. Currently, the Alliance is pursuing four projects: 1. The Water Treatment Plant upgrade, 2. Landscaping  3. Safety and Security, and 4. Telecommunications services.
The City and DOT have been responsive to the ABC campaign to improve the visual condition of landscaping along the Bayway. The Alliance has been monitoring the condition of the landscaping and directly requesting mowing services when the medians or rights-of-way start to become unsightly. The installation  of St. Petersburg's $600,000 upgrade to Bayway landscaping commenced in January at the eastern edge of Bayway.
Pinellas County Tidbits
Pinellas County commissioners approved $9.8 million construction project to expand a passenger terminal, upgrade concessions and restrooms, and add security checkpoints to expedite travel time at St. Pete-Clearwater International Airport. Construction will begin in April and is expected to be completed by summer 2017. The airport has seen record number of passengers in recent months. In 2015, the airport served 1.65 million passengers – about 30% more than its previous one-year record of 1.3 million in 2004. Pinellas County drew over 6 million tourists in 2015 and for the first time passed $40 million in tax collections on hotel rooms. Bed tax collections have increased nearly 60% in the past 5 years, according to Visit St. Pete-Clearwater.  
Seasonal residents tend to flock north as Easter looms. This year, by April 1, it has come and gone, making for a short  'height of season', from February 14th to March 27th. Canadians, whose dollar is depressed compared to ours, have been even more thrifty than usual this year, and many shortened their stays to save rent, food and out of country health insurance fees. While they have FREE healthcare at home, they pay big bucks to cover any use of our health care system. Spring break will last another couple weeks, but it is a different crowd, not as attuned to fine dining. In just the past month, however, several  changes occurred in local restaurants. Bruce Nye's Elvis act at Gators Mondays 6-8 & Tuesdays 6:30 – 8:30 through April. The Pearl features Jazz nights on April 13 & 27. The new BRG Restaurant has opened at the all new Treasure Island Resort. Feola's next door at the Thunderbird Resort offers home cooked Italian family dining three meals a day with a large outdoor patio for weather like this, and a full liquor bar.
St. Petersburg Tidbits
Cobb Tyrone Luxury 10 Theatre will open in mid-April at Tyrone Square Mall. The 10-screen, 50,000 SF building was built in the mall's northwest parking area as a free-standing structure facing Tyrone Blvd. The theater holds 1,200 seats and invites customers to dine while watching movies in oversized, reclining seats.
The city's bike share program is moving closer to becoming a reality. City Council voted in support of Mayor Kriseman's $1.5 million bike share proposal at their meeting in late February. The city is in negotiations with CycleHop, which runs Tampa's program, and City Council should take a final vote in April. The program will start with 300 bikes dispersed among 30 stations primarily in downtown and along Central Avenue. 
24th Annual Future of the Region Awards Presented by The Tampa Bay Regional Planning Council, April 22, 2016, 11:45 am USF  St. Petersburg University Student Center 140 7th Avenue S., St. Petersburg, Fl 33701 Parking is available at 250 5th Avenue South. Register visit  http://futureoftheregion24.eventbrite.com Contact Wren Krahl for additional information, wren@tbrpc.org.
John Craig Clothier Now Open at Sundial carries brands and fashions not found anywhere else in St. Petersburg such as Canali, Robert Talbott, Peter Millar, Zanella, Eton, Donald J. Pliner, Hickey Freeman, Samuelsohn and many more.  The retailer also offers custom shirts by Skip Gambert, made-to-measure suits and a wide array of accessories including shoes, belts, ties, sunglasses, cologne & watches.
Last week, Kobie Marketing announced the expansion of its corporate headquarters in downtown St. Petersburg with plans to hire 255 employees over the next few years. Kobie, a global leader in fully-integrated customer loyalty marketing and customer retention agency, currently has nearly 200 full time employees. The company is headquartered in over 30,000 SF on two floors of the City Center building at 100 2nd Avenue South. They will be leasing additional office space at the Ceridian building in the Skyway Marina District to accommodate their expansion.
The Skyway Marina District will be seeing many improvements in the coming months, including a newly rebuilt Publix in the Bay Pointe Plaza shopping center at 54th Ave. and 34th St. South set to open in December. This summer, Maximo Marina will begin multimillion-dollar renovations and Bay Pointe Plaza will be transformed with a new facade. Gateway signage is coming this year to three prominent locations identified along 34th St. S. in the Skyway Marina District Plan. Each gateway sign is expected to cost $120,000 to install and will be funded by the city. Along with gateway signage, new landscaping will be installed in all 11 existing medians along 34th St. S. from 54th Ave. S. to 30th Ave. S. through the Florida Department of Transportation (FDOT) highway beautification program. The cost of the work is estimated to be $350,000-$400,000. The new landscaping will feature drought tolerant, sustainable plant selections in keeping with Florida-Friendly Landscaping principles.
The historic Vinoy Renaissance Resort and Golf Club will be receiving multimillion dollar renovations to enhance the beautiful retreat on the city's waterfront. The projects will begin in May and are anticipated to take two & half years to complete. "I think the demographic of St. Petersburg is changing, as well as the demographic of the Vinoy Club. The timing is really perfect. I think that St. Petersburg as a destination is really blossoming," said Barbara Readey, General Manager of Vinoy Renaissance Resort & Golf Club.
Clifford Wright (r) of Sarasota, FL was presented the time-honored Carnegie Medal for Lifesaving by Paradise NEWS columnist, retired mayor, and fellow Carnegie Medal awardee, Julian Fant. Mr. Wright, a retired electrician, was 72 when he went to the rescue of a male driver, 86, and a female passenger, 82, occupants of a car which had just plunged into a 12-foot deep pond. Wright was able to free both of them, as the car filled with water and slowly submerged.  All 3 recovered from the ordeal. The event was in observance of the Carnegie Foundation's recently introduced "Awardee to Awardee" program. This marks the 3rd such presentation by Fant, who was one of five awardees who took part marathon beach rescue of 10 people who wereswept out to sea by rip tides off Ponte  Vedra Beach, FL, in October, 1958.
Treasure Island Tidbits
The Treasure Islettes meet on the fourth Monday at 7 pm of each month from September to May at the Treasure Island Community Center. The Islettes welcome all women who have an interest in volunteerism for more information contact the Treasure Islettes by email at treasurei2@aol.com or Marian Alton at 727-360-0164. Bingo every Thursday at 6:45 pm and 7:45 pm at the Treasure Island Community Center, One Park Place, Treasure Island.
http://paradisenewsfl.info/wp-content/uploads/2016/08/pass-a-grille-homes.jpg
559
911
paradisenewsfl@gmail.com
http://paradisenewsfl.info/wp-content/uploads/2016/10/pn-red-web-header.jpg
paradisenewsfl@gmail.com
2016-08-30 20:19:15
2016-08-30 20:19:15
Tidbits April 2016