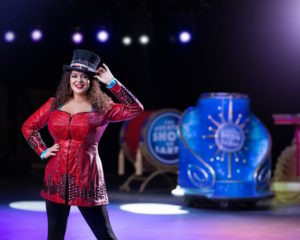 Feld Entertainment Chairman and CEO Kenneth Feld can be very proud of the great restructuring that his daughters and co-producers Nicole and Alana Feld did with Circus XTREME, first seen here in 2015 but updated as a brand-new production of Ringling Bros. and Barnum & Bailey Circus.
Sadly, it will be the last production of the Circus, with Feld's recent announcement that the show would close forever May 21 in Uniondale, NY. Declining attendance combined with high operating costs, along with changing public tastes and prolonged battles with animal rights groups, all contributed to its demise. "There isn't any one thing," Feld told the Associated Press. "This has been a very difficult decision for me and for the entire family." Feld's late father bought the Circus from the John Ringling North family in 1967.
Kristen Michelle Wilson is the first female Ringmaster (pictured above) and the 39th overall in the 146-year history of the "The Greatest Show on Earth". In homage to her hometown, the show opened January 13 for the first time ever in Orlando at Amway Center.
With a commanding presence and booming voice, she got excellent help from internationally famous clown couple Alex and Irina Emelin — who navigate in a "sailboat" and "tour jeep" to compete in discovering the world's best extreme artists and performers. They also interact nicely and creatively throughout the show with the famous Ringling clown alley, led by boss clown Taylor Albin.
This year's production is missing the famous Ringling pachyderms, retired after last year's performances to the world-renowned Ringling Center for Elephant Conservation in Polk County.  
Among the standout acts that more than make up for the loss:
Tiger trainer Tabayara "Taba" Maluendo from Chile faces 14 Bengal tigers, with such stunts as a first-ever 14-tiger laydown, sit-up and hind-leg stand-up waving their paws; four tiger rollover; four tiger sit-up on four others; a seven-tiger pedestal sit-up; and a dance-off with one tiger finale. Using his catchphrase "Azucar"–  for sugar or sweet, he calls them by name to perform.  
The Daring Danguir high-wire troupe, led by Mustafa Danguir who once walked a mile-long, 540- foot-high tight wire in Spain, accomplishes dangerous stunts with stunning footwork.  Highlights include a daring female somersault to split; leaping over four others on the wire; a one-man leap forward, then backward, from one member's shoulder to another's; and the four-person pyramid finale.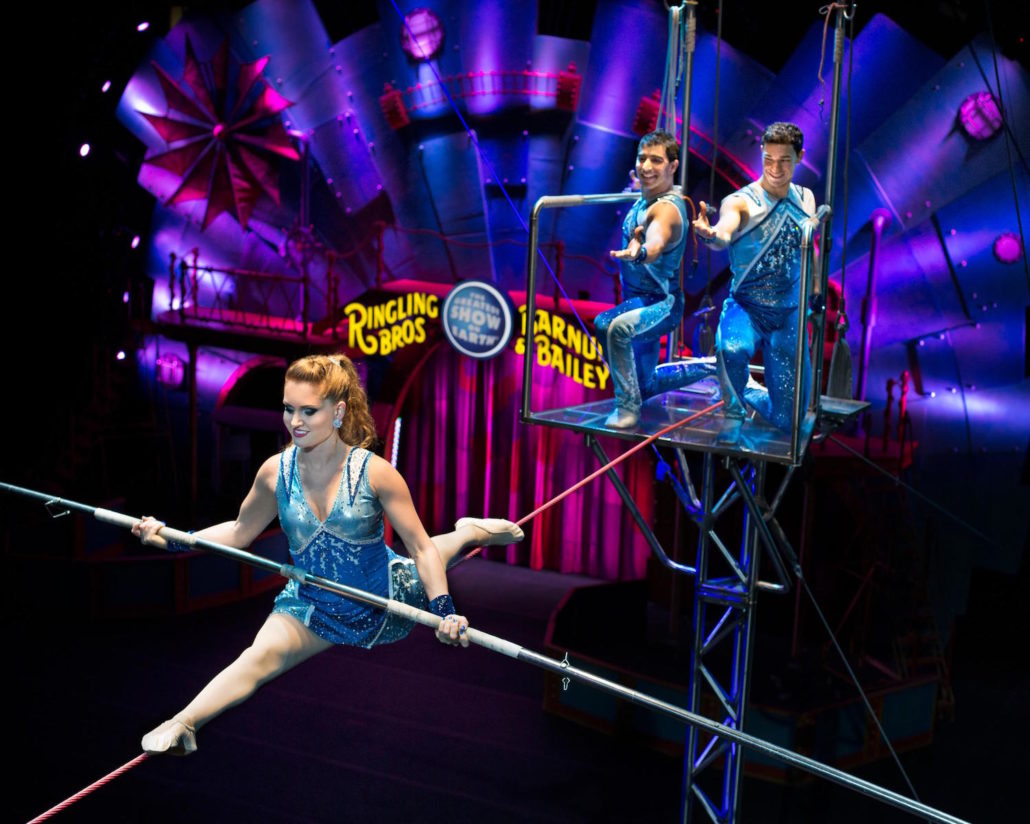 On the 16,000-pound, 50-foot-high "Pendulum of Steel", daredevil Benny Ibarra does amazing stunts First he executes forward and back flips inside the whirling wheel, and then goes outside to defy gravity by jumping rope and doing forward and backward somersaults atop the wheel.
Featuring acrobats, contortionists and a trio of strongmen, the Mongolian Marvels troupe stuns the audience. Their feats include the trio playing catch with 200-pound iron balls, a teeth-only 551-pound lift of three others and barbells, and a finale three-man lift of 900 pounds of six other troupe members.
The aerial display is one of the most dramatic show-stoppers, topped by Bungee Skydiving in a blacked-out arena under ultra-violet, blacklight in stunning fluorescent costumes including duos, trios and a six-girl, hand-holding finale. A troupe of Angelic Aerialists from Russia and the Ukraine includes four "magical mermaids" on single traps, two single orbs, and five-girl giant orb, as all do synchronized stunts.
Human cannonball "Nitro Nicole" Sanders rockets over 140 feet across the arena experiencing seven G's, usually encountered by fighter pilots and astronauts. Her shot is followed by a nice choreographed dance routine with her group of assistants.
The Freestyle Sports show finale is a fast-paced display featuring BMX bikes doing half-pipes and 360 wheelies, and the Ukrainian Art of Trampoline troupe doing acrobatics launched off twin trampolines through a 15-foot transparent tower — bouncing, flipping and tumbling around the entire arena.
Also sure to please are the other animal acts, with trainer Colleen Pages opening the show with her six-Bactrian (two-hump) camel group with bareback Desert Goddess riders doing stunts in various ménage routines.
Alex and Irina's talented group of all-size – toy to standard — Poodles delight the crowd with jumps, dances, "Mutt & Jeff" under legs and jump-overs, and a six-dog, hind-leg "long mount" emulating the Ringling Pachyderms.
Feld Entertainment Executive Vice President and Circus co-producer Alana Feld told Paradise News, "We constantly travel the globe looking for the best and brightest talent. Kristen Michelle Wilson wowed us with her powerful voice and charismatic personality. We knew immediately that she would be able to connect with the audience and bring them along on the Circus XTREME adventure."
Lucky Tampa Bay residents and visitors can catch the very last local performances of RBB&B Circus XTREME at Tampa's Amalie Arena: Wed. & Thur. (25-26), 7:30 pm; Fri. & Sat. (27-28), 10:30 am & 7:30 pm; Sun. (29), 1:00 pm & 5:30 pm. For tickets: online at https://ringling-bros-circus.tickets-center.com. 
STORY by STEVE TRAIMAN
PHOTOS by Feld Entertainment
[Steve Traiman is President of Creative Copy by Steve Traiman in St. Pete Beach, offering freelance business writing services. He can be reached via email at traimancreativecopy@gmail.com.]
http://paradisenewsfl.info/wp-content/uploads/2017/01/ringling-wheel.jpg
1200
1500
paradisenewsfl@gmail.com
http://paradisenewsfl.info/wp-content/uploads/2016/10/pn-red-web-header.jpg
paradisenewsfl@gmail.com
2017-01-17 18:17:27
2017-01-17 18:18:10
ONLINE REVIEW: Ringling Bros. and Barnum & Bailey® Circus XTREME in Tampa Jan. 25-29