Wake up and walk! Or garden, do a downward dog, dance, yoga, hula hoop or bike. Whether you wear a FitBit or just want to get fit, we've got 101 unique ideas for exercising in Paradise. While everyone else is shoveling snow, these fitness ideas go beyond the gym for those of us lucky enough to live (and love) the Gulf Coast.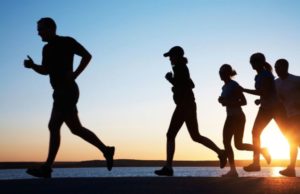 Run Rabbit Run: Jog the Pinellas Trail or Boca Ciega Millenium park or go large and sign up to walk or run these local winter races. You can also find fellow running and cycling enthusiasts and find out when the next Tampa Bay Beer Run happens at http://www.active.com/?clckmp=activecom_global_header_activelogo
Feb. 25-26: Gasparilla Distance Classic http://www.tampabayrun.com/
Get Fit With Friends: Check out the new Bike Share downtown and take a two-wheel tour of St. Pete. Want to meet some people who like playing your favorite sports? Check out the South Pasadena pick-up soccer games on South Shore Dr. South, South Pasadena Pick Up Soccer Games, and check out Athletic Singles and other fitness meet-ups on the web and Facebook. Rugby Rats can work out and play with Pelican Rugby,  http://www.pelicanrugby.com/
Mother Nature Is Calling: Lucky for us, we have some of the best bike paths, parcours and outdoor fitness equipment and county and city parks and beaches such as Ft. deSoto. http://www.pinellascounty.org/park/ You can take guided nature walks at Weedon Island and Brooker Creek and walking tours with St. Petersburg Preservation and Florida Craft Art.
Water Wonderful: There are so many paddle and kayak meet-ups as well as individual and group lessons, many of them led by local surf and watersport shops along gulf beaches. Pinellas County has miles of beautiful shoreline, providing paddlers with a variety of opportunities and experiences as they explore the coastline and the rich array of marine and estuarine ecosystems that make up Pinellas County's waters. http://www.pinellascounty.org/blueways/
Cycle Mania: Check out the many rides for all levels! There's a casual ride on Pinellas Trail, 14-15 mph, Wednesdays at 5:30 p.m. Helmet needed. No ride on third Wednesday of the month. Leaves from Pinellas Trail/Dunedin, one block north of Main Street at parking lot adjacent to Trail. Call 727-441-2444 for more information.
Dance Classes: If you want to gain confidence and make new friends, the Fred Astaire Dance Studio can help you sort out your two left feet.  They offer ballroom and social dancing privately and in group classes (www.fredastaire.com; 727-347-7700). At Hip Expressions (http://hip-expressions.com/), you can take belly dancing and reggae aerobics.
More of a classic dancer? Check out the Tea Dances at the Coliseum and Swingtime at the Gulfport Casino.  http://www.swingtime.info/jazzfest.html On Wednesdays 6:30-9 pm, meet up with the Suncoast Dixieland Jazz Band at Treasure Island's Bilmar Beach Resort. Call 727-360-5531​ http://www.sdjs.org/
 Unexpected Local Gyms: Drop in for an hour or a day at the Suntan Art Center's wellness classes, Madeira Beach or St. Pete Beach's fitness centers and Southwest Rec Center. Explore what the YMCA has to offer as well as take advantage of local pools (St. Pete Beach, North Shore Aquatic Center) and if you're a vintage fitness buff, the Silver Sneakers programs around town. You can also take a drop-in yoga class at Kripalu Yoga with Jeannie Salvo (jeslavo@tampabay.rr.com).
Personal Trainers: Smith Built Fitness (727-345-5000) and Adam Hoffman Fitness (727-???-????) can help you assess your fitness profile and plan a personalized program.
Yoga/Spiritual
Beach Yoga Pinellas: Tuesdays 7 – 8:15 pm. Treasure Island Community Center Garden Rm. Thursdays 7 – 8:15 pm City Hall Auditorium. Year round resident discount packages. 727.222.6476
Don Vista Arts Center: Celebrating 50+ Years. Yoga, Chi Gong. 3300 Pass-A-Grille Way, St. Pete Beach  727.367.3818
Drum Circle: Empowering and healing. 4th Friday on Gulfport Beach westside near the Rec. Center.Winter 7 pm / Summer 7:30 pm. Dena Lebowitz. 727.289.3380 denaleb@gmail.com
Hoop Dancing: Story telling dance with 1 to 30 hoops. Yoga Village – Sunken Gardens, 1825 4th St. N, St. Petersburg Contact: Abby 813.777.7720
Inspire Yoga at the Dali: Practice vinyasa/ashtanga poses. Sundays at The Dali, One Dali Blvd., 727.823.3767  www.thedali.org
Madeira Beach Recreation Center: Yoga Essentials, Vinyasa, Flow, Tai Chi, Hoola Dance, 200 Rex Place, Madeira Beach 727.392.0665 www.madeirabeachfun.com
Sunken Gardens/Meditation in the Gardens: Every Wednesday, 12:30 pm.  Daily yoga Daily Yoga with Yoga Village classes. Sunken Gardens, 1825 4th St. N, St. Petersburg, 727.551.3102  www.stpete.org/sunken
Nava Yoga Studio, 5901 Sun Blvd. W, Suite 120, St. Petersburg 727.592.1999
Perfect Circle Yoga & Fitness: Bikram Yoga, Hot Yoga, Boot Camp, Pilates, Personal Training. 595 Corey Ave., St. Pete Beach 727.504.2327
Sacred Lands: Sunday tours, meditations, special events. Wednesdays Movement for Wellness. 1700 Park St. N, St. Petersburg. 727.347.0354  www.sacredlandspreservationandeducation.org
Sound Meditations: Thursdays at 11 am. Scout Hall, 5315 28th Ave. S, Gulfport. 727.893.5657. www.gulfportseniorfoundation.org
St. Petersburg Yoga 2842 MLK St. N, St. Petersburg 727.894.9642 info@stpetersburgyoga.com Tues, 6:15 pm, Sunset Beach, 10400 Gulf Blvd., Treasure Island; Wed., Sunrise 7 am at Straub Park, 255 Beach Dr. NE, St. Petersburg
St. Pete Beach Yoga: Daily 10 am and one hour before sunset. St. Peter Beach near Beach Plaza and 67th Ave. 727.686.0123 stpetebeachyoga@gmail.com Yoga Alliance Certified
Tampa Museum of Art: Monday meditation. 120 W. Gasparilla Plaza, Tampa813.259.1720
The Longhouse
: All levels of skill and techniques. 2309 49th Street S, Gulfport 727.322.5766
Tree of Life Yoga: Four studios. Addiction Recovery, Prenatal, Cancer Survivor Yoga. 6800 Gulf Blvd., South Pasadena Shopping Ctr., 727.514.3057
Yoga – Jeanne Salvo, RYT 500 Yoga Style: Kripalu, Pass-A-Grille Beach Comm Church, 107 16th Ave., St. Pete Beach. Phone/Text  727.224.7631 Jesalvo@tampabay.rr.com
YOGA FOR A CAUSE! Get healthy and support Florida West Ballet, a Not-for-profit Pre-Professional Performing Arts Company! Yoga Around Town is offering yoga classes at Florida West Ballet's studio: 616 4th Street N., St. Petersburg Bring your mat, towel & $10 donation per session.floridawestballet@tampabay.rr.com   or ann@yogaaroundtown.net
Wellness Services: Get healthy naturally at Ancient Healing Acupuncture and Herbs Clinic 727-384-4826), lose weight safely with WeightSmartMD (727-343-9100), get a mobile massage with Libby (727-204-8602), and relax the mind and renew your body at Lemon Tree Spa (727-363-0772).
 Perhaps one of our favorite finds is downtown St. Pete's Harmony EcoSpa (400 4th Street North @The Hollander Hotel, downtown St. Pete; 727-822-8701), where you can get the ultimate holistic pampering including aromatherapy, massage, reiki, ear candling, bamboo fusion, BEMER treatments and more
Ear Candling:  There are many benefits of ear candling. It has helped people with sinus congestion, colds, ear aches and infections, candida, headaches, lymphatic congestion, sore throats, mucus, sinus infections, balance and equilibrium. It is safe, simple and natural. It is a soothing experience that reduces stress and tension and also sharpens mental functions.
BEMER: BEMER technology is a biophysical application to optimize the body's own natural vitality and wellbeing utilizing "Information Medicine." By means of sending a unique signal to the body (our animals as well), BEMER stimulates the rhythmic pumping action of our bodies' tiniest blood vessels – the microvessels. Distribution of the very essences of life is improved with its use. The benefits of BEMER technology is the support of the body's own healing and maintaining abilities; they reach the entire body and can be experienced by everyone with no known negative side-effects, with exception to anyone on immune suppressant drugs/treatment.
Reiki: Reiki is a safe, gentle, non-invasive form of hands-on healing. Recipients report their experience of Reiki includes increased energy, reduction of pain, deep relaxation and a general feeling of well being. Reiki initiation attunes a practitioner to become a channel for the Reiki energy and is a powerful, life-changing experience for physical, mental and spiritual growth.
Core Health/Heart Forgiveness Sessions with Jennifer Andrews: Can help dissolve anger and resentment and help your life energy flow with ease, brining more peace and joy into your life and releasing healthy hormones.
–Article by Nanette Wiser
http://paradisenewsfl.info/wp-content/uploads/2017/01/harmony-eco-spa.jpg
178
572
paradisenewsfl@gmail.com
http://paradisenewsfl.info/wp-content/uploads/2016/10/pn-red-web-header.jpg
paradisenewsfl@gmail.com
2017-01-04 20:04:05
2017-01-16 19:28:40
Fitness: Get Fit in Pinellas County