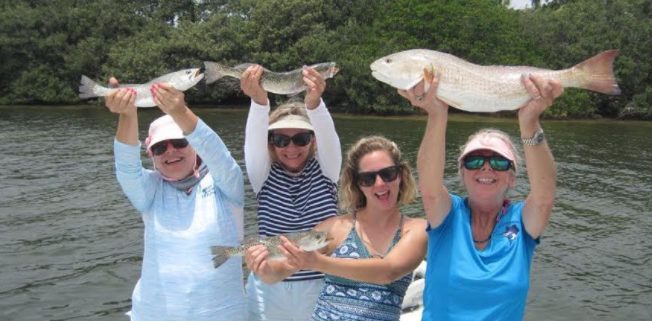 Aspiring anglers were treated to an intense seminar and fishing experience at the Clearwater/Tampa Bay  "Ladies, Let's Go Fishing!" University, May 20-21 at MarineMax, Clearwater. Hosted by the nonprofit organization, the weekend conservation-minded university offered classroom presentations by Betty Bauman/Fishing Basics/Conservation and Captains Stewart Ames and Dave Blanchard for Tampa Bay Fishing Techniques. The education continued with hands-on skill practice for releasing, knot tying, spin casting and net casting.
On Sunday, participants took their skills to the seas, catching or releasing snook, redfish, sea trout and jack crevalle. Everyone caught fish.
While the focus was on women, there was one lucky guy who attended with his girlfriend. For Vivian Fasula, the experience was a Mother's Day gift from her daughter, Alexandria Lambert, so the two could spend time learning and fishing together.  
Ladies have the option to register a male guest and/or teens to include the whole family. Eight thousand women have graduated.
Featured on national network television and more, the series is supported by major partners including ACR Electronics, Recreational Fishing and Boating Foundation, Mercury, Ranger Boats, Magic Tilt trailers, Penn, and Fish Florida. Annual sponsors are Humminbird, Minn Kota, Freedom Boat Club, Coastal Conservation Association, Guy Harvey Ocean Foundation, Savage Gear/Okuma, Treasure Cay Beach, Marina & Golf Resort, Sunrise Resort & Marina, AFTCO/Guy Harvey, Future Angler Foundation, Seaguar and Power-Pole. Local sponsor was MarineMax, headquartered in Clearwater, FL with 62 locations in the U.S. and vacations in the British Virgin Islands.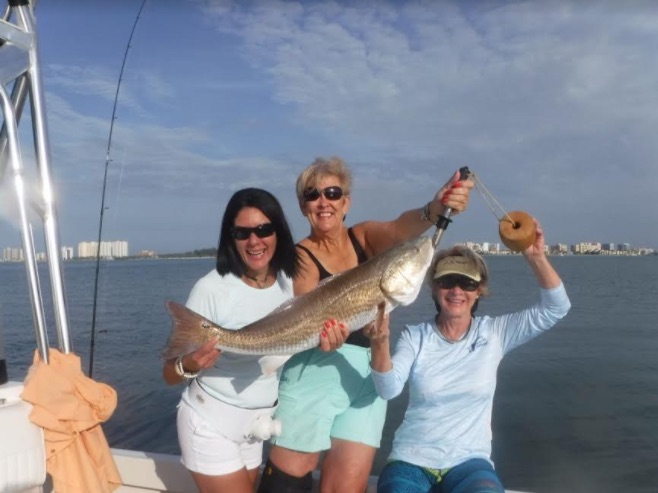 Fishing Report for Sunday May 21 – an amazing day for 5.5 hours of fishing. All boats used live and cut bait, mostly pilchards.
Capt. Brian Caudill: Karen Mercaldo started the excitement by releasing a 35 inch snook, her first catch in her lifetime. Betty Bauman landed a 26 inch redfish, her first catch of a redfish with no spots on either side. They experienced a fishing frenzy with quadruple hookups. They caught or released seventeen sea trout and three jack crevalle. Vivian Fasula and Alexandria Lambert celebrated their Mother's Day gift by enjoying their fishing trip together and enjoying watching dolphins chase trout.
Capt. Christian Zarra with Capt. Dave Blanchard: A total of fourteen sea trout were caught by Team BAITMASTERS/Aylesworth's Fish and Bait, who treated their employees to a chance to participate in fishing. Veronica Brady released a 28 inch snook and landed three sea trout. Michelle Behanic caught a 25 inch redfish and three sea trout, one measuring 21.5 inches. Rachel Rivera caught a 24.5 inch redfish and two sea trout. Dawn Aylesworth caught six sea trout.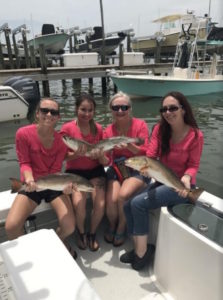 Capt. Ben Urion: Karen Macallum of Team BAITMASTERS battled a huge mystery fish for over an hour, a 5 foot wide stingray. The gals rescued a wounded bird wrapped in sabiki lines. Brianna Macallum of Team BAITMASTERS released a 25 inch snook. She and her mother enjoyed fishing together. The group also caught two sea trout.
Capt. Stewart Ames: Pat Kucera caught an 18 inch sea trout and a 21 inch redfish. Mary Ann Neary released a 32.5 inch slammer redfish. Stephen Bailey released a 31 and a 26 inch snook. Venny Melton caught a 25 inch redfish. They battled but lost four more snook.
The LLGF upcoming schedule includes:
June 17-18 Keys Fishing Adventure Islamorada, Anyone Can Win Tournament
July 29-30 Homosassa Scalloping
Sept. 9-10 Northeast Florida Seminar weekend St. Augustine
Oct. 20-22 Keys Seminar Weekend/Islamorada
Nov. 17-19 Everglades/Chokoloskee Adventure
International Adventures – Cuba:
Sept. 14-18 Havana Varadero
Oct 12-16 Havana-Santiago
Oct. 19-23 Havana-Vinales
Nov. 9-13 All Santiago
Nov. 30-Dec. 4 Havana Varadero
Contact: LLGF, phone 954-475-9068, fax 954-474-7299, email: fish@ladiesletsgofishing.com, website: www.ladiesletsgofishing.com, Facebook: www.facebook.com/ladiesletsgofishing   
About "Ladies, Let's Go Fishing!"
The Ladies, Let's Go Fishing Foundation (LLGF) is a national charitable 501C3 organization dedicated to attracting women and families to fishing and encouraging conservation and responsible angling. LLGF promotes networking among women anglers and emphasizes mentorships. Founded in 1997 by Betty Bauman, of Ft. Lauderdale, Florida, LLGF has over 8,000 graduates and is the largest organization in the world whose objective is to introduce women and families to fishing. Both Bauman and the University series – dubbed "The No-Yelling School of Fishing" – are known nationally in the fishing and marine industries. The organization has earned rave reviews from media including Inside Edition, The Early Show, NBC Nightly News, CBS, Good Morning America, Outdoor Life Network, USA Today, the Wall Street Journal, Southern Living and more. 
http://paradisenewsfl.info/wp-content/uploads/2017/05/ladies-lets-go-fishing-3.jpg
489
652
paradisenewsfl@gmail.com
http://paradisenewsfl.info/wp-content/uploads/2016/10/pn-red-web-header.jpg
paradisenewsfl@gmail.com
2017-05-25 06:08:36
2017-05-25 06:08:36
Beginners Tackle Fishing Skills at Ladies, Let's Go Fishing! Clearwater, FL Seminar May 20-21, 2017