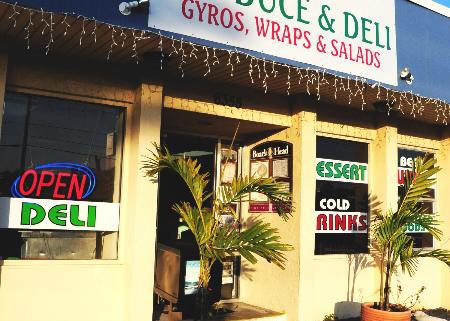 Odise Armata and his wife Mirela are a remarkable young couple, raising a growing young family together, each running a small business of their own. We had written about Odise (Odissay) a few years ago, when his fledgling St. Pete Beach Produce store next to Scoops attracted Andrea, a volunteer, to help his business. He'd shop at the farmers market in Tampa at3 am to get the best pick of fresh local produce, then deliver orders to restaurant clients on his way back to his shop. Starting out with a counter and triple sink, he made salads and sandwiches with his fresh produce.
Since then, Odise expanded and moved St. Pete Beach Produce and Deli into a free-standing building between the Basil Leaf and Fetishes, at 6355 Gulf Blvd. in St. Pete Beach. His passion is to provide fresh, healthy food and wider ethnic options at affordable prices. Their hand-sliced gyro made with fresh onions, tomatoes and homemade tzatziki sauce for just $5.99 is a good example. So is the Boar's Head cooler full of premium meats and cheeses for dollars under the closest competitor. His real passion lies in selling the fresh salads like Tabouleh made daily. Odise waves off my praise of his accomplishments.
"Any young person with perseverance and a positive attitude can do what I did if they stick to it", says Odise.  "It's my wife Mirela who is truly amazing"  he continues. I went to my native Albania looking for a woman to join me in Florida and we fell for each other. She came here to join me, almost strangers." In five short years she learned English and followed her passion to get a cosmetology license from Lorraine's Beauty Academy. Oh, she also became an American citizen, is raising their son, now 3-years old, who in May expects a baby sister. For all these several years, Mirela also prepared most of the desserts sold in the pastry case and some in the freezer. "
Many locals will find a copy of the menu in this issue of Paradise NEWS. Otherwise, see www.StPeteBeachProduce-andDeli.com for a menu & more details about the restaurant. Mirela also just opened Mirela's Talent Salon in January at6365 Gulf Blvd., adjacent to St. Pete Beach Produce and Deli.
Since hair is her passion, Mirela has a lifetime of experience and the fresh professional training one needs to be licensed in Florida, so she knows all the newest services people want today.  A current printed menu of services with general pricing is available from Mirela's Talent Salon. Mirela is seeking a talented local stylist to cover the shop while she bonds with her daughter this summer, and to stay on afterward. If your stylist is not happy where they are, you might suggest they contact Mirela. Her phone is 727-564-3645. Email is mirelaarmata73@gmail.com.
Article by Peter A. Roos
http://paradisenewsfl.info/wp-content/uploads/2016/07/spb-deli.jpg
450
450
paradisenewsfl@gmail.com
http://paradisenewsfl.info/wp-content/uploads/2016/10/pn-red-web-header.jpg
paradisenewsfl@gmail.com
2017-03-03 04:16:35
2017-03-03 04:16:35
St. Pete Beach Mediterranean Produce & Deli and Mirela's Salon