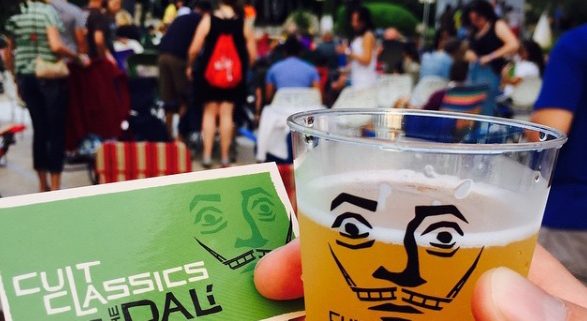 NANETTE RECOMMENDS
Curl up with a good book on the beach, or take advantage of the amazing arts and culture events happening all over town.
Hideaway Cafe: This is one of the best live music showcases downtown. Catch Shawn Brown 7/9 and 7/17 don't miss Songwriters in the Round – Caudill, Mehl, Weiss
Yes, we have them in St. Pete Beach but there's a quirky adult vibe & cocktails at the Hollander Hotel Dive-In Movie Party (7/29, 7-10 pm)
The Getaway's food, tiki décor and boat drinks are always fun, but more so when Smokey & The Angels (7/11, 7-11 pm) are in the house. 13090 Gandy Blvd N, St. Pete.
Lunch Truck It takes place every thid Wednesday of the month from 11 am -2 pm in Williams Park (300 Second Ave. N) this summer.
The Pinellas Park Performing Arts Center tribute shows include homages to Frankie Valli (6/10), Patsy Cline (7/8), Motown (8/12). 4951 78th Ave. N; www.pinellas-park.com/residents/events
PAVA's 29th Annual COOL Artshow convenes at The Coliseum July 15-16, 10 am – 5 pm.
A free LEGO exhibition courtesy of The Viniks will boost public art. The Art of the Brick with 100 Nathan Sawaya Lego sculptures will be on display Wed. thru Sun. June 23-Sept. (802 E Whiting St., Tampa)
FYI: For venue address, phone. website, check our Events Listings in the back of the magazine. – Nanette Wiser
Palladium/Side Door/Hough Hall 253 Fifth Ave. N, downtown St. Petersburg 727- 822-3590 www.mypalladium.org
June 18: The Comedy of Ward Smith & Friends – The Palladium's Side Door Cabaret is Tampa Bay's critically-acclaimed listening room offering the best in blues, jazz, acoustic, Celtic and more! This award-winning space of only 175-seats gives audiences the rare opportunity to see established and emerging artists up close in the intimate atmosphere of a nightclub, complete with linen-draped, candlelit tables where the performers are the focal point. Adding to the Side Door experience, audiences can enjoy beer, wine, soft drinks, snacks, and if the spirit moves, get up and dance!
June 11: Expressions Academy of Dance: Stage & Screen – 20th Showcase
June 16: Nate Najar's Swing Guitars with Chip Henderson
June 18: Lillette's Rhythm Club with Jade Simmons
June 18: Al Downing Tampa Bay Jazz
Musical Chairs:
The summer sizzles with concerts for every musical taste. Kendrick Lamar (9/1) and Katy Perry (12/!5) at The Amalie Arena are sure to sell out fast, so get tix now.
The Mahaffey Theater will host the Isley Brothers Aug. 6 @ 7 pm.
Get your tickets now for Lovers of jazz, soul, R&B and the sounds of gospel will enjoy Preservation Hall presents: Irma Thomas, The Blind Boys of Alabama & The Preservation Legacy Quintet heading to St. Petersburg Tuesday, Nov. 21 at 7:30 pm while comedian Tracy Morgan returns Nov. 5.
The Capital Theater showcases rock legend Dave Mason 6/13, Firefall and
Al Stewart 7/1 and An Evening with Ace Frehley 7/20.
Ruth Eckerd Hall features songbird Ann Wilson of Heart 6/10, the magnetic Gypsy Kings 6/16 and the incomparable Diana Ross 6/21. Stars of the hit CMT series Nashville perform at REH 7/25 featuring cast members Clare Bowen, Chris Carmack, Charles Esten and Jonathan Jackson. Esten was just announced as the host of the upcoming 2017 CMT Music Awards.
Marcia P. Hoffman School of the Arts at Ruth Eckerd Hall student performance of Bye, Bye Birdie July 27-29 gets in the spirit of things when the classic movie, starring Janet Leigh and Dick Van Dyke, airs on 6/9 at 7 pm.
Ruth Eckerd Hall announces the 2017-18 Broadway season, which includes, making its Clearwater debut, the Tony Award®-winner for Best Musical Jersey Boys, along with multiple Tony Award® Best Musical winners A Chorus Line, Cabaret & Chicago, family favorites A Charlie Brown Christmas Live Onstage and Rudolph the Red Nosed Reindeer: The Musical, Rodgers + Hammerstein's Cinderella and Rain: A Tribute To The Beatles.
6th Annual TBEC Etsy Craft Party (7/8 11 am – 4 pm):
The Tampa Bay Etsy Crew brings the area's most vibrant makers, artisans, and vintage sellers. This free community event will have Live Skill Demonstrations and Make & Take projects for all! The first 100 through the door get a Dark Cycle Clothing swag bag full of goodies from vendors, sponsors, and community makers. And don't miss our raffle- 100% of the proceeds go to the Heart Gallery Tampa Bay!
St Petersburg Coliseum, 535 4th Ave N DTSP
Downtown St. Petersburg Highlights:
June 9 to 11 – The Coliseum;  – Ink Mania Tattoo & Art Expo
June 16 – Port St. Pete;  – St. Pete Grouper Grunge Festival
June 24 – Location TBA;  – LGBT Pride Parade
June 25 – St. Pete Pride Festival – – Location TBA;
July 1  Vinoy Park; – Vans Warped Tour –
August 5 – South Straub Park- The Great Brain Wash
PARTIES
Simmer & Sift This ongoing Museum of Fine Art edible extravaganza this summer presentsculinary legends and chefs. Sponsored by AARP Tampa Bay, it kicks off June 28. Space is limited; reserve your spot now $40.person.www.mfastpete.org/simmerandsift
Gary Mormino: Simmer & Sift will feature presentations on Florida cuisine by award -winning historian Gary Mormino. Dr. Mormino has served as a professor of history at the University of South Florida St. Petersburg and was named the 2003Humanist of the Year by the Florida Humanities Council. In August, he will discuss the "Foodways of Ybor City" and explore the "Ten Foods that Define Modern Florida" in September.
June 28: Enjoy the sumptuous seafood fare of Kenny Tufo, the executive chef of Sea Salt. Tufo, whose culinary career spans over two decades, has worked alongside the talents of Gordon Hammersly, Scott Bryan, and Daniel Boulud and has cooked at New York's legendary James Beard House.
July 26: Lauren Macellaro, the executive chef of The Reading Room, will bring her garden-grown demonstration. A New York native, Macellaro attended the Institute of Culinary Education and served as sous chef for both Cucina 24 and the Locale Market before taking her talents to The Reading Room.
Aug. 23: Dual restaurant-owner Greg Baker will present his old Florida- inspired Demonstration. Baker, the chef-owner of Tampa's The Refinery and Fodder & Shine, trained at Portland's Western Culinary Institute and is passionate about Florida cuisine and maintaining partnerships with farmers. He was included in acookbook by Chef Mario Batali and has been recognized in USA Today, TheWashington Post, Bon Appetit and Edible Tampa Bay.
Sept. 27: Chef Norman Van Aken's is the executive chef-owner of 1921 by Norman Van Aken and a James Beard semifinalist. He has been called "the culinary Titan of Florida" and is one of the founders of New American Cuisine. Van Aken has been featured everywhere from Jimmy Kimmel Live to The New York Times and has published five cookbooks. Abook-signing will follow his demonstration
FILM
Summer Dive In Movies: Splash into our theater under the stars at the Summer
Dive-In Movies at the St. Pete Beach Community Aquatic Center. Grab a float, chair, or floating chair to view a kid friendly movie from the pool on the big inflatable screen! No outside coolers or food allowed; snacks, drinks and glow jewelry will be sold.
June 16 – Jungle Book,
June 30 – Lego Bathman,
July 14 – Finding Dory,
July 28 – Dr. Strange.
FYI: Tickets 7 pm; doors open 8 pm. www.spbrec.com 727-363-9264.
THEATER
At the Mahaffey Theater, run, don't wait to get your tickets to a La La Land  Live-To-Film Celebration where you can enjoy the jazz soundtrack played by a 100-piece orchestra conducted by composer Justin Hurwitz, larger than life dance numbers and strong storytelling continue to endear it to audiences & critics alike. Duke Energy Center for the Arts, The Mahaffey Theater 400 First St. South 727-893-7832; www.mahaffey.com
Studio@620 -620 1st Avenue South, downtown St. Pete June 8-11, 15-18 "Tunnelvision: The Musical" in celebration of LGBT Pride Month. The musical was written by Tim Cain, the award winning musician, activist and founder of the iconoclastic gay rock band, Boys' Entrance. Founded in 1991 in Chicago, Boys' Entrance is recognized internationally for creating some of queer rock's most challenging and critically acclaimed music. Their 2016 album, "Tunnelvision" (Q Ear music) has been hailed as "the next Hedwig and the Angry Inch."
American Stage Theater Raymond James Theatre,  163 3rd Street North downtown St. Pete www.americanstage.org 727-823-PLAY (7529) BoxOffice@AmericanStage.org
Thru-June 25 – The Invisible Hand: Pulitzer Prize-winning playwright Ayad Akhtar lays bare the raw, unfettered power of global finance in this intense,fast-moving, and contemporary political thriller.
June 19 & 26: Suncoast AIDS Theatre Project presents The Golden Gurlz LIVE starring Matthew McGee (Dorothy), Joey Panek (Rose), Scott Daniel (Blanche) & Emanuel Carrero (Sophia) as television's favorite geriatric funny ladies. This all-new parody/tribute show will be a fundraiser for Metro Wellness.
American Stage After Hours www.americanstage.org/after-hours
June 18, 7 pm – House Teams Live Improv/Comedy: A night of outrageous improvised comedy. Laugh out loud with As Per Usual and Separate Checks the 3rd Sunday of each month.
June 4, Other Dates TBD – Hawk & Wayne Anywhere, USA Improv Comedy: Gavin Hawk and Ricky Wayne are now in their 8th season at American Stage, take a comedic road trip with Hawk & Wayne through "Small Town America." Totally funny and 100% improvised, these 2015 Best of the Bay winners will bring to life an uproarious and ridiculous cast of characters.
FreeFall Theater:
Youth and adults can sign up now summer classes and explore the art of theatre in a supportive and enriching environment. FYI: 727.498.5205; admin@freefalltheatre.com https://freefalltheatre.com/education/
OPERA & DANCE
The St. Petersburg Opera Company www.STPeteOpera.org
Jacques Offenbach's The Tales of Hoffmann will be performed June 2, 4 & 6 at the Palladium Theater. Hoffmann, the poet hero of The Tales of Hoffmann, has four love affairs that haunt him in Offenbach's grand and final opera.
June 30-July 9, Stephen Sondheim's enchanting Into The Woods will be performed.
WRITING & THE SPOKEN WORD
Young Adult Writing Workshop with Amy Christine Parker: Register for this writing workshop series, held Saturday afternoons on June 10 and June 24 hosted by the WordSmitten Writing Workshops. Parker is the author of three critically acclaimed Young Adult books under the Random House Children's imprint. She will be teaching a series of master classes as WordSmitten's guest author and instructor for June. You can also register for summer writing workshops to discover the craft of the short story, novel, memoir, and nonfiction. Saturday afternoons. www.WordSmittenMedia.com
Creative Writing Summer Camp: Keep St. Pete Lit and the Morean Center for Clay are teaming up to offer a free Creative Writing Summer Camp for low-income students ages 9 to 12. Come learn about creativity in a fun week-long camp with Keep St. Pete Lit teachers! All students will explore storytelling through play, art and writing in a welcoming environment. Students will also be invited to participate in a final camp reading. Camps July 17-21 and July 24-28, 9:30 am-12:30 pm at the Morean Center for Clay in St. Petersburg. Space is limited, so reserve a spot for your child today! FYI: 727-798-4530;register by July 5.
Studio@ 620: Wordier Than Thou, an open mic for storytelling, share prose or just catch tales from area wordsmiths. A featured reader kicks off the night, followed by 10 minute open mic slots. In partnership with Keep St. Pete Lit, enjoy Poetry Open Mike with a featured poet and opportunity to read 7-9 pm June 21, July 26, Aug. 23, Sept. 27 and Oct. 25
Happy Hour with the Historian: Sharing the stories of the sunshine City for 95 years, the St. Petersburg Museum of History's popular lecture series features an evening of wine, words and wisdom.
July 13: Peter Meinke: An Evening with Florida's Poet Laureate;
Sept 14: Bill Leavengood: Doc Webb and his World Famous Webb's City;
Nov 9: Lynn Waddell: Fringe Florida 335 2nd Avenue NE on the Pier Approach; 727-894-1052; www.spmoh.org
Comedy: Tickle your funny bone at Coconuts Comedy Club (5501 Gulf Blvd., SPB; 727-360-5653) and Hawk & Wayne's Anywhere USA quirky improv at American Stage 6 pm Sunday.
FESTIVALS, ARTWALKS & WALKING TOURS
June 10, July 8 – St. Petersburg Second Saturday Artwalk:  Waterfront Arts District, Central Arts District, EDGE District, Grand Central  District, & the Warehouse Arts District become one arts destination for the St. Petersburg Second Saturday ArtWalk 5 to 9 pm. Download the new Studio/Gallery guide here. https://stpeteartsalliance.org/wp-content/uploads /2016/04/Arts-Alliance-Directory-2.17.17-reduced-size.pdf
Night Market St. Pete
(7/13 7-11 pm): The 3rd Night Market under the Stars. Awesome local vendors, delicious food and drinks! Kids Fun Zone, pet friendly and high energy DJ! Note the summer times from 7-11 pm! This will be our largest yet, as we are spilling over into the 3Daughters parking lot creating even more vendor spots! St Pete Side Lot 2133 2nd Ave S. DTSP
Gulfport Adventures: Get your funky fun on at Gulfport's Tuesday's Fresh Market, Swing Dancing Wednesday at the Casino and Gulfport Artwalk 1st Friday and 3rd Saturday. 3101 Beach Blvd., www.visitgulfportflorida.com
St. Pete Preservation's (SPP) Walking Tours:  Enjoy these "Twilight on the Town" historic strolls that allow participants to learn a bit of history and architecture, all followed by a chance at the end of the tour to cool down and continue the conversation while enjoying one of the area's local fun spots. Tours are free for SPP members and just $10 for nonmembers. Starting locations and times vary and are listed below. Tours last about an hour and end at a local business where tour goers are welcome to get something to eat or drink. www.stpetepreservation.org
June 6 The Waterfront;
June 15 Historic Gulfport;
June 28 Downtown
GALLERIES
Check out the eclectic exhibits at the Leslie Curran Gallery (1431 Central Ave.) and Beach Drive's Shapiro Gallery, Ocean Blue and Wyland Galleries.
Duncan McClellan Gallery 2342 Emerson Ave South; 855-436-4527. www.dmglass.com
June 10: "Sea Discernibly" featuring the newest works by Jennifer Caldwell and Jason Chakravarty. 5-9:30 pm; free Glassblowing demonstrations 6-7:30 pm. Cash bar and food truck on the premises. Coming soon, The Duncan McClellan Gallery and DMG School Project headquarters in the Warehouse District will launch the first-ever ArtZipline®.
ArtPool Gallery
July 15 Trashin' Fashion Looking for Designers /Artists/Models
Design your own collection, or team up with some friends, and work on a line of recycled & upcycled couture! Trashion Fashion is our most creative fashion show of the year, we welcome designers of any age, no experience needed, and it is free to participate. 2030 Central Ave DTSP 727-324-3878 artpoolgallery@gmail.com
Creative Clay 1114 Central Ave., St Pete – 727-825-0515  https://www.creativeclay.org/
Thru June 30 – Community Café: Flower Power showcases paintings of flowers by Linda M., Emily M., Gina K., Conchita, Mike E., Dolores M.,Yalanda S. & Patsy Lieberman, Teff A. Hazard, Sheryl L.
Thru June 30 – Time After Time featuring the artwork of Ray M who paints clocks and watches.
Morean Arts Center http://www.moreanartscenter.org/   727.822.7872 Check out these classes and workshops. http://www.moreanartscenter.org/classes-2/
Thru June 25 100 Years 100 Artists: For 100 years, the Morean and the Art Club have been a place for art lovers to gather and exhibit, create, and learn about contemporary art. This exhibition tells the Morean's story through its mission, and specifically, through the individual artists who shaped our organization and made it what it is today.
The Chihuly Collection:
Launching this summer, the Chihuly will be part of the Blue Star Museums, a collaboration among the National Endowment for the Arts, Blue Star Families, the Department of Defense, and more than 2,000 museums across America to offer free admission to the nation's active duty military personnel and their families from Memorial Day through Labor Day. The program provides families an opportunity to enjoy the nation's cultural heritage and learn more about their community, especially after a military move. 720 Central Ave., downtown St. Pete 727-822-7872 www.moreanartscenter.org/chihuly/
Florida CraftArt:
Contemporary Fiber in Florida (thru 6/17) This juried exhibition showcases original artwork with contemporary approaches to fiber art, pushing the boundaries and/or traditions in media and execution. The exhibition features fresh interpretations of traditional types of fiber art including surface design, weaving, basketry, felting and wearable art and includes work created with nontraditional materials and innovative technologies and is curated by Cindy Bartosek a well-known artist, photographer and curator from West Palm Beach. 501 Central Avenue downtown St. Pete 727-821-7391 http://www.floridacraftart.org
MUSEUMS
Construction has started on the $70 million Museum of the American Arts and Crafts Movement downtown at 4th Ave. North between Third and Fourth Streets. The Tom and Mary James Museum of Western and Wildlife Art is also under construction – 100 Central Ave. St Pete
Thru June 10 – St. Petersburg Museum of History: Two exhibits offering a unique look at Florida history run through June 10: Seminole People of Florida: Survival and Success and Florida Folk Art – Just Above the Water. www.SPMOH.org
Museum of Fine Arts  Museum of Fine Arts, 255 Beach Dr. NE 727-896-2667 www.mfastpete.org
The Marly Music Program kicks off at the MFA in June and runs through August. • June 18 showcases Roger Dowling whose charismatic and elegant style of pianism specializes in the works of Chopin, Gershwin, American ragtime and French Impressionism.  He has been hailed by The New York Times as an "especially impressive fine young pianist" who appears in orchestral and solo performances throughout the world.
Thru July 23 Dorothy Height's Hats: Civil rights icon Dr. Dorothy Irene Height (1912-2010) was known for her courage, intelligence, leadership, standing straight and hats made by African-American milliners.
June 9, 7 pm -10 pm: Art & Beer Lounge Fundraiser: Preserve a masterpiece by tapping into a one-of-a-kind evening! Sip and savor the liquid interpretations of works in the Museum's collection while lounging in artistically designed spaces. Brewing companies create limited batch brews for a one night exhibition at the Museum. Featured works include: William Shayer, The Elder, Harbor Scene on the South Coast; Anonymous, Effigy Beaker (Kero); Thomas Hovenden, Breton Soldier…and others! The evening will also include a special "Florida" themed beer in celebration of the upcoming Skyway: A Contemporary Collaboration crafted by 2016's Best of Show winner & St. Pete Homebrew Club. www.mfastpete.org/beer-project
Thru July 2 Dominique Labauvie – Dig: The formal explorations of interdisciplinary artist Dominique Labauvie are rooted in both material and a highly developed relationship to philosophies of the drawn line. Dig brings together recent works by Mr. Labauvie in his signature media of steel and pastels. The theme of the ruin runs throughout, as he seems to take on the role of archaeologist, digging into the earth's histories to try to understand their effect on current events.
June 24 thru Oct. 1: Skyway A Contemporary Collaboration: Skyway spotlights the compelling work of 57 artists in the Tampa Bay area, spanning sculpture, photography, video, painting, and prints. The work is being shared by the MFA, the Tampa Museum of Art, and the John and Mable Ringling Museum of Art in Sarasota. This is the first time all three museums have joined forces to present the work of gifted contemporary artists in Pinellas, Hillsborough, Manatee & Sarasota Counties.
The Dali Museum  http://thedali.org
Join locals and friends for
Lucky Cat yoga on Sunday's at the museum.
Cult Classics 2017: Starting June 1 with Young Frankenstein, The Dali's can't-miss summer celebration is back and better than ever. Grab your lawn chair, don some movie-inspired duds and enjoy free flicks, local food truck fare, and cold craft brews. The fun goes down the first Thursday of the month all summer long. Come early to enjoy The Dali's extended hours on Thursday nights at reduced $10 admission, then stay for the film & festivities. Movies begin at 8:30 pm. http://thedali.org/event/cult-classics-2017-june/
Thru Sept. 24 – Memory, Mind, Matter: The Sculpture of Eduardo Chillada:
An exhibit of world-renowned Spanish sculptor Eduardo Chillida's works in paper, alabaster, steel and stone is the Dali's first show dedicated to sculpture since the opening of its new building in 2011. Exhibit presents more than 60 Chillida works including 16 sculptures, a large-scale wall mural, numerous drawings and 'gravitations,' the artist's unique approach to paper collage.
TAMPA & BEYOND:
Sarasota
Van Wezel Hall:  John Deming & The Jewel Tones 7/16 and the free Friday Fest concert series 6/16, 7/21, 8/25 & 9/15. www.vanwezel.org
John & Mable Ringling Museum of Art  www.ringling.org and Ringling College of Art & Design http://www.ringling.edu/ Worth the drive for both the permanent collection and special exhibits and the Museum of Art where admission free on Monday. 2700 N. Tamiami Trail, Sarasota
ART CONTESTS & CLASSES
Contest: AARP and the St. Petersburg Arts Alliance are collaborating on the
"St. Pete Timeless Art, Limitless Ages for Art Contest." The promotion consists of a contest where entrants will have the opportunity to design a "Next Stop: Real Possibilities" trolley wrap ad. The winner will receive $5,000! Contest runs through 5 pm on Friday, June 30. http://local.aarp.org/news/timeless-art-limitless-ages-art-contest-tampa-bay-fl.html
Morean Arts Classes: This summer, take a drawing, photo or craft class or workshop. Call 727-822-7872 for times/listings. . http://www.moreanartscenter.org/classes-2/
Chihuly Collection: 720 Central Ave.
Morean Arts Center / Morean Glass Studio & Hot Shop: 719 Central Ave.
Morean Center for Clay: 420 22nd Street S.
By Nanette Wiser
http://paradisenewsfl.info/wp-content/uploads/2016/06/cult-classics-3.jpg
548
587
paradisenewsfl@gmail.com
http://paradisenewsfl.info/wp-content/uploads/2016/10/pn-red-web-header.jpg
paradisenewsfl@gmail.com
2017-06-04 14:36:28
2017-06-07 23:23:49
ARTS & CULTURE June/July 2017