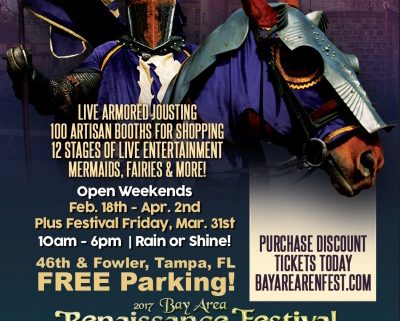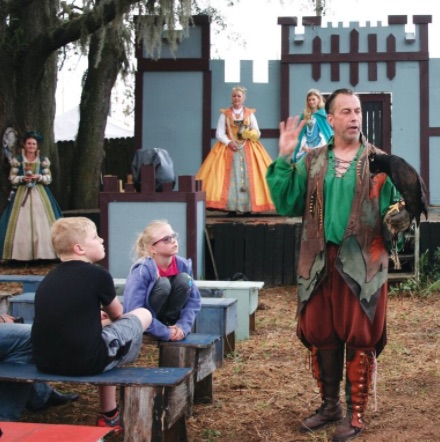 Calls of "Long Live the Queen" and "Huzzah" greet you on your time-travel adventure into the 16th century at the 39th annual Bay Area Renaissance Festival. Costumed performers, many who have made traveling with the "RenFest" their lives' work, contribute to the atmosphere of a charming 16th century village. Experience live armored jousting, 12 stages of entertainment, theme weekends, more than 100 merchants with fun, food and period goods for the whole family!
The Black Velvet Band, featuring an excellent fiddler, drummers, guitar player and singer set the mood in the pub just inside the entrance, and lead a Pub Crawl. Acrobats join Gypsy Dancers, mud wrestlers, wenches and other genre musicians, comedians and a variety of fairies, tinsmiths, flower vendors, jousters and human chess pieces to create a spectacle one can only imagine if you've not been there. The Festival is open Saturdays and Sundays 10 am – 6 pm rain or shine, plus a special day for schools and seniors on Festival Friday, March 31st. Parking at the Bay Area Renaissance Festival is always free.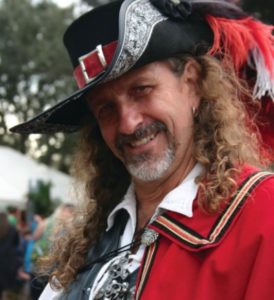 Starting in Largo in 1979, the Faire initially featured renaissance dancing, archery contests, jugglers, mimes and madrigals. By 1980, the Faire had food booths, a human chess match and a unique marketplace. As attendance to the popular event grew, so did the number of artisans, demonstrations, entertainers and foods. The show continued to develop fans as years turned into decades, offering more each year in entertainment, education, food and art. Through the 1990's, Faire attendance had grown to nearly 80,000 annual guests. Faire promoters chose to relocate to Tampa in 2004, in the woods behind the Museum of Science and Industry (MOSI) across Fowler Ave. from USF's main campus in Tampa. Shuttles run regularly right to the gate from overflow parking on campus.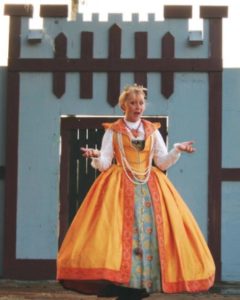 Dressing up in period costume makes attendance even more fun as visitors become part of the entertainment. Themed weekends attract even more costumed characters and entertainment that fits the themes. Weekend themes for March and the first weekend in April (last of 2017 show) are as follows.
     March 11th-12th Time Travelers
     March 18th-19th Shamrocks
          & Shenanigans
     March 25th-26th Barbarian Brew Fest
     April 1st- 2nd High Seas Adventure
Ticket prices at the gate are $20.95 for adults 13 and older, and $12.95 for children, with discounts of $3 each for advance purchase online, at participating Walgreens stores and at MOSI, 11315 N. 46th St., Tampa, FL 33617. Seniors tickets are $16.95, quite reasonable for a full day of entertainment. Budget for at least twice that amount, however if you plan to dine and drink 16th Century style. After a few pints of grog, you will be singing along, cheering the jousters and joining in the calls for the Queen's long life. Visit
www.bayarearenfest.com
for more information, and access to tickets for additional special events as well.
Article by Peter A. Roos
http://paradisenewsfl.info/wp-content/uploads/2017/02/bay-area-renaissance-fest-ad.jpg
544
400
paradisenewsfl@gmail.com
http://paradisenewsfl.info/wp-content/uploads/2016/10/pn-red-web-header.jpg
paradisenewsfl@gmail.com
2017-03-02 01:30:31
2017-03-02 01:30:31
Care to Visit Sixteenth Century England this Weekend? (No Passport Required)