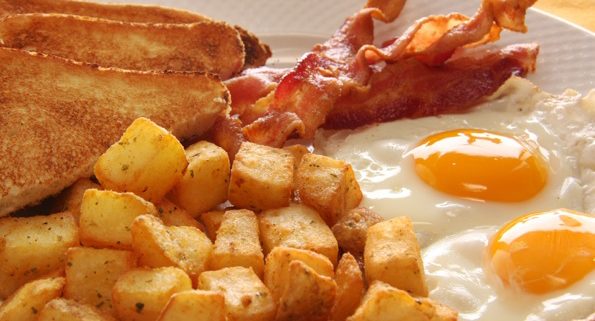 April is the month for visiting friends and family, so why not get them out and about early with a breakfast rendezvous? After a few days entertaining, it's eggs-actly what you need in the morning, from fresh brewed java to homebaked muffins.
In addition to those listed here, we also like Jessie's (Pinellas Park), First Watch, Skidder's, Café Europa, The Village Inn, Mama's Kitchen, Maggie Mae's, Sea Salt Sunday brunch, Skyway Jack's, The Metro Diner,  The Mill, Birch & Vine,  Noble Crust, The Wooden Rooster and Better Byrd.  (Check Yelp for the location nearest you; hours and menu items may change.)
Stay tuned for a tour of our favorite coffeehouses to cool off and kick back coming this summer, a breakfast alternative that can last all day.
The Annex: The Westphals' newest venture is a casual, walk up cafe serving breakfast, waffles, home-made muffins, desserts, Cubans, milk shakes, coffee, hot dogs and soft-serve ice cream the family will enjoy plus art and gifts from 8 am – 8 pm.
400 Beach Dr. DTSP; 727-896-4400
Banyan Café: Kahwa coffee, amazing latte and chai tea and a laid-back San Francisco vibe. The hickory smoked bacon or spinach burrito, vanilla bean Belgian waffle and smoke salmon benedict wow me every time. 689-D Dr Martin Luther King Jr St N., St. Pete; 727-896-6100  
701 Central Ave., DTSP; 727-896-6600
Ciccio Cali: Best of show include the San Fran pretzel sweet cream cheese French toast, border wrap, Tex Mex egg bowls and piggies in a bowl, best consumed with a mango mimosa. Weekend brunch 10-3.
190 37th Ave N., St. Petersburg; 727-898-8226
Chill's Restaurant & Bar: This is a PN favorite hangout, thanks to the gourmet muffins, shrimp and grits, light-as-a-feather crepes, bananas foster waffle and my ultimate, the Sedona scramble (lightly scrambled eggs, onions, mushrooms, Angus shaved steak, and topped off with an amazing smoky chipotle hollandaise sauce, over roasted potatoes. There's also a Sunday brunch that stretches lazily into the afternoon, thanks to the ultimate Bloody Mary, crab Benedict or ham and brie crepe that beckons me every weekend.
Don Cesar Hotel, The Sea Porch: In addition to an amazing Easter Brunch both here and in The King Charles Room, breakfast with a view of the Gulf is always a treat here, especially for the Sunday champagne brunch from 11 am – 3 pm. Daily breakfast features malted waffles, Cuban bread French toast, banana nut muffins, skillet cornbread and a Gulf Coast breakfast skillet with shrimp and poblano hash.
3400 Gulf Blvd., St. Pete Beach;  727-360-1881
Frog Pond: With a second location in St. Pete Beach, it's been a family favorite forever from the banana Foster Belgian waffle to the ginormous omelets served with an army of fresh fruit.
16909 Gulf Blvd., North Redington Beach; 727- 392-4117
7390 Gulf Blvd., St. Pete Beach; 727-363-7205
Harvey's 4th St. Grill: This Florida-style bar and grill serves up Sunday Brunch and Saturday breakfast. Much of the décor came from several historic St. Pete hotels, including the Vinoy, the Soreno, and the Albermarle. All of Harvey's food is fresh, made from scratch. We love the poached eggs with tenderloin filet, the Swiss broccoli quiche, corned beef hash, waffles and omelettes.
3121 4th St N., St. Petersburg;  727-821-6516
Hollander Hotel's The Tap Room: On Saturday and Sunday, the big breakfast is $12 all you can eat but Sunday is Funday at the pool 1-5 pm with music and events. This artsy casual and friendly eatery has amazing craft beers, beer cocktails, a delectable to go dessert counter and some of the best food downtown. Breakfast daily tantalizes, from the Boston Cream French Toast to the Greek and veggie omelettes.
Nueva Cantina: From the Bloody Mary/Maria bar to the bottomless mimosas, Sunday at this Southeast downtown St. Pete regional Mexican restaurant is oh so unique. The Egg Benedicto is a jalapeno cheddar biscuit topped with ham, poached eggs, Tabernero Hollandaise, served with Cantina Potatoes. The tableside guacamole, Eggs Ranchero bowl, corned beef and chorizo hash with eggs and Chilaquiles rate a wow as the does the apple pie with cheddar and bacon for dessert.
1625 4th St. South DTSP; 727-851-9579
Stella's: Fun people watching and yummy dishes make for a good start of the day, especially when dining on ham stack and eggs, quiche, lox and bagel, shrimp and grits or traditional biscuits and gravy.
3119 Beach Blvd. S, Gulfport; 727-498-8950
Sweet Sage Café: An adorable gift store and pet-friendly garden patio dotted with kitschy found objects enchant diners and there's a breakfast brunch bar as well as delectable smoothies, mimosas and breakfast delights. Crepes, a Southern chicken biscuit, quiche, apple crisp French toast, eggs Benedict (California, salmon), scramblers and jumbo muffins will not leave you hungry.
16725 Gulf Blvd., North Redington Beach; 727- 391-0453
Trip's Diner: Southern family-style farm fresh dishes entice, especially the corn bread, eggs benny, country-fried steak and eggs, a breakfast Cuban, white cheese grits, a pancake as big as a hubcap
10555 Park Blvd., Seminole 727- 623-0907
2339 Dr Martin Luther King Jr St. North, St. Petersburg; 727 – 498-8980
Article by Nanette Wiser
http://paradisenewsfl.info/wp-content/uploads/2016/08/breakfast.jpg
392
595
paradisenewsfl@gmail.com
http://paradisenewsfl.info/wp-content/uploads/2016/10/pn-red-web-header.jpg
paradisenewsfl@gmail.com
2017-04-05 04:23:32
2017-04-11 01:53:53
Breakfast of Champions