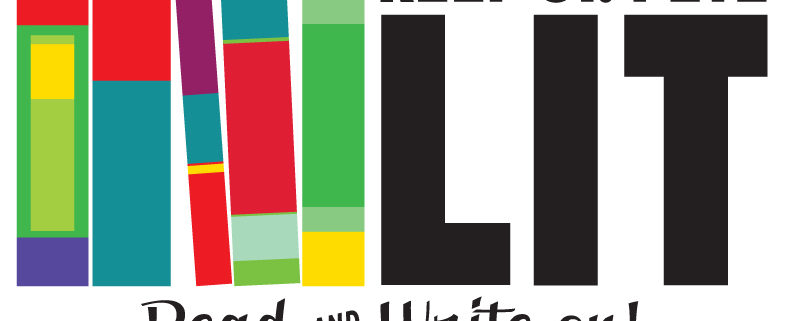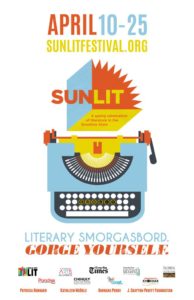 The SunLit Festival is an annual literary event designed by, for, and about lovers of the exquisitely written word. The festival premiered in 2015, and this year's 3rd Annual Celebration of Literature, runs April 10-25, a springtime celebration of reading and writing.
Produced by Keep St. Pete Lit, the Festival will host a kick-off party on April 6 at the Chihuly Gallery from 7-9 pm.  Bookworms can enjoy 17 events in 20 venues during 16 days bringing together various literary organizations and arts disciplines to celebrate literacy, literature, reading, and writing.
The festival line-up is provocative and ambitious. There will be local writers performing their written work inspired by Museum of Fine Art's photo collection; literary history walking tours and other notable performances. Writes can enjoy contests and competitions including timed writing "death" matches, short story contests and a spelling bee supporting literacy.  You can even enjoy two "beat generation" films Pull My Daisy (1959) and This Song for Jack (1983)
SunLit will also present kids poetry night hike, a city-wide read/write in, writing workshops and storytelling/improv events. You'll find this PN writer drooling like a kid in a candy store.
Check out:
April 13: Poetry at The Dali hosts Janet Wallace
This an ongoing series hosted by St. Petersburg Poet Laureate, Helen Wallace. Occurring on the second Thursday of each month through May 2017, each evening features Wallace joined by selected poets to present poems addressing the theme of Food and Sustenance. Following the presentation, there will be an audience Q&A.
April 14 David Amram  Music, Stories & Kerouac Palladium Theater, 253 5th Ave N.
At age 86, David Amram is still writing, playing and improvising. Said the Philadelphia Inquirer's David Patrick Stearns, "Amram seems to have taken a lesson from practically everything." Indeed, Amram began his professional music career in the early '50s playing the French horn for symphonies, as well as with legendary jazz bands including Mingus, Gillespie and Hampton. Appointed in the late 50s by the New York Phil's Leonard Bernstein as that orchestra's first composer in residence, Amram also composed scores for, well, scores of award-winning films and theatrical productions as well as his own, influenced by friends, artists, cultures, the world.  As an iconic member of the "Beats," Amram was thought of by many as the unofficial mayor of Greenwich Village. He hung with and played with jazz greats Charlie Parker and Thelonius Monk, and accompanied Jack Kerouac on any number of instruments while the author read from his poetry and other writings. With a catalogue of mammoth proportions, some of his most recent compositions, classical and otherwise, are based on stories by Willa Cather, Zora Neale Hurston and Kerouac.
April 21-23 Florida Antiquarian Book Fair  St. Petersburg Coliseum 535 4th Ave. N
The book fair is the third largest in the country and features more than one hundred specialized book sellers from all over the United States. Visitors will find books of every age and about every conceivable topic. Additional materials found at the Fair include maps, prints, postcards, ephemera, autographs and other paper collectibles. Items range in price from a few dollars to several hundred thousand dollars. 727-234-7759

April 25: Book Release Party & Conversation:Intersection of Art & Story
Meet local author and New York Times bestseller, Lisa Unger and acclaimed artist Ya La'ford who will appear at Behar + Peterancz Architecture to celebrate the release of THE RED HUNTER and offer an exhibit of La'ford's paintings. Friends and major figures of the Tampa Bay area arts community, Unger and La'ford bring their private conversations about art, story, process and life – and where it all intersects – to the stage. With an introduction by Susana Weymouth, Executive Director of Tampa Bay Businesses for Culture and the Arts
For more information and schedule visit www.sunlitfestival.org. Learn more about Keep St. Pete Lit at http://keepstpetelit.org/. In addition to this popular festival, the organization hosts literary salons, classes, a bookspace, book clubs and clever reading/writing events.
Festival Line-Up   http://keepstpetelit.org/sunlit-festival/
Thursday, April 6th – SunLit Festival Kick-off Party
Monday, April 10th – An Evening with Craig Pittman
Tuesday, April 11th – First Draft
Tuesday, April 11th – Silent Read and Write In
Wednesday, April 12th – True Stories
Thursday, April 13th – Pull My Daisy (1959) and This Song for Jack (1983)
Thursday, April 13th – Poetry at The Dali with Jane Hirshfield
Thursday, April 13th – Sunday, April 23rd – Voodoo Macbeth
Friday, April 14th – From Page to Stage @St. Pete City Theater
Friday, April 14th – David Amram: Music, Stories, & Kerouac
Saturday, April 15th – Downtown Tour With a Literary Twist!
Saturday, April 15th – Lucha Libro: The Madness Returns
Monday, April 17th – Jump At The Sun (2008) and talk with Lois Gaston
Tuesday, April 18th – Fiction Live
Wednesday, April 19th – City of Poets
Thursday, April 20th – Literary Carousel at the MFA
Friday, April 21st – Sunday, April 23rd – 36th annual Florida Antiquarian Book Fair
Friday, April 21st – Adult Spelling Bee Fundraiser
Saturday, April 22nd – Mission Compostable: An Earth Day Letterpress Workshop & Brunch
Saturday, April 22nd – Writers, Winners and the Publishing World
Saturday, April 22nd – Children's Poetry Night Hike
Sunday, April 23rd – City-Wide Read and Write In
Tuesday, April 25th – Lisa Unger and Ya La'ford, in Conversation: The Intersection of Art and Story
Sun Lit Festival 2017 Partners  
St. Petersburg Art Alliance, Florida Antiquarian Book Fair, Museum of Fine Arts St. Petersburg, Palladium Theater, Dali Museum, St. Petersburg City Theater, Morean Arts Center, Chihuly Gallery, Haslam's Book Store, Inkwood Books, AIGA Tampa Bay, Literacy Council of St. Petersburg, Warehouse Arts District, Soft Water Studios, Studio @ 620, St. Petersburg Preservation, Todd Bates Creative, Craftsman House Gallery, Unscripted Theater, Tampa Bay Times, TBT Festival of Reading, Wordier Than Thou, Boyd Hill Nature Preserve, Friends of Main Library St. Pete, Behar + Peteranecz Architecture, Friends of the Mirror Lake Library, Tampa Bay Businesses for Culture and the Arts, First Draft Tampa, Black Crow Coffee Roasting, and Calusa Press for the 2017 SunLit Festival.
Article by Nanette Wiser
http://paradisenewsfl.info/wp-content/uploads/2016/08/keep-st-pete-lit.jpeg
612
792
paradisenewsfl@gmail.com
http://paradisenewsfl.info/wp-content/uploads/2016/10/pn-red-web-header.jpg
paradisenewsfl@gmail.com
2017-04-12 21:43:53
2017-04-12 21:48:43
Bookworms in Paradise: SunLit Festival