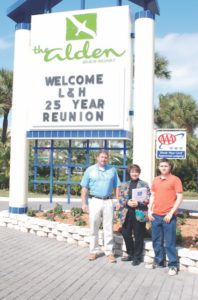 We first met Lizette LaForge of Beacon Windows in 2010 as she was starting her sliding glass door repair business. They started out replacing rollers and locks for the Alden, one of the older resorts, right on the beach.
Beacon Windows now leads the industry on sliding glass door refurbishments, right here in our own backyard. The Alden just hired them to come back to refurbish 65 more doors. They have rescued 26,000 older doors, repaired hundreds of relatively new impact doors, and have authored 50 educational sliding glass door videos. We interviewed Lizette for advice on keeping doors in tip-top shape.
Peter:  
You've come a long way in 7 years. WOW! 50 videos on sliding glass door repair? Tell our readers about that.
Lizette:  
Our goal is to help clients to comprehensively restore their door systems for a fraction of the cost of new doors. Creating videos on various door problems helps people understand what is going on in their door systems and that they CAN be fixed. As a leader in educational videos we receive calls from all over the world, frequently consulting with engineering firms, general contractors, and condo associations about door restoration versus replacement.  
All our videos appear on Beacon Windows YouTube channel: https://www.youtu.be.com/user/SliderRepair/videos
We've noticed a disturbing trend of failure at very young ages in expensive new Hurricane Impact doors, due to the heavy weight of the doors. Rollers get crushed, locks damaged and tracks gouged and scraped. We've fixed over 800 "new" impact doors in the past 3 years. We created a special video just for new impact door owners to help them prevent unnecessary aggressive damage to their doors.  Hurricane Video link: https://youtube/2At0ev0GYoc
Peter:  
I had no idea that Hurricane doors could be trouble so early. What's another issue you've encountered?
Lizette: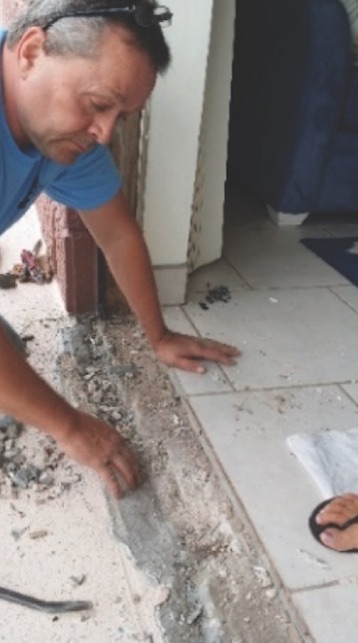 Water Intrusion!  Big problem, especially along the beaches with buildings over 20 years old.  We specialize in fixing this major issue, which typically involves concrete damage and spalling, (aka "concrete cancer") again at a fraction of the cost of new doors.  
Peter:  
What are common symptoms to look for with water intrusion?
Lizette:
Several circumstances create water intrusion opportunities.
Outside balcony tile HIGHER THAN the door track.  Because all the water cannot egress, over time water seeps under the door track wreaking havoc with the concrete and rebar.  Known as "spalling" or "concrete cancer", the rebar will rust, and in aggressive situations lift the concrete right up.  Very dangerous, particularly on building balconies. This MUST be addressed.

 Indoor/Outdoor carpet is NOTORIOUS for water intrusion into concrete.  Some of the worst spalling cases we have seen have come from outdoor carpeting.

 Missing or rusting screws and poor or old caulking. Water intrusion nightmare!  

 Previous water evidence – Look for discoloration, swelling, moisture, or mold where door meets baseboard and drywall.  On interior tile, using a blunt object like the back end of a screwdriver, tap gently across the floor surface on the inside tile directly in front of the door, listening for hollow sounds, which indicate air pockets and water intrusion.  

If you have carpet, pull it back, look for moisture discoloration evidence on the carpet tack strip, tap for hollows, and look for cracks or raised areas in the concrete. On wood flooring, look for discoloration. You may also find the neighbor below you  

has an unwanted water feature in their ceiling below your door. Never a fun moment, but totally repairable.

Impingements – Door feels wedged because the space the door moves in has become too tight. Typically, water intrusion from above or building settling causes impingements. We've had great success in fixing several hundred of these water intrusion, spalling and impingement cases, working with many engineering firms, general contractors and condo associations. Proactive, regular maintenance helps avoid costly water intrusion!
Links to cases to help readers look for signs and understand the seriousness of water intrusion:
Water Intrusion: https://youtu.be/7rSGciTRHjU
Water under Tile: https://youtu.be/HWGS4I-2-G4
Impingement testimonial: https://www.youtube.com/watch?v=x1qlQ4tXdPE&feature=youtu.be
On the Beacon Windows YouTube channel, you'll find videos on subjects like "How to Clean Your Sliding Glass Door Track" https://youtu.be/QrJ6cWHsgQY or "Extreme Track Damage-What Can Be Done About It?" https://youtu.be/Hy90W3SByqk
Peter:  
Awesome tips Lizette! Any final thoughts on how our readers can keep their doors in optimal health?
Lizette:  
Absolutely.  As cars need regular maintenance for peak performance, so do sliding glass doors.  Never change the oil in your car?  Let me know how you like the new engine. Same rule regarding doors.  Standard Refurbishment Video https://youtu.be/D5-vpha0K4Y
Sliding Glass Doors 5 Functional Parts
 Rollers – Use stainless steel with precision sealed bearings when possible

 Weatherstrip – Like a toothbrush, weather stripping wears down.  If you had a 10-year-old toothbrush, would you have any teeth?  Replace weather stripping every 10 years, 5-7 years for beachfront ground or 2nd floor situations.  In the Tampa Bay area, we are the only company that comprehensively replaces weather stripping.  Three other roller replacement companies regularly refer us for howling, rattling or drafts.

 Screws in the glass panels – Replace screws holding the glass panels together, particularly on NON-moving doors which will be moved out of alignment by moving doors, causing draft and glass separations over time.  Fixable with stainless screws and realignment.

 Track damage- Stainless steel capping rails can give the rollers a new surface. Like a cut on your arm… little boo-boo= little band-aid.  Big boo-boo, stitches and bandages. Beacon Windows can fix your tracks.

 Locks and handles – Frequently break due to misaligned and hard to roll doors. Broken locks and handlesare like fevers in people… they indicate something ELSE is going on.  You must address the actual issue, generally the rollers. With over 26,000 doors refurbished since 2010, there's nothing they haven't seen regarding sliding glass doors. Readers can reach Beacon at www.SliderRepair.com with any questions.
Peter:  
Thanks Lizette… we love the work you did for us in restoring our old doors!  No more howling wind keeping us up at night. What an amazing difference!
Story by Peter Roos
http://paradisenewsfl.info/wp-content/uploads/2017/02/beacon-windows.jpg
288
960
paradisenewsfl@gmail.com
http://paradisenewsfl.info/wp-content/uploads/2016/10/pn-red-web-header.jpg
paradisenewsfl@gmail.com
2017-02-03 21:18:05
2017-02-11 02:59:46
Beacon Windows & www.SliderRepair.com DIGS DEEPER!