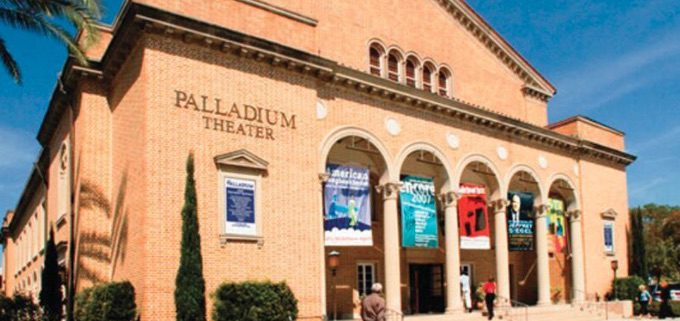 February may be short in days, but's long on creative experiences. Check out this month's articles on The Palladium, St. Pete College Jazz Festival, Gulfport's Pink Flamingo Home Tour and The St. Petersburg's Arts Alliance's Muse awardees.
Look ahead to next month's Strawberry Festival in Plant City music line-up (Patti LaBelle is coming!) and this July's pairing of Rod Steward and Cindi Lauper at the Amalie Arena July 8. Don't miss EPCOT International Festival of the Arts at Disney. Ciao baby, see you around town!  
– Nanette Wiser
BEST BET: The Mahaffey Theater 
In addition to stellar acoustics and glamorous theaters, you can buy a dinner and show package or a VIP experience package. On Feb. 3, rock out with the music of David Bowie a symphonic odyssey with The Florida Orchestra like you've never seen them before.
On Feb. 9, enjoy more Motown fun with incomparable Smokey Robinson or catch five-time Grammy award winner Dionne Warwick Feb.12 as she belts out your favorite tunes with special guest star Myles Savage (The Platters) in this Motown party show. Country fans will enjoy a rare appearance by Loretta Lynn Feb. 17 while old rockers can catch up with Yes, The Album Series Feb. 11. Like magic? The Masters of Illusion will thrill you Feb. 20. www.mahaffey.com
BEST BET: Epicurean Theater Feb. 11,  7-9 pm
Searching for the perfect Valentine's Day gift? Look no further than 'Candle Making & Date Night' in the Epicurean Theatre!  Each class participant will be making two 14oz candles to take home to enjoy for Valentine's Day in addition to their very own wine, cheese & charcuterie provided by Élevage! Attendees will also have an opportunity to compete to make the next Epicurean or Tipsy Candle fragrance to debut this spring.
BEST BET: Clearwater Sea-Blues Music Festival Feb. 17-19
Head down to Coachman Park for two days surrounded by the finest Seafood Clearwater has to offer while enjoying Blues music from International Recording Acts! For more information of this fun filled event visit clearwaterseablues.com for more details.
On Saturday, tap your toes to JJ GREY & MOFRO, THE RECORD COMPANY, THE SHEEPDOGS, THE CONGRESS, my personal favorite THE RIES BROTHERS and BEAR & ROBERT. Sunday features WALTER TROUT, SONNY LANDRETH,  MIKE ZITO, SELWYN BIRCHWOOD, hot mama THE BETTY FOX BAND and SOULIZ
BEST BET: Florida State Fair
Feb. 9-20 There's haute culture and there's down home culture, served with deep fried delicious foods. Enjoy the rides, animals, arts and crafts competitions, a salute to Black History, petting zoo, circus Hollywood, Sea Lion Splash, Welde's Big Bear Show, a state championship draft horse pull, K-9s in flight and SWEET: A Tasty Candy Journey. Concerts: All concerts are FREE with gate admission to the Fair, with the exception of the Country Gold Tour. Discounted admission and ride armband tickets, as well as tickets to Country Gold, are on sale now at  FloridaStateFair.com.
Among the featured performers:
The Roots & Boots Tour features Sammy Kershaw, Aaron Tippen and Collin Raye, an all-star line-up sure to please both hardcore country fans and those who simply enjoy great music. Kershaw has long been one of Country Music's most definitive voices, with a string of hits ranging from the rowdy "Cadillac Style" to the romantic "Love of My Life." Feb. 20 at 6 pm, Entertainment Hall, Coca Cola Stage

Shalyah Fearing of Hudson, FL, has been singing since the age of five. Flash forward 10 years to 2015, when she auditioned for Season 10 of The Voice and went on to earn a place in the Top 8 Semifinals. With her powerhouse voice and penchant for R&B, she drew comparisons to the likes of Beyonce and Jennifer Hudson. Catch Shalyah before her career explodes! – Feb. 10 at 8pm, on the Sleep Number Stage

Performing their award-winning songs and high-energy live shows is GRAMMY -nominated Christian rock band Building 429. The band took their name from the Bible verse Ephesians 4:29, which, to paraphrase, means "If you can't say something nice, don't say anything at all." Hailing from Fayetteville, NC, these four men are as committed to their music as they are their message.

– Feb. 19 at 6pm, Entertainment Hall, Coca Cola Stage

The Country Gold Tour once again will return to the Fair. A fan favorite, the 2017 concerts will boast some of the biggest names to join the tour, including Johnny Lee, David Frizzell and Barbara Fairchild on Feb. 14 and Bobby Bare, the Gatlin Brothers & Marty Haggard (son of the legendary Merle Haggard) on Feb. 15. Leroy Van Dyke of "Auctioneer" and "Walk on By" fame will perform at both shows. $10 general admission, $20 reserved floor seating. Contact the Box Office at 813.740.4640 to reserve. Tickets do not include Fair admission. – Feb. 14 & 15 at 2pm, Entertainment Hall, Coca Cola Stage

Joe Zuniga divides his time between Tampa & Monterrey, Mexico. Zuniga grew up listening to music genres such as Tejano, Country, R&B, Hip Hop, Merengue, Salsa and  Bachata, and now is focused on creating a new Grupero style. He has played with several Florida bands

as a keyboard player and back-up vocalist, but recently recorded his first single, "Atado A Tu Amor," in Mexico. – Feb. 19 at 7pm on the Sleep Number Stage
The Judge Talford Band

is comprised of five talented musicians from rural

Tennessee. Well-known in the Bluegrass community, the band wanted to broaden their show by including other genres. They now add their own twist to classic rock 'n' roll songs – from the '50s to modern hits. – Multiple performances throughout

the 12 days of the Fair on the Sleep Number Stage

The Lauren Mitchell Band is known for the feel and energy of their live performances. This Sarasota-based band is a tour de force, bringing their Blues & Soul to 250 national and international shows each year. – Feb. 18 at 7pm, Tampa Bay Times Stage

The River City Boys present a Tribute to the Statler Brothers, celebrating that band's nearly 50-year career that included five GRAMMYs, two Academy of Country Music awards and three County Music Association awards. When the Statlers retired in 2002 they left millions of fans wanting more – and the River City Boys deliver. – Feb. 14-16 prior to the Elvis Extravaganza, Entertainment Hall, Coca Cola Stage
DANCE
The St. Petersburg Coliseum's Big Band Ballroom Dancing on Feb. 11 at 7:30 will get you in the swing of things for romance month.  The tribute to Harry James and the Andrew Sisters is a BYOB with snacks and set-ups available. www.stpete.org/coliseum; 727-892-5202.
FILM
Tampa's Gasparilla International Film Festival runs from March 2 – 9 and features short films, U.S. narrative feature and College Student Feature Film, International Features, Made in Florida and U.S. Documentary features plus other categories. ww.withoutabox.com/login/5440  Sunset Cinema at Pier 60 in Clearwater Beach continues on the jumbo-sized screen Fri.-Sat. beginning at 6 pm.
ART FESTIVALS & GALLERIES
4th Annual St. Petersburg Fine Art Festival:  Feb. 25-26 10 am– 5 pm This event in the North Straub Park adjacent to the Museum of Fine Arts – St. Petersburg features 120 of Florida's and America's top fine artisans and crafters, the mix including local, regional and national artists. These artisans weave a tapestry of exceptional art from exquisite works in painting, glass, mixed-media, ceramics, sculpture, photography, metalwork, digital art, fiber art, woodworking – and more.  Within each medium explore a diversity of styles, materials and creative vision.  Meet the artisans that create the work – they are all here!  Learn how they became artists and how your specific pieces were made.  If you do not find exactly what you want, consider commissioning a piece of art made expressly for you!  Know that many of these artisans are represented in America's top museums and art galleries and in the most prestigious private collections.
Duncan McClellan Gallery: Featuring the work of one of Tampa Bay's most distinguished artists, whose work can be seen at the Don Cesar and around town, the artist receptions always bring an eclectic crowd.
Duncan McClellan Gallery, 2342 Emerson Ave South; 855-436-4527. dmglass.com
MUSEUMS
The Dali Museum  http://thedali.org • Feb 11: Party prior to  Valentine's Day for a special event featuring food, drinks and entertainment, amor and inspiracion. Eat, drink, drink, dance and tour the galleries. This all-inclusive inspired experience celebrates passion, obsession, infatuation, compulsion & fascination — the ingredients of love stories grand and small. Frida & Diego, Salvador & Gala, John & Yoko, Romeo & Juliet, you & yours. Enjoy Oyster wrapped in bacon with Cajun remoulade | Spicy and sexy goat cheese peppadew | Ahi tuna with mango salsa & pomegranate seed on a lotus chip | Brie and apricot tarts with fig jam | Avocado cucumber rolls | Chocolate-chili-dipped bacon | Fresh watermelon Salad | Lobster corndogs | Prosciutto-wrapped asparagus | Decadent desserts.  A special start to the evening, from 7-8pm, features a docent-led ProvocaTour plus private access to a "bubbly-bar" and chocolate-covered strawberries. Learn more: http://thedali.org/event/amor-inspirado/
Thru April 17 – Frida Kahlo at the Dali:
An exhibition of Frida Kahlo's paintings & drawings, together with her personal photograph collection showcase her dreamlike work suggesting that love and suffering create a new sense of beauty. Kahlo's art and storied life stir immense public interest.
The Dali and Beyond Film Series fatures the A&E biography of Frida Kahlo.
February – May 2017 – Dali/Duchamp: The father of surrealism and the papa
of conceptual art, this is the first exhibit dedicated to Dali and Duchamp's friendship and influence on each's art, showcasing 60 works and supplemented by correspondence and collaborative projects.
Museum of Fine Arts
Museum of Fine Arts, 255 Beach Dr. NE 727-896-2667 www.fine-arts.org
Thru March 19: The Far North – Inuit Prints and Sculpture – These 30 works by accomplished Inuit artists spans the nineteenth and twentieth centuries.
Feb. 19-June 4: The Open Road- Photography and the American Road Trip: Nothing says spring break like this exhibition, a delightful journey through America's kitschy landscapes.
MUSIC
Feb. 23-Feb. 28: Sunshine City Songwriters Festival: On Feb. 23 The Special Concensus Performs at the Craftsman House. This Grammy-nominated and International Bluegrass Music Association (IBMA) awardwinners "Special C".  Originating from the Midwest, they have been performing for over 40 years. Craftsman House, 2955 Central Avenue727-323-2787 SunshineCitySongfest.com
Shades of Buble: The Canadian crooner isn't here in person, but the three man tribute band will stir your heart. A great Valentine's Day concert Feb. 10 @ 8 pm. Pinellas Park Performing Arts Center, 4951 78th Ave. 727-369-5746. pinellaspark.comCapitol Theatre  – Robert Earl Keen March 13 7:30 pm  www.AtTheCap.com
This show is sure to sell-out! Known for hits like The Road Goes On Forever, Feelin' Good Again and I Gotta Go, this singer-songwriter was virtually unknown by name until fellow Texas icon Joe Ely recorded both The Road Goes on Forever and Whenever Kindness Fails on his 1993 album, Love and Danger, the secret was out on Keen's credentials as a songwriter's songwriter.
The '90s may have been a boom period for Keen but his momentum hasn't ebbed a bit since the turn of the century – nor has his pursuit of continued growth as a writer and artist. His latest project released in 2016, Live Dinner Reunion, was a night celebrating 20th Anniversary of the very first recorded live show at the iconic John T. Floores Store in Helotes, TX. It was a magical night of friends coming together to play music before a sold out crowd of 5000 fans and celebrate 20th Anniversary of No. 2 Live Dinner. Special guests on the album are Lyle Lovett, Joe Ely, Cody Braun of Reckless Kelly, Cody Canada, Cory Morrow and Bruce Robison. Also making special appearances were two former band mates who also played on No.2 Live, Bryan Duckworth and Mark Patterson.
PARTIES
St. Petersburg Museum of History Benefit Feb. 25 6 – 10 pm: Leave your black tie at home, dress in your finest Shuffleboard Chic and celebrate the Sunshine City in style! St. Pete's official vintage-era Florida tourism celebration, the 2nd Annual Cocktails on the Courts. Enjoy Florida cuisine, unlimited cocktails, dancing under the stars to the incredible Black Honkeys, and even a mermaid and two-headed cow! St. Petersburg Shuffleboard Club, 559 Mirror Lake Drive North
Museum of Fine Arts
Culture & Cocktails Events: There's always something fun going on with MFA, meshing cuisine, art, wine and movies in some unique way.
Mark your calendars for these events To buy tickets online –stuartsociety.org;  Email: WineWeekendReservation@stuartsociety.org, or call (727) 896-2667, ext 221.
Friday, Feb. 10 – 7:30 pm – Coastal Chic Party – Enjoy Florida Favorites, Craft Beer, Wine & Chocolate. Featuring The Mad Beach Band. Individual Ticket: $99. Location: MFA. Dressy Casual Attire.

Saturday, Feb. 11 – 7 pm – Paint the Town Red, White & Chocolate –Dinner and wine pairing by Chef Tyson of Parkshore Grill. Live and silent auctions.
Featuring The TomKats Jazz Orchestra. Individual Ticket: $300*. Location: MFA.
Cocktail Attire. • Saturday, Feb. 18 – 7 pm – 1000 Points of Wine Gourmet Dinner –Featuring Ten Robert Parker/Wine Advocate 100 Point Wines. Individual Ticket: $1,800.  Seating is limited. Location: The Rolls-Royce Tampa Bay Showroom. Dress to impress!
Brew-Ha Ha: Help raise money by drinking beer Feb. 17  7-10 pm at the Great Explorations Children's Museum for A Night at the Brewseum where you can play like a kid again and compete against each other in various relays and games, while tasting the best craft beers in town. Challenge your friends at a game of nerf gun black jack, supermarket can stack (using only your elbows), tic-tac-toe beer pong and more! The team with the most points at the end of the event, wins a goodie bag with treats from your local favorites (and bragging rights of course)! We'll also have live music, food for purchase,  1925 4th St N.
On Feb 23  6 pm Meet The Brewers at the Morean Arts Center for Clay: Making beer is an art and here you can enjoy unlimited sampling. Go big with the VIP-only hour from 6 pm to 7 pm where you can enjoy unlimited beer while you mix and mingle with your favorite brewers with a limited amount VIP – only attendees, unlimited beer sampling from 8 pm to 10 pm during GA hour, bites, & other VIP-only perks. cltampa.com/brewersMorean Arts Center for Clay  420 22nd St. S., St. Petersburg
SPOKEN WORD
Studio@ 620   www.thestudioat620.org/events/wordier-than-thou-34
Wordier Than Thou, an open mic for storytelling, share prose or just catch tales from area wordsmiths.

In partnership with Keep St. Pete Lit there will also be a Poetry Open Mike Feb. 22, May 17, June 21, July 26, Aug. 23, Sept. 27 and Oct. 25
Coffee Talks with Nan Colton: Connect with performing arts legend who transforms into a an artist or historical figure for a 30-minute presentation that includes coffee and pastries at the Museum of Fine Arts beginning at 10 am.
On Feb. 10, she portrays the charitable wife of Thomas Edison; March 9 debuts the eccentric Daisy Makeig-Jones the designer of Wedgewood's Fairyland Lusterware and on April 13, the legendary novelist Virginia Woolf as she sits for French painter Jacques Emile Blanche. www.fine-arts.org/coffeetalks
Happy Hour with the Historian: Sharing the stories of the Sunshine City for 95 years, the St. Petersburg Museum of History's popular lecture series features an evening of wine, words and wisdom. The 2017 series kicked off its fifth year in January with a journey through a religious cult that believed the world is hollow, its leader would live forever and sex was forbidden. Run out of Chicago, the Koreshans discovered wealth, power and paradise in what is now Estero, Florida.
335 2nd Avenue NE on the Pier Approach; 727-894-1052; www.spmoh.org
March 9: Craig Pittman:  

Oh, Florida – America's Weirdest State

May 11: Lisa Bradberry:  Weedon Island's Sunhaven Movie Studios

July 13: Peter Meinke:  
An Evening with Florida's Poet Laureate
Sept 14: Bill Leavengood:  Doc Webb and his World Famous Webb's City

Nov 9:  Lynn Waddell:  Fringe Florida
THEATER
Oz lovers, take note. Wicked is at the Straz Center Feb. 1-26, and Forbidden Broadway's romp and musical spoof continues through March 12. Joe Turner's Come and Gone at the American Stage has been extended to the end of February due to popular demand.
On Feb. 16-20, Dangerous Gully is the latest concoction by local playwright , Joseph Alan Johnson ( Lovefool, Misconception) –a saucy tale of love and romance that pays homage to the fairy tales of our childhood with a modern twist at Studio@620.
At FreeFall Theater, Red Velvet opens Feb. 25 and runs through March 26. While this award-winning new play will transport you to Victorian London, the questions it raises about race, diversity and the role of the arts could not be more timely.  Acclaimed actor and director Sir Kenneth Branagh said of his production of Red Velvet: "I believe Lolita Chakrabarti has written an important and exhilarating play which in its discussion of performance, politics, and race is as entertaining as it is illuminating." Listen to Sir Kenneth, and get your tickets now! You will be moved, challenged and thoroughly entertained.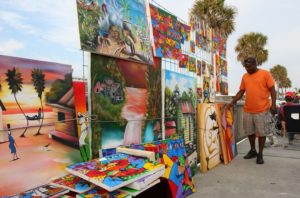 ARTWALKS
Whether you have visitors or it's a girls night out, these events are moving feasts, both visual and culinary. There's always live music and never a dull moment.
Fourth Saturday Artwalk,  Pinellas Park's Creative District, 5851 Park Blvd.
Gulfport Artwalk 1st Friday & 3rd Saturday  3101 Beach Blvd.S.,   www.visitgulfportflorida.com
St. Petersburg Second Saturday Artwalk 5-9 pm – Discover arts,crafts,bodacious brews & delicious bites.  www.StPeteArtsAlliance.org
TAMPA & BEYOND
Ringling College of Art & Design: The Glass Masters of Venice runs through March 25. Since 2010, Ringling College Curator Mark Ormond has worked with Sarasota arts patrons Richard & Barbara Basch to organize exhibitions from their extensive collection of glass art. Dr. and Mrs. Basch began collecting in 1993 by purchasing work American artists. They soon expanded the scope of their collection to include artists from around the world. This year's exhibition at Basch Gallery will feature work by Davide Salvadore, a master glass artist from Murano, Italy, and his sons Marco and Mattia. Selected works by Lino Tagliapietra will be included in the exhibition. A series of artist talks and demonstrations will take place on the Ringling College campus throughout the exhibition.  Barbara Basch will offer docent tours of the exhibition on Wednesdays at 10:30 am. 2700 N. Tamiami Trail, Sarasota.
Welcome to St. Petersburg Art Alliance's new 2017 Board of Directors:
Wayne Atherholt, Office of Cultural Affairs, City of St. Petersburg (ex-officio)' Jeff Baker, Community Relations Duke Energy; Kara Behar, Exec. Director, Behar+Peteranecz: Architecture; Kristy Boss, Deputy General Counsel, Taylor Morrison; Brook Canfield, CPA, Senior Tax Accountant, Gregory, Sharer & Stuart; Paul Carder, Retired; Yael Kelley, Artist; Katie Healey, Financial Planning, HSNi; Lisa Letizio, Alison James Estates & Homes; Angela Bond Markus, Actress; Zachary Messa, Partner, Johnson, Pope, Bokor, Ruppel & Burns, LLP; Mary Anna Murphy, President, MAM Exhibit Design; Duncan McClellan, Duncan McClellan Glass Art Studio and Hot Shop Joseph Papich, Select Business Advisor, Wallace, Welch & Willingham; Judith Powers, Artist; David Ramsey, Managing Director, Raymond James & Assoc.; Jim Rolston, Artist and Owner, Red Zen Art Gallery;  Stacia Schrader, Branch Manager, Regions Bank; Richard Wood, COO, Eagle Datagistics. 
Art News Compiled by Nanette Wiser
http://paradisenewsfl.info/wp-content/uploads/2017/02/palladium-exterior-day-2.jpg
434
680
paradisenewsfl@gmail.com
http://paradisenewsfl.info/wp-content/uploads/2016/10/pn-red-web-header.jpg
paradisenewsfl@gmail.com
2017-02-13 04:36:06
2017-02-13 04:36:06
ART: Arts & Culture Best Bets