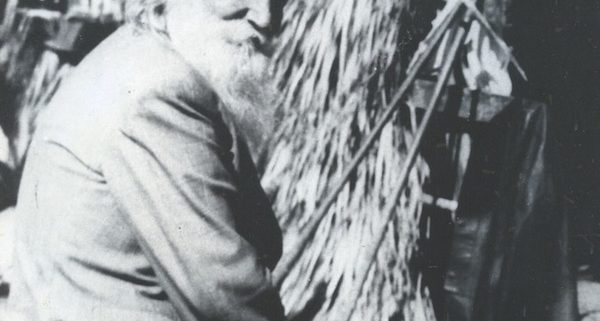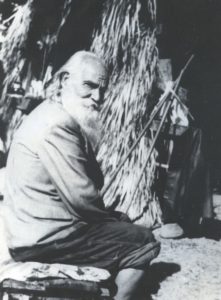 Paradise NEWS regularly writes about outstanding new restaurants in the area. Our editors have concluded that some of the establishments that have stood the test of time also deserve some ink. There are some regional and national chains that started from modest local roots like… Hooters, Crabby Bills, Leverocks and Shells Seafood Restaurant, an old favorite that has a new location opening this August in St. Pete Beach.
There are also some establishments that have made it through decades with one or two locations like La Cote Basque in Gulfport, Silas Dent's, The Legendary Hurricane Seafood Restaurant, Fetishes Fine Dining and PJ's Oyster Bar, to name just a few. In this feature we provide a bit of history, some contact information and what we feel has contributed to the longevity of the venues.
Jonny Leverock's Oyster Bar (Started 1948)
The original Jonny Leverock's Oyster Bar opened in 1948 in Pinellas Park, which he and his family operated until 1976. The late John Stross bought in with another partner in 1981, and George Lewis joined the management group in 1987. "We had different partners along the way," George said, "but John and I stayed together. We opened a second location as the Seafood Company on US 19 in Countryside, followed by SPB, Madeira Beach, Maximo Moorings, Clearwater Beach, New Port Richey, Bay Pines, Bradenton, Atlanta, Cape Haze near Boca Grande, Fort Myers, Ellenton, Jacksonville, Lakeland, Sarasota, South Pasadena, and Tierra Verde Resort Banquet Hall.

"At the height we had 18 locations, all with the Leverock's name except the Seafood Company, which became Leverock's Seafood Company, and Leverock's Waterfront Steakhouse on Bay Pines. All were either company-owned or operated as franchise locations. We sold the chain in February, 2000, and retained ownership of only the SPB location.
We had a third partner running the SPB store while we shifted to real estate development and brokerage. We sold that location to a Philadelphia real estate developer in 2006 and thought we were out of the restaurant business after 20-year successful run. Ironically our third partner, Veronica Parnell, who had operated the SPB store, wanted to stay in business and took over the last Leverocks in South Pasadena. She has since retired, and we have Danny Cappiello as General Manager, and we also oversee the Friendly Fisherman at John's Pass."
Crabby Bill's (Started 1968)
Bill and Doris Loder originally had opened a restaurant in South Jersey featuring crabs and other fresh-caught seafood. "The family has been on the Gulf Beaches since 1968," son Matt Loder recalled. "Dad first got into the fresh crab and shrimp business with a roadside stand, and opened their first Captain Bill's Beach Kitchen in1974, adding another location and selling both with the brand name in 1982.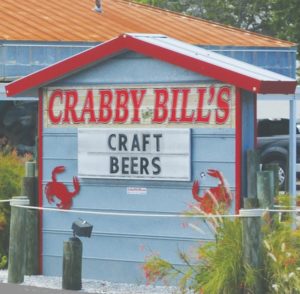 'The first Crabby Bills opened April 28, 1983 at 409 Gulf Blvd in Indian Rocks Beach, also the site of our fresh fish market. My sister Eleanor came up with the new name — 'We love crabs, and Dad is crabby, so let's call it Crabby Bills.' We kept adding locations and had 14 operations in 1995 when we sold the group. We took back IRB and several franchises including SPB, and Clearwater Beach. We started with crabs in every variation, shrimp and grouper, and have had a long experience of taking care of customers.
Matt grew up in the business starting as a fish washer when he was 12. He married Maria in 1982 and now a third generation is involved, including son Matt Jr. and nephew Pauly, with many others over the years. They open at 7 am with a full breakfast menu, and close about 1:30 am. "Our great service is due to a loyal staff," Matt said. "Junior has been behind the bar for 28 years, waitresses Sharon since Captain Bill's and Sandy for over 30 years."
La Cote Basque Winehouse (Started 1972)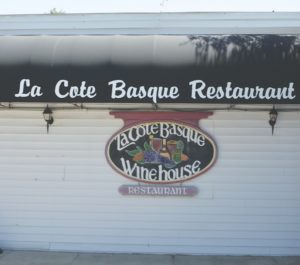 La Cote Basque Winehouse is the culmination of three generations of chefs and restaurateurs. Patriarch Ernest Frohme, a graduate of the Le Cordon Blue Culinary Arts School of Paris, founded the eatery in 1972 with his wife Theresa, still working in the restaurant. In the mid-80s, daughters Carmen and Simone Frohme, who married two brothers, took over the kitchen. Today their children, including Carmen's son Dalton Dunham and Simone's daughter Christine Dunham, and life-long friends have joined them to help run the establishment. "Everyone who takes care of the guests are all 'family,'" Carmen Frohme said. "Located in the heart of Gulfport's historic art district, our restaurant's exterior reveals few clues as to what is in store for guests. The visually intriguing interior has hand-painted wall murals and intimate dining areas, offering a cozy country French atmosphere. Celebrity diner photos include Carol Burnett, James Garner and, Glenda Jackson, among others."
For 40 years, the La Cote Basque continental menu and recipes have remained nearly the same as when Ernest first opened the restaurant. Featured are roast duckling a la Cherie, beef Wellington, and Wiener schnitzel with French, German and Italian variations, among many others. All entrées are served with their signature sourdough bread, salad topped with Ernest's secret recipe salad dressing, three vegetables and potatoes or rice. Earlybird full, complete dinners are offered from 4 to 6:30 pm at $7.95 and up.
Fetishes Fine Dining (Started 1974)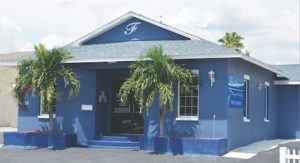 Fetishes Fine Dining owner Bruce Caplan came from Baltimore in 1974, opened a bike shop on SPB and started working nights as a bartender at Giggles Comedy Club in Tierra Verde. He opened Ciega Bay Café in 1990 in Madeira Beach, and then met Leslie, the owner of Moonlight Bay Café in the original Fetishes location on Gulf Boulevard and 69th Street. "We envied each other's operation," he said.  "Mine was cool with a bar and piano player liabilities, and her right idea was a tiny manageable place. As she spent more time in New York, we made a deal that she would save the location for me until I could leave Madeira Beach. Fetishes first opened February 18, 1994, with the name coming from the food fetishes idea as a catchy name."
He had been eyeing the Monsters Pizza location in the 6300 block of Gulf Boulevard for some time, and after a fire closed it down, after three years he was able to get the property. The new Fetishes opened in October 2012 with a dining room for up to 34, a wine bar for 15 to 20, and a private dining room for 12. The wine concept came from his salesman Mike Degnan who convinced him early on that big red wines would be a huge part of the market. Fetishes earned its first Wine Spectator award in 2000 and now has more than 15. The new temperature-controlled wine cellar holds about 1,200 bottles. Bruce's signature tableside service came from experience at Kalb's Cove, his first management post in Madeira Beach. From the start he has offered Caesar Salad, Chateaubriand, Steak Diane and flambé desserts, recently adding Crepes Suzettes. Another new feature is early dining specials from 5 to 6 pm.
Legendary Hurricane Seafood Restaurant (Started 1977)
The Legendary Hurricane Seafood Restaurant in Pass-a-Grille got its humble start in 1977 when brothers Bruno & Rick Falkensteinopened a lounge and kitchen in front of the Keystone Hotel. The 10-story structure was soon after torn down due to termite damage. "Until about 1985 we operated with space for about 150 with an outside deck on the north side," Bruno said. "The key to our success all these years has been our basic grouper menu. We got into grouper through Bill Hill from Hubbard's Pier, who brought us a big grouper one day, fileted it for us to serve, and the rest is history.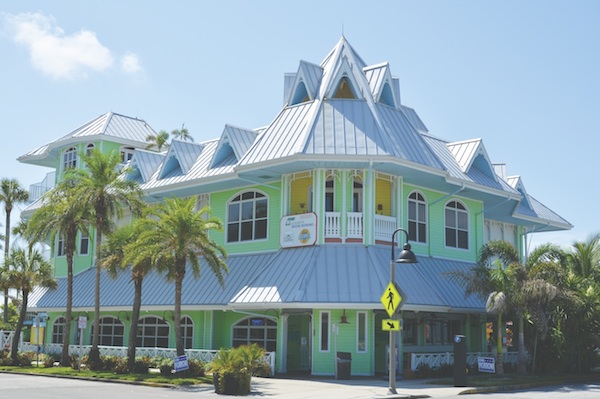 "We started with breakfast, then added lunch and dinner, expanding the menu to other seafood items, steaks and chops. In 1985 the south deck was added, the roof was torn down and the octangular look was changed. The second story went on in 1992, along with a new top deck ideal for sunset watching, and capacity is now about 350." The brothers' mother, Mary, is still active, along with Bruno's wife Carole, plus a staff of 80 during the major tourist season.
Bruno's avocation has been saving sea turtles, since he found a dead turtle on the beach in 1978. "Later that year we found the first turtle nest on PAG in some time," he recalled. "I got a full contingent of our local media to come out — newspapers, radio and TV — and we got excellent response. Several months later we found a second nest, and Allen Huff with the State Department of Natural Resources came out and helped set up a turtle safety program. We now have a network of about 30 volunteers who help with the turtle protection."
Silas Dent's Steakhouse (Started 1979)
The Stambaugh family has owned Silas Dent's Steakhouse since the first building opened in July 1979. Rob Stambaugh, who operates the current location with wife Debbie, recalled, "My dad Ted was a realtor in the '60s and had sold the property on Gulf Boulevard to Tussauds Wax Museum. He was asked to head the company, which later added Ripley's. In the late 1970s the corporation decided to sell the SPB location and offered the property to Dad. He bought it in 1978.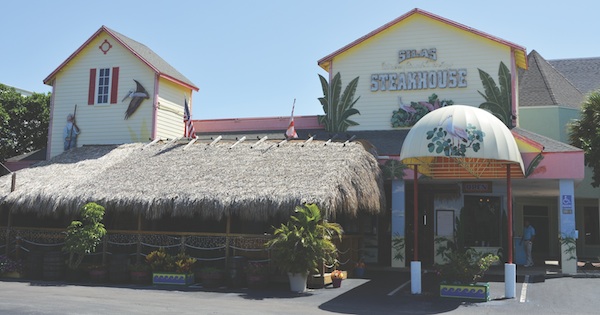 There had been a Brucie's Steakhouse where Wings is now, that had been closed for two years. My mom Althea came up with the name, reminding us of legendary hermit Silas Dent who was a great story of how fast the island had changed."  Rob grew up in SPB and had been at Walt Disney World for eight years in the Polynesian Resort food and beverage operation.
The family built the Bayside Shops mall around the restaurant in 1989. After a fire in December 1996, it took a few years to rebuild and relocate to the back of the property and take advantage of the waterfront. The new Silas Dent's can hold about 200, with an outdoor Tiki Deck out front, a lounge and two banquet halls for 40 to 160. "It's been a partnership since Debbie and I were married in 2000," Rob continued. "In 2009-10 Silas was struggling so we added lunch and banquet business, helped by the incredible number of destination beach weddings, for a wonderful turnaround. We created Table Turn about 2005 to offer a restaurant table management system to allow the hostess to have a real-time view of all restaurant space that will get more attention now. It is blessed to be raised here and continue to live in paradise!"
Hooters (Started 1983)
Hooters was appropriately incorporated on April Fool's Day, 1983, when six businessmen with absolutely no previous restaurant experience got together and decided to open a place they couldn't get kicked out of. On October 4, the first Hooters opened at 2800 Gulf To Bay Blvd. in Clearwater, still going strong.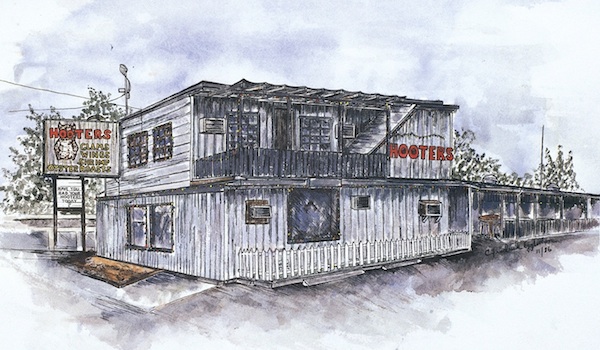 The now famous "Hooters Six" were: L.D. Stewart, a painting contractor; Gil DiGiannantonio, a liquor salesman; "Uncle Billy" Ranieri, a retired service station owner; Ed Droste, a real estate executive; Dennis Johnson, brick mason by trade; and Ken Wimmer, partner in the painting business. Out of their fertile imaginations came the concept of Hooters. The restaurant would combine their favorite manly finger foods with the 50′s and 60′s music they felt best exemplified a happy, nostalgic time in most Americans' memories.
The irreverent sense of humor started with the creative menu saga written by Ken. It combined nicely with the most important element, the beautiful and vivacious Hooters Girls. The name "Hooters" came from a popular comedy sketch by one of the nation's hottest comedians of that time, Steve Martin. Ed's (then) wife, Pam, found a little dive in Clearwater and negotiated the lease with landlord Jim Burns.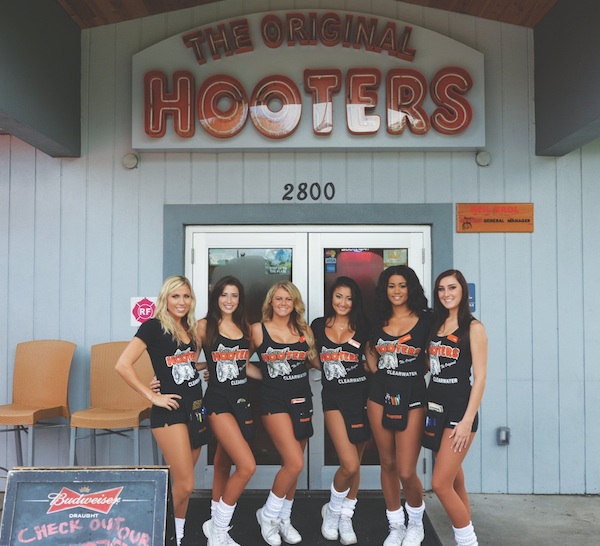 The first Hooters Girl, Lynne Austin, was hired on a bet. Ed Droste anchored his boat off Clearwater Beach to catch the Jose Cuervo bikini contest. He bet the gang on the boat that he could entice the winner of the contest to become the first Hooters Girl, and the rest is history.  Of 430-plus current Hooters locations, including John's Pass, 58 are located outside the U.S., including the first in Brazil that opened in time for the FIFA World Cup. "The founders still operate 24 restaurants in the Tampa Bay, Chicago and Manhattan areas," said Marketing Director Denise Williams. "We're looking forward to opening our newest store in Manhattan across from Madison Square Garden in early October."
Shells Casual Seafood Restaurant (Started 1985)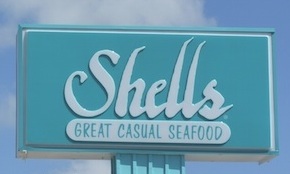 When Shells Casual Seafood Restaurant opens this August in St. Pete Beach, the name will come full circle from the first Shells that opened on South Dale Mabry in Tampa in 1985, followed by Madeira Beach and St. Pete Beach — on the current Post Card Inn site — around 1990. Swiss Gourmet Chef John Christen and his wife Deb, who had built a successful Brewmasters chain earlier, saw the need for a seafood restaurant that focused primarily on quality, service, and value instead of a fancy atmosphere and high prices. They owned a charming old pizza parlor property and with innovative ideas, a little TLC, and pure determination, the family pulled together to open what is known today as Shells Casual Seafood Restaurant. The recurring theme of crustaceans on the menu led to the Shells name.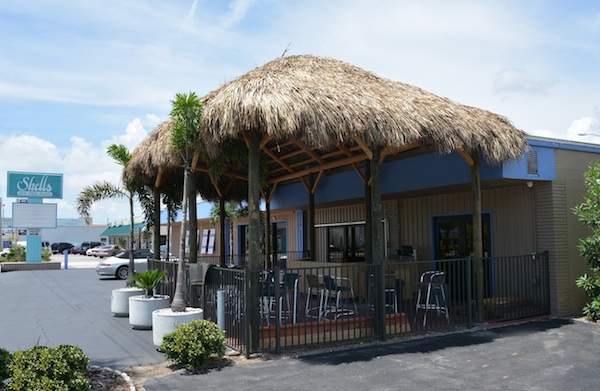 At its height, the original Shells chain had 28 restaurants, including units in Atlanta, Mobile, Charlotte, Nashville and New York. The corporation wound down in the early 1990s, and today only the original South Dale Mabry and North Tampa near USF locations remain. Son John, now 29, proprietor of the new SPB location, started at age 14 as a busboy, and learned most of his line cooking skills working at a Gainesville chain while going to UF. He said, "My uncle, Dave Canady, and I had the opportunity to bring back the original Shells concept of serving the freshest seafood at dockside prices in the bay area."
The new SPB site will serve about 150, with an inside and outside bar, under a 20-foot-high thatched Tiki roof, with the chain's signature blue and white wood shutters on the windows. General Manager Thomas Gnacinski, who spent eight years at the Hurricane, will have a staff of about 80 to provide quality service.
PJ's Oyster Bar (Started 1985)
The first PJ's Oyster Bar was opened in Indian Rocks Beach at 500 First Street around 1985 by original owners Ed Rosicky and Judy Vermont. Current owner Lynn Palmer has worked there since that October, except for a brief nursing school hiatus. "Mr. Ed gave me the nickname 'Bama'," she said, and that's what everyone knows me by. Judy passed away in 2008 and I bought it from Mr. Ed who said, 'It's just not fun anymore.' We needed more space and I bought the much larger old bank property across the street. "We'll reopen mid-August with 6,000 square feet including a large deck with 50-plus seats and an outdoor bar, to handle about 200 guests." Ed and Judy opened the SPB location on December 5, 1992, in what is now Corey Corners on 75th Avenue, and then was a small mall with a Winn Dixie owned by the Stambaugh family.

Brett Umstead had worked at that location since 1995 and bought the restaurant about 6 ½ years ago. "We put in a front deck about 10 years ago," he said, "and opened an ice cream shop next door about four years ago. PJ's is what it is, and Bama and I were not going to change it too much – fresh seafood at a good price."
Story by Steve Traiman
New Photos by JIM TIZZANO
Date: August 2014
[Editor's Note: Special thanks to Bruno Falkenstein, Rob Stambaugh, Bruce Caplan, Carmen Frohme, "Bama" Palmer, Brett Umstead, John Christen, Matt Loder, George Lewis and Denise Williams for their excellent input and historic photos.
[Steve Traiman is President of Creative Copy by Steve Traiman in St. Pete Beach, offering freelance business writing services. He can be reached via email at straiman@mindspring.com.]
http://paradisenewsfl.info/wp-content/uploads/2016/07/silas-dent-man.jpg
813
600
paradisenewsfl@gmail.com
http://paradisenewsfl.info/wp-content/uploads/2016/10/pn-red-web-header.jpg
paradisenewsfl@gmail.com
2016-07-19 16:42:12
2016-07-19 16:42:12
A Local Legacy of Restaurant Success