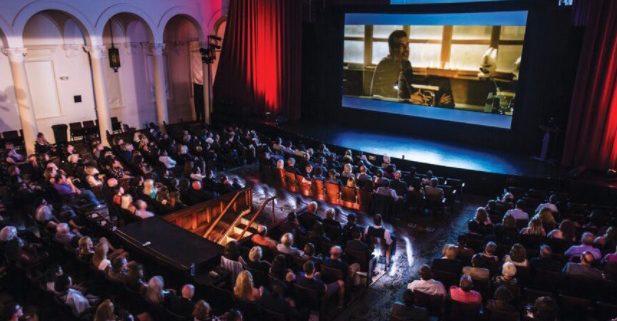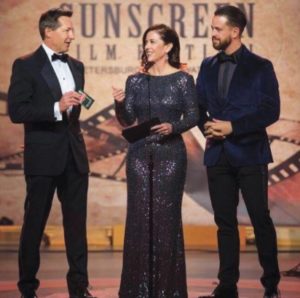 The Sunscreen Film Festival, launched in 2006, has grown from its first festival in a local art gallery with 600 attendees. It is organized and presented by the St. Petersburg-Clearwater Film Society Inc. The nonprofit 501(c)(3) charity is dedicated to education, economic development, informing the public about the art of visual storytelling, enhancing opportunities for local filmmakers to develop their craft and art, and increasing the public's awareness and support of local filmmaking as a cultural and economic asset.
Founder Tony Armer, who is also the Pinellas County Film Commissioner, provided some relevant details: "With the Pinellas County Film Commission as the headline sponsor, the festival now is an internationally-recognized event with an annual attendance of over 10,000 in St. Petersburg and Los Angeles. In 2013 the festival expanded to Los Angeles and now holds the Florida version in the spring and the Los Angeles version in the fall each year."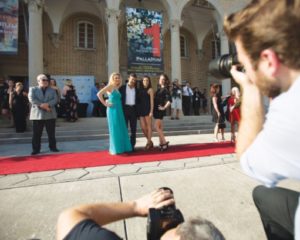 This year's event downtown has Opening Night Film Screenings Thursday (27) at The Palladium, followed by dual screenings Friday through Sunday (28-30) at the AMC Theaters Sundial and American Stage. Film Workshops are Friday-Sunday at American Stage.
Festival Executive Director Ryan Tarrant told Paradise News, "Among accepted films for the 2017 Festival are 16 excellent submissions by local Pinellas County filmmaker/directors. Included are Tiny Bacteria, Victoria Jorgensen; The Newest Member, Andi Matheny; You Are Not Alone, Cam Simon; Oklahoma Sun, Andrew Andrade; T's Up: Branding Team Tampa, Travis Bell; BTS, Christian Schwier;  Ava's Blood, Kira Howe; Good Ol' Fashioned Christmas Video,  Daniel O'Ryan; Ransom, Stefanie Davis; It's Not About Sex, Anjani Pandey; Allconsumingfilmsshort, Jeremy Jones, Logan James, Chuck Ardezzone; One Step From Alpha, Hector Luis Soto Vazquez; Bedsheets & Cigarettes, Alan Mehanna; 812 Knavish Way, Eric Stalnaker; The Deposition, Carrie Drazek; Phone, David Scott Leatherwood; Eat Speak St. Pete, David Vega."   
Special events include Opening Night Reception at The Palladium; Filmmaker Party (28); Outdoor Movie on the Museum of Fine Arts Lawn with special guest appearance (28); Women In Film Brunch at the Chihuly Exhibit (29);
Awards Ceremony & Party (29), 7 to 9 pm; followed by the Awards Karaoke After-Party, 10 pm – 3 am. Filmmaker Brunch is Sunday (30), sponsored by 400 Beach, at the restaurant.
This year's confirmed celebrity list includes Dylan McDermott who will be at the festival for Opening Night's feature film Blind, and Sugar, which is in the Spotlight category. Retrospective Screenings will include Daphne Zuniga, on hand honoring the 30th Anniversary of Mel Brooks' classic Spaceballs. Robert Davi will receive a Lifetime Achievement Award and Joe Pantoliano will be honored with a Legacy Award.
Tarrant provided this additional festival history: "In May 2006, the inaugural festival was held at Studio@620 in downtown St. Petersburg, screening 35 short and feature films over two days and hosting two world premieres. That event had a standing-room-only attendance of more than 600 film lovers and filmmakers, some traveling from as far as New York City and Los Angeles.
"Due to overwhelming popularity, the festival expanded in 2007 and 2008 to include the Vinoy Renaissance Resort and Golf Club. With this added new venue, the festival drew more than 100 short and feature films on multiple screens, and celebrity guests included actors John Travolta and Kelly Preston.
"In 2009, the venue moved to the Muvico (now AMC) Baywalk 20, where the celebrity roster grew to include actors Patrick Wilson, Michael Rooker, Bill Cobbs, and Jeffrey Donovan. More than 70 short and feature films were screened, including the Southeastern premiere of Passengers, starring Anne Hathaway and Patrick Wilson.
"That year, MovieMaker magazine voted Sunscreen one of the '25 Coolest Film Fests' in the country. In 2013-2014, Sunscreen was one of only 23 film fests nationwide to be sponsored and acknowledged by the Academy of Motion Picture Arts and Sciences."
Awards are given for Best Short Film, Student Film, Feature Film, Documentary, Director, Florida Film, Latin Film, Latin Documentary, International Film, Webisode, Actor, Actress, Supporting Actor and Supporting Actress.
Founder Tony Armer told Paradise News, "Programming Director Joe Restaino has done an amazing job selecting and recruiting films, resulting in one of the best array of submissions ever. Add in some great celebrities, workshops and parties, and we're looking forward to one of our best ever Sunscreen Film Festivals here in St. Petersburg."
For more information on the 2017 Sunscreen Film Festival, check the website at www.suncreeenfilmfestival.com or contact Ryan Tarrant via email: ryan@sunscreenfilmfestival.com
STORY by STEVE TRAIMAN      Photos courtesy of Sunscreen Film Festival
[Editor's Note: Special thanks to Tony Armer, Ryan Tarrant and Harry Chittenden at the Sunscreen Film Festival for their excellent information and photos.]
[Steve Traiman is President of Creative Copy by Steve Traiman in St. Pete Beach, offering freelance business writing services. He can be reached via email at traimancreativecopy@gmail.com ]
http://paradisenewsfl.info/wp-content/uploads/2017/04/sunscreen-film-fest-3.jpg
412
617
paradisenewsfl@gmail.com
http://paradisenewsfl.info/wp-content/uploads/2016/10/pn-red-web-header.jpg
paradisenewsfl@gmail.com
2017-04-08 02:20:25
2017-04-08 02:20:56
12th Annual Sunscreen Film Fest April 27-30 in St. Petersburg